Babanir Bangun Traditional Ceremony in Berau District, East Kalimantan
---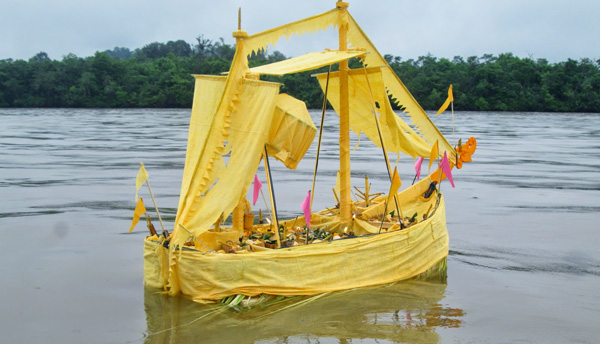 No doubt Indonesia becomes a worthy vacation destination for everyone. In Berau District, travelers tend to choose a famous tourist spot like Derawan Archipelago. The thing is they must not overlook the culture richness of Berau. For instance, they must enjoy an interesting custom like Babanir Bangun Traditional Ceremony. What is it? As the name suggest, it belongs to Babanir Bangun Village and it has become a signature tradition of Benua Tribe. The locals conduct the event in order to strengthen the bond of all the villages nearby. Such biennial event attracts both locals and tourists, and it has become one of the best traditions in Berau.
The Nuance
People in Babanir Bangun Village conduct such traditional ceremony in order to retain their culture and social bond. During the event, they may perform several cultural attractions and arts and it is done for about 3 days. They also involve some cultural decorations, feast, and sports! With those attractions, it is likely the village obtains good popularity among tourists. No wonder, many travelers visit the location when the event occurs. Crowded by local people, unique decorations, and various foods, the ceremony becomes the signature culture of people in Babanir Bangun.
Enjoying Babanir Bangun Traditional Ceremony
All of the rituals and attractions of Babanir Bangun Ceremony, the most popular one is Bagawai Uwat, which means "Membuat Obat" (the healing). That doesn't mean the locals would make some herbal medicine and drink it together, though. Instead, they would make a small yellow boat and put some snacks on it, including bananas, rice, eggs, sticky rice, etc. Later, they would let that boat go on Bangun River. What is the purpose, actually? According to the locals, this ritual may help them prevent bad luck and brings safety to all the villagers.
The fact is Bagawai Uwat has been done for generations and people of Babanir Bangun retain such ritual forever. It is true tourists are allowed to witness the ritual or even take pictures during the procession, as long as they don't cause any troubles. When the ritual begins, an elder would lead the procession and gather more crowds in one of the local houses. They work together to make the boat and put snacks on it. Most of the time, the leader is possessed by the ancient spirit when the ritual takes place, but no one can explain the reason, though.
Featuring magical nuance, Bagawai Uwat goes on beautifully. It even causes tense among tourists or other spectators! Once the creation of the boat is completed, the locals would carry it together and head to Bangun River right away. Lastly, they may float it on the stream while giving a prayer. As if, they offer generosity and foods to supernatural beings and ask for protection or safety in return.
Other Attractions
Bangun River
Sambaliung Palace
Payau Captive Breeding
Inaran Waterfall
How to Get There
In order to enjoy Bagawai Uwat and other attractions or local traditional ceremony, travelers only need to go to Babanir Bangun Village. It is located in Sambaliung Sub-district, so tourists can come either from Balikpapan or Tanjung Redeb. The second option is faster, which takes about 1 hour and 30 minutes. They can take H. Isa Street for a faster trip, in fact.
Where to Stay
Cantika Swara Hotel
Grand Parama Hotel
Bumi Segah Hotel

Latest News
Sangalaki Island is a small island covering an area of 15.9 hectares. This island is one of the islands that are part of Derawan Archipelago. Derawan Islands is a group of islands famous in the world. Aside from Sangalaki Island, another famous island of Derawan Islands are Kakaban and Derawan Island. Sangalaki Island located in the waters of the northern peninsula of Berau. Administratively, Sangalaki Island located in Berau Regency of East Kalimantan Province. Most sea turtles in the world are an endangered species. That includes species hawksbill and green…
---
  Maratua island is one of the outer islands in Indonesia that located in Sulawesi Ocean and it bordered with Malaysia. Maratua island is administratively located on Berau regency, East Kalimantan. Maratua is a small and long island, and it has sharply curve at the edge and it located at the south side of Tarakan city. Maratua Island is also part of Derawan Islands.   By the strategic location and the richness of its marine, Maratua island is now popular by the Travelers from many countries. The tourists who give…
---
Bangkirai Hill Bukit Bangkirai is a natural tourism area which is managed by PT. Inhutani I Unit I Balikpapan. This tourist area is located in Samboja District, Kutai regency, East Kalimantan. Bangkirai hill can be reached by traveling overland for 1.5 hours from the city of Balikpapan. This tour offers the charm of a tropical rain forest that is still natural, and facilitated with some infrastructures like restaurants, hall for meetings, a swimming pool and jungle cottage or cabin. In this area there is a canopy bridge along 64 m…
---
Bontang Bontang is a city in East Kalimantan province, Indonesia. The city is located about 120 kilometers from Samarinda, directly have border to the East Kutai regency in the north and west, Kutai Kartanegara regency in the south and Regency Makassar Strait in the east. In this city stand three large companies in different fields, Badak NGL (natural gas), East Kalimantan Fertilizer (fertilizer and ammonia), and Indominco Mandiri (Coal) and has a petrochemical industrial area called the Kaltim Industrial Estate. Bontang city itself is oriented in the industrial, services and…
---