Meja Panjang Party in Merasa Village, Berau District
---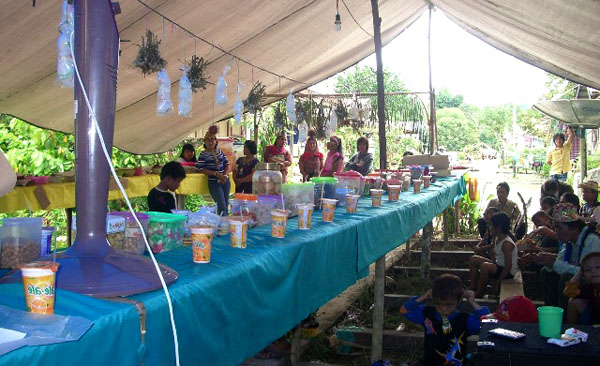 It is acceptable to think that Derawan Archipelago represents Berau's tourism industry, but it is not always like that. The reason is Berau District has more tourist spots, which are worth a visit. In fact, each of its villages owns some recommended vacation destination for everyone. Here is an example. Merasa Village offers a unique local festival or party called Meja Panjang. Not only it is attended by the locals, but the party also attracts visitors from different regions. Some people even say it has obtained foreigners' attention. So, what is it about?
The Nuance
Being a signature event of Merasa Village, Meja Panjang Party has become more popular over time. It is done to strengthen the relationship between the natives, which means the party can unite different tribes that live in Berau. In fact, there have been many ethnic groups living there, especially Dayak. The nuance is quite festive because lots of people attend it, including tourists. The fact is the event has been a culture and it was done by their ancestors back then. Most of the time, the locals may involve numerous types of local dishes in the party.
Enjoying Meja Panjang Party
For tourists, it is better to find out the schedule of the event prior to visiting Merasa Village. The reason is the party is not conducted whenever. Usually, the locals conduct it once a year after having a small meeting with the leaders of the village. Sometimes, important people from the local government also attend it as an important guest. Even though it is a local party, tourists are allowed to join and enjoy the festivity. Once again, they must have done a small research regarding its schedule first. Otherwise, they may miss the chance to join it.
Meja Panjang Party is done by people of Merasa Village. All neighborhoods present their dishes to the guests and tourists. They also wear their traditional dress during the party. There is a problem, though. The village doesn't have enough coverage of electricity. They can only use it from 6 pm to 12 am. Not to mention people in Merasa aren't likely into technology. No wonder, it is rare to notice locals taking pictures using a smartphone during the party. Only tourists or the guests do it.
Here is another fact regarding the party. The locals work hard to run such 5-days festival. Despite the tiredness, the organizer and participants work diligently to present a friendly and fun party to everyone. They also consider the event as a form of gratitude, especially to greet the New Year. What about the foods and drinks? The most common ones are pure honey, fresh fruits, and traditional dishes of Dayak Tribe.
Nearby Attractions
Bawan Batu Waterfall
Merapuan Suspension Bridge
Batu Lungun
Batu Anjing
How to Get There
To begin with, travelers should head to Tanjung Redeb (Kalimarau Airport). From there, they need to take any local transportation service to Kelay Sub-district. For the last trip, their destination is Merasa Village. From Tanjung Redeb, it takes about 5 hours and the distance is 203 km. As for the best route, tourists can choose Ahmad Yani Street.
Where to Stay
Shangri-La Hotel

Latest News
Sangalaki Island is a small island covering an area of 15.9 hectares. This island is one of the islands that are part of Derawan Archipelago. Derawan Islands is a group of islands famous in the world. Aside from Sangalaki Island, another famous island of Derawan Islands are Kakaban and Derawan Island. Sangalaki Island located in the waters of the northern peninsula of Berau. Administratively, Sangalaki Island located in Berau Regency of East Kalimantan Province. Most sea turtles in the world are an endangered species. That includes species hawksbill and green…
---
  Maratua island is one of the outer islands in Indonesia that located in Sulawesi Ocean and it bordered with Malaysia. Maratua island is administratively located on Berau regency, East Kalimantan. Maratua is a small and long island, and it has sharply curve at the edge and it located at the south side of Tarakan city. Maratua Island is also part of Derawan Islands.   By the strategic location and the richness of its marine, Maratua island is now popular by the Travelers from many countries. The tourists who give…
---
Bangkirai Hill Bukit Bangkirai is a natural tourism area which is managed by PT. Inhutani I Unit I Balikpapan. This tourist area is located in Samboja District, Kutai regency, East Kalimantan. Bangkirai hill can be reached by traveling overland for 1.5 hours from the city of Balikpapan. This tour offers the charm of a tropical rain forest that is still natural, and facilitated with some infrastructures like restaurants, hall for meetings, a swimming pool and jungle cottage or cabin. In this area there is a canopy bridge along 64 m…
---
Bontang Bontang is a city in East Kalimantan province, Indonesia. The city is located about 120 kilometers from Samarinda, directly have border to the East Kutai regency in the north and west, Kutai Kartanegara regency in the south and Regency Makassar Strait in the east. In this city stand three large companies in different fields, Badak NGL (natural gas), East Kalimantan Fertilizer (fertilizer and ammonia), and Indominco Mandiri (Coal) and has a petrochemical industrial area called the Kaltim Industrial Estate. Bontang city itself is oriented in the industrial, services and…
---