Pampang Culture Tourism Area
---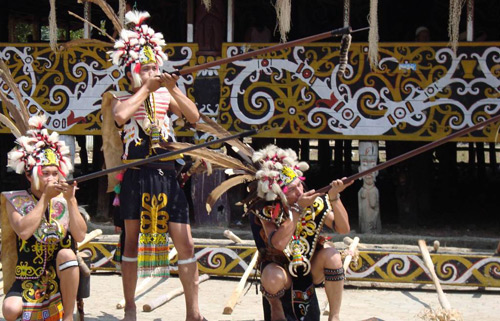 Pampang is a cultural village in Sungai Siring which belong to the area of Samarinda, East Kalimantan and is a mainstay tourist of Samarinda City. Pampang area which is located about 20 km from Samarinda City is interesting culture tourism area to see the situation and the ambience of the Dayak Kenyah tribe. The fascination, which can be witnessed in this place, is Lamin or Dayak tribe customhouse and dance and Dayak Kenyah custom ceremony, what performed every Sunday noon up to evening.
Every once a year this village held a cultural Pampang festival. In Pampang Cultural Village there is a residential area inhabited by Dayak Kenyah. There visitors can see performances of Dayak culture and dances of approximately 2 hours, held at the home of adat. In addition, can also be seen directly Dayak people's lives. After watching the show, visitors also can take pictures with dancers or with people of Dayak. After satisfying their pictures taken, we can get around in the custom house and looking for souvenirs that you can take home. There are key chain decorated with fangs bears, tigers and wild boar. There is also a typical Dayak fabrics and so forth.
How to get there:
Pampang Cultural Village or Dayak Tribe Village is situated on the road axis of Samarinda-Bontang km 5. If you are from Balikpapan (Sepinggan Airport), you can use Soekarno Hatta street towards Samarinda. You can down the road along Mahakam River, pass through Sei Keledang PLTD, to cross Mahakam River bridge. From within the city, you can take Pangeran Antasari street go along to the intersection, you take the road to Juanda. From Juanda street, you will find the intersection and take the right lane toward Lembuswana Mall. Not long after passing Lembuswana Mall then take the left lane to Cendrawasih street. Please take the right lane and continue to reach Samarinda-Bontang road axis. Pampang Cultural Villages located to the left of the road axis. The travel time take about 4 hours' drive. If you want to stay in Samarinda, do not worry because many hotels and lodgings ranging budget hotel to star-hotel are available.
Closer to Dayak Tribe:
Literally, the word "Dayak" means a person who comes from inland or mountain. Therefore, the Dayak means the mountain human. According to the belief of Dayak, especially the hinterland of Borneo which passed from grandma to the father, from father to son, until now unwritten lead to more or less than the truth, that the origins of Dayak ancestors from Kalimantan Island was sent down from heaven to seven into this world with "Palangka Bulau" (Palangka means holy, clean, a shelf, a stretcher that is holy, axle holy of gold derived from the sky, often also mentioned "rack or Kalangkang") , However, based on historical story, all tribes residing in Indonesia comes from Austronesian race originating from China plains around 3500-1500 BC.

Latest News
Sangalaki Island is a small island covering an area of 15.9 hectares. This island is one of the islands that are part of Derawan Archipelago. Derawan Islands is a group of islands famous in the world. Aside from Sangalaki Island, another famous island of Derawan Islands are Kakaban and Derawan Island. Sangalaki Island located in the waters of the northern peninsula of Berau. Administratively, Sangalaki Island located in Berau Regency of East Kalimantan Province. Most sea turtles in the world are an endangered species. That includes species hawksbill and green…
---
  Maratua island is one of the outer islands in Indonesia that located in Sulawesi Ocean and it bordered with Malaysia. Maratua island is administratively located on Berau regency, East Kalimantan. Maratua is a small and long island, and it has sharply curve at the edge and it located at the south side of Tarakan city. Maratua Island is also part of Derawan Islands.   By the strategic location and the richness of its marine, Maratua island is now popular by the Travelers from many countries. The tourists who give…
---
Bangkirai Hill Bukit Bangkirai is a natural tourism area which is managed by PT. Inhutani I Unit I Balikpapan. This tourist area is located in Samboja District, Kutai regency, East Kalimantan. Bangkirai hill can be reached by traveling overland for 1.5 hours from the city of Balikpapan. This tour offers the charm of a tropical rain forest that is still natural, and facilitated with some infrastructures like restaurants, hall for meetings, a swimming pool and jungle cottage or cabin. In this area there is a canopy bridge along 64 m…
---
Bontang Bontang is a city in East Kalimantan province, Indonesia. The city is located about 120 kilometers from Samarinda, directly have border to the East Kutai regency in the north and west, Kutai Kartanegara regency in the south and Regency Makassar Strait in the east. In this city stand three large companies in different fields, Badak NGL (natural gas), East Kalimantan Fertilizer (fertilizer and ammonia), and Indominco Mandiri (Coal) and has a petrochemical industrial area called the Kaltim Industrial Estate. Bontang city itself is oriented in the industrial, services and…
---