Mesmerizing Jepen Dance in Berau District, East Kalimantan Province
---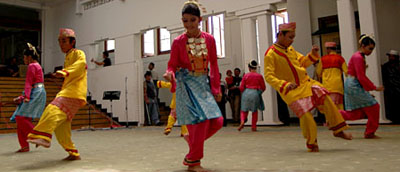 Some tourists may wonder what they can do in Berau District aside from exploring Derawan Archipelago. Enjoying a beautiful dance like Jepen can be an option. It is the traditional dance of East Kalimantan Province and it is often performed in Berau District, especially in Sambaliung Palace. According to the locals, the dance was inspired by both Islam and Malay culture. It displays energic, simple, and attractive movements. No wonder, the dance becomes one of the best lures for those visiting Berau. In fact, tourists have the chance to learn it from the locals.
About Jepen Dance
The dancers consist of men and women and they wear unique attires, representing Malay nuance. The female dancers wear a simple or minimalist costume, but it shows the features of Malay culture. They also wear ornaments like a bandana and earrings, while the men wear a traditional hat of East Kalimantan. Each of the dancers carries an item, which is similar to a rhythmic ribbon. Also, their movements are quite energetic! Another thing to know is the type of the dance, which consists of Jepen Genjoh Mahakam and Jepen Eroh.
Enjoying Jepen Dance
To begin with, tourists should enjoy Jepen Genjoh Mahakan Dance. The movements are purely based on Jepen Dance, including waves, honor, kenyak, samba, taktim, etc. In a nutshell, this type of dance represents Malay culture. What about Jepen Eroh Dance? It retains the original movements of Jepen, but it comes with a merrier nuance. Also, the moves are considered more dynamic and cheerful. During the performance, the audience is allowed to take pictures, in fact. Though, they must avoid using a flash feature, as it might disturb the dancers.
The beautiful movement combination of Jepen Dance is one thing. The audience may also enjoy hypnotizing music called Tingkilan. It is a traditional music from Kutai and it involves several musical instruments like violin, kendang, ketipung, and gambus. Not to mention several singers may recite poetries during the dance, telling moral messages to the audience. All of these features combine into a wonderful performance, which satisfies both locals and tourists. This explains why the dance is included in the list of the best attractions in Berau and other parts of East Kalimantan Province.
Here is the question. Where can tourists enjoy the dance? It depends on the schedule and any available cultural festivals. The local government often includes Jepen Dance in those special occasions, after all. As an alternative, tourists can go to Sambaliung Palace, which resides near to Kelay River. The dance is often performed in its main hall. The palace also displays lots of historical items and even a preserved crocodile! Thus, it is a perfect location to enjoy such beautiful and energetic dance.
Recommended Attractions
Kelay River
Rantau Panjang Waterfall
Nyapa Indah Village
How to Get There
As mentioned before, the best site to enjoy Jepen Dance is Sambaliung Palace. As the name suggest, it is located in Sambaliung Sub-district, Tanjung Redeb. Travelers can simply take an airplane to Kalimarau Airport and use a taxi to reach the palace. They should find out the schedule of the performance first, though.
Where to Stay
Bumi Segah Hotel
Cantika Swara Hotel

Latest News
Sangalaki Island is a small island covering an area of 15.9 hectares. This island is one of the islands that are part of Derawan Archipelago. Derawan Islands is a group of islands famous in the world. Aside from Sangalaki Island, another famous island of Derawan Islands are Kakaban and Derawan Island. Sangalaki Island located in the waters of the northern peninsula of Berau. Administratively, Sangalaki Island located in Berau Regency of East Kalimantan Province. Most sea turtles in the world are an endangered species. That includes species hawksbill and green…
---
  Maratua island is one of the outer islands in Indonesia that located in Sulawesi Ocean and it bordered with Malaysia. Maratua island is administratively located on Berau regency, East Kalimantan. Maratua is a small and long island, and it has sharply curve at the edge and it located at the south side of Tarakan city. Maratua Island is also part of Derawan Islands.   By the strategic location and the richness of its marine, Maratua island is now popular by the Travelers from many countries. The tourists who give…
---
Bangkirai Hill Bukit Bangkirai is a natural tourism area which is managed by PT. Inhutani I Unit I Balikpapan. This tourist area is located in Samboja District, Kutai regency, East Kalimantan. Bangkirai hill can be reached by traveling overland for 1.5 hours from the city of Balikpapan. This tour offers the charm of a tropical rain forest that is still natural, and facilitated with some infrastructures like restaurants, hall for meetings, a swimming pool and jungle cottage or cabin. In this area there is a canopy bridge along 64 m…
---
Bontang Bontang is a city in East Kalimantan province, Indonesia. The city is located about 120 kilometers from Samarinda, directly have border to the East Kutai regency in the north and west, Kutai Kartanegara regency in the south and Regency Makassar Strait in the east. In this city stand three large companies in different fields, Badak NGL (natural gas), East Kalimantan Fertilizer (fertilizer and ammonia), and Indominco Mandiri (Coal) and has a petrochemical industrial area called the Kaltim Industrial Estate. Bontang city itself is oriented in the industrial, services and…
---