Melak Regency
---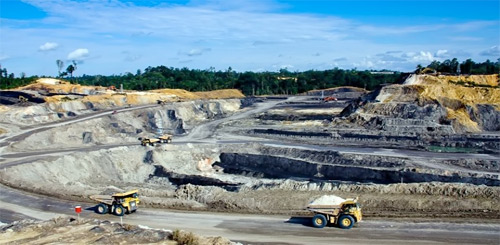 Melak is the biggest city upriver of Mahakam River, this famous town with 'Cagar Nam Anggrek Kersik Luwai' where about 72 different orchid species has grew in this place include a real rareness orchid 'Cologenia Pandurata'. Nicest time to see orchid in this place is in January and February. The location of orchid garden is about 16 Km from Melak, which is reachable with renting vehicle of jeep or motorcycle. Various event of interesting customs is frequently performed in Melak like marriage ceremony, healing, death, buffalo cut ceremony and others. Healing ceremony, which is often performed usually in each March, April and June. The regional around Melak, in west side of Mahakam River, be plateau area (plateau) where in adjoining there is Barong Tongkok village, which is reachable by joining with others motorcycle or minibus public transport.
This public vehicle would continuously finite to Eheng. In Barong Tongkok is available booth and Putri Tanjung Hotel. In Eheng there is an original long house, property of local public. It is told original, because this customhouse being built in 1960 still be dwelt by 32 Dayak Banuaq families. The possibilities of this long house become the last Dayak ash customhouse that built without subsidy from government.
Between Barong Tongkok and Eheng that is in Mencimai there is a museum agriculture of Dayak public that built by agricultural economy student from Japan who interesting with the public culture. In this museum is explained for example way of Dayak publics hunt animal (pig and monkey) in forest, way of collecting made, and way of making clothes from bark. This Museum also has collection of weapon mandau and tool from cane.

Latest News
Sangalaki Island is a small island covering an area of 15.9 hectares. This island is one of the islands that are part of Derawan Archipelago. Derawan Islands is a group of islands famous in the world. Aside from Sangalaki Island, another famous island of Derawan Islands are Kakaban and Derawan Island. Sangalaki Island located in the waters of the northern peninsula of Berau. Administratively, Sangalaki Island located in Berau Regency of East Kalimantan Province. Most sea turtles in the world are an endangered species. That includes species hawksbill and green…
---
  Maratua island is one of the outer islands in Indonesia that located in Sulawesi Ocean and it bordered with Malaysia. Maratua island is administratively located on Berau regency, East Kalimantan. Maratua is a small and long island, and it has sharply curve at the edge and it located at the south side of Tarakan city. Maratua Island is also part of Derawan Islands.   By the strategic location and the richness of its marine, Maratua island is now popular by the Travelers from many countries. The tourists who give…
---
Bangkirai Hill Bukit Bangkirai is a natural tourism area which is managed by PT. Inhutani I Unit I Balikpapan. This tourist area is located in Samboja District, Kutai regency, East Kalimantan. Bangkirai hill can be reached by traveling overland for 1.5 hours from the city of Balikpapan. This tour offers the charm of a tropical rain forest that is still natural, and facilitated with some infrastructures like restaurants, hall for meetings, a swimming pool and jungle cottage or cabin. In this area there is a canopy bridge along 64 m…
---
Bontang Bontang is a city in East Kalimantan province, Indonesia. The city is located about 120 kilometers from Samarinda, directly have border to the East Kutai regency in the north and west, Kutai Kartanegara regency in the south and Regency Makassar Strait in the east. In this city stand three large companies in different fields, Badak NGL (natural gas), East Kalimantan Fertilizer (fertilizer and ammonia), and Indominco Mandiri (Coal) and has a petrochemical industrial area called the Kaltim Industrial Estate. Bontang city itself is oriented in the industrial, services and…
---