Lamaru Beach
---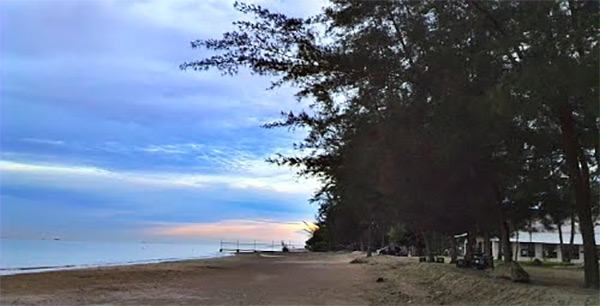 Lamaru Beach is one of favorite tourist destination in Balikpapan. The beach is located on the east of Manggar Segara Sari Beach. This beach facing the Sulawesi Sea and has white sand with blue and crystal clear seawater. The waves also quite friendly allowing visitors to play, swimming or other watersports.
Lamaru Beach is located in Teritip Village, Lamaru District, Balikpapan of East Kalimantan Province. It can be reached at just 30 minutes from downtown with their own vehicle, but it could take a taxi an hour-Manggar majors Dam (taxi is the name for pete-pete in Balikpapan). From downtown to Lamaru Beach Balikpapan, we can get through and Iswahyudi Sudirman street, can also be via the Ring Road. The two lines met near the airport Sepinggan. Then we can along the straight path towards good enough or Senipah Semboja, approximately fifteen miles from the airport.
Lamaru Beach is quite long stretches about two miles from the direction toward Tertitip Batakan. At low tide, the vast stretch of sand toward the sea. With a very gently sloping contours and the sea is shallow with a sandy bottom about a few hundred feet from the shore line, this place during low tide can be a field to play ball, beach volley, or where a temple-candian sand. Browse Big W Catalogue on Catalogue AU. Along Lamaru Beach after a sandy beach, covered by trees that shade. Under these trees stalls or thatched palm leaves along the coastal road lined its coast Lamaru. Shops are generally selling food to the main menu such as chicken rice, soto banjar, or grilled fish which of course comes with a variety of different flavors of juice. What is interesting for fans of young coconut, almost all the stalls on Lamaru Beach sell a fairly fresh young coconut. With the money of five thousand dollars, you can enjoy the young coconut, it's up to want to use ice, sugar, or even with red sugar from Sulawesi.
Here you can rent unique boat on Lamaru Beach bike of the shallow sea water and small waves of water especially during low tide. There are several models of this bicycle boat. Based on the number of passengers, there is a bike with a passenger boat of about six to seven people, and there can ride about three people. To maintain balance and manipulate the speed, there are bicycle boat made of two bodies and some are using the side floaters that resemble the traditional boat Sandeq palatto in Mandar. Examples of bicycle boat made two entities are owned Mudir, a child who is still Bugis in one elementary school. Each home school, this kid will be back "on duty" at Lamaru Beach to drive a boat bike.

Latest News
Sangalaki Island is a small island covering an area of 15.9 hectares. This island is one of the islands that are part of Derawan Archipelago. Derawan Islands is a group of islands famous in the world. Aside from Sangalaki Island, another famous island of Derawan Islands are Kakaban and Derawan Island. Sangalaki Island located in the waters of the northern peninsula of Berau. Administratively, Sangalaki Island located in Berau Regency of East Kalimantan Province. Most sea turtles in the world are an endangered species. That includes species hawksbill and green…
---
  Maratua island is one of the outer islands in Indonesia that located in Sulawesi Ocean and it bordered with Malaysia. Maratua island is administratively located on Berau regency, East Kalimantan. Maratua is a small and long island, and it has sharply curve at the edge and it located at the south side of Tarakan city. Maratua Island is also part of Derawan Islands.   By the strategic location and the richness of its marine, Maratua island is now popular by the Travelers from many countries. The tourists who give…
---
Bangkirai Hill Bukit Bangkirai is a natural tourism area which is managed by PT. Inhutani I Unit I Balikpapan. This tourist area is located in Samboja District, Kutai regency, East Kalimantan. Bangkirai hill can be reached by traveling overland for 1.5 hours from the city of Balikpapan. This tour offers the charm of a tropical rain forest that is still natural, and facilitated with some infrastructures like restaurants, hall for meetings, a swimming pool and jungle cottage or cabin. In this area there is a canopy bridge along 64 m…
---
Bontang Bontang is a city in East Kalimantan province, Indonesia. The city is located about 120 kilometers from Samarinda, directly have border to the East Kutai regency in the north and west, Kutai Kartanegara regency in the south and Regency Makassar Strait in the east. In this city stand three large companies in different fields, Badak NGL (natural gas), East Kalimantan Fertilizer (fertilizer and ammonia), and Indominco Mandiri (Coal) and has a petrochemical industrial area called the Kaltim Industrial Estate. Bontang city itself is oriented in the industrial, services and…
---