Beras Basah Island
---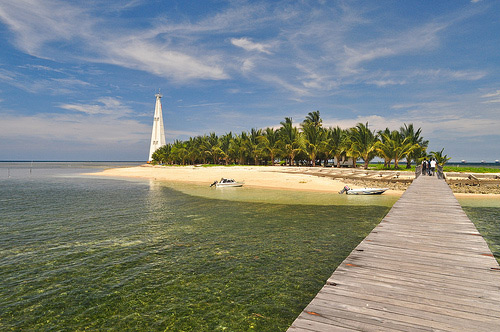 A beautiful island called Pulau Beras Basah is currently popular among tourists. Not only offers beautiful white sand beaches, the presence of a lighthouse that stands firmly become the island's icon. Perhaps many people are curious about this Beras Basah Island. Its name is unique called Wet Rice Island, unlike most other islands which depicts the beauty of an island. Nevertheless, Beras Basah Island store the beauty for anyone spoil the eye of the beholder.
Location Beras Basah Island:
Beras Basah Island is a small island in the Makassar Strait. Administratively, the island is under government of Bontang, East Kalimantan. For those who want to enjoy the beauty of Beras Basah Island, there are several alternative paths to get on this beautiful island. From Balikpapan, a traveler can proceed to Bontang takes about five hours using a private vehicle. For those who do not bring their own vehicle, do not worry. You can still get Bontang using public transport. Use the bus and you have to pay of 85,000 IDR a traveler has been able to arrive at Bontang.
However, if you start the trip from Samarinda, Bontang it took over a minute, less than two hours and only have to pay 20,000 IDR per passenger if utilizing a public bus. Arriving in Bontang you still have to continue the journey across the ocean to arrive at BerasBasah Island. There are many rental ships with price varies, ranging from 300,000 to 400,000 IDR which can accommodate up to ten passengers at a time. You will be satisfied during a visit Beras Basah Island. The beauty of its beaches deserves a mainstay of Bontang, with grain white sand to the crystal clear sea water always makes tourists linger dwell Beras Basah Island.
Not only beauty of the underwater scenery, Beras Basah Island also be a fitting place to enjoy the sunset. The redness that wrapped a bright blue sky and wind gusts made the beach watching the sunset moment so romantic. Beside the stunning scenery, Beras Basah Island also identic with a lighthouse that stands firmly in it. Lighthouse built by PT. Badak become its own attraction for tourists.

Latest News
Sangalaki Island is a small island covering an area of 15.9 hectares. This island is one of the islands that are part of Derawan Archipelago. Derawan Islands is a group of islands famous in the world. Aside from Sangalaki Island, another famous island of Derawan Islands are Kakaban and Derawan Island. Sangalaki Island located in the waters of the northern peninsula of Berau. Administratively, Sangalaki Island located in Berau Regency of East Kalimantan Province. Most sea turtles in the world are an endangered species. That includes species hawksbill and green…
---
  Maratua island is one of the outer islands in Indonesia that located in Sulawesi Ocean and it bordered with Malaysia. Maratua island is administratively located on Berau regency, East Kalimantan. Maratua is a small and long island, and it has sharply curve at the edge and it located at the south side of Tarakan city. Maratua Island is also part of Derawan Islands.   By the strategic location and the richness of its marine, Maratua island is now popular by the Travelers from many countries. The tourists who give…
---
Bangkirai Hill Bukit Bangkirai is a natural tourism area which is managed by PT. Inhutani I Unit I Balikpapan. This tourist area is located in Samboja District, Kutai regency, East Kalimantan. Bangkirai hill can be reached by traveling overland for 1.5 hours from the city of Balikpapan. This tour offers the charm of a tropical rain forest that is still natural, and facilitated with some infrastructures like restaurants, hall for meetings, a swimming pool and jungle cottage or cabin. In this area there is a canopy bridge along 64 m…
---
Bontang Bontang is a city in East Kalimantan province, Indonesia. The city is located about 120 kilometers from Samarinda, directly have border to the East Kutai regency in the north and west, Kutai Kartanegara regency in the south and Regency Makassar Strait in the east. In this city stand three large companies in different fields, Badak NGL (natural gas), East Kalimantan Fertilizer (fertilizer and ammonia), and Indominco Mandiri (Coal) and has a petrochemical industrial area called the Kaltim Industrial Estate. Bontang city itself is oriented in the industrial, services and…
---