Manggar Segarasari Beach
---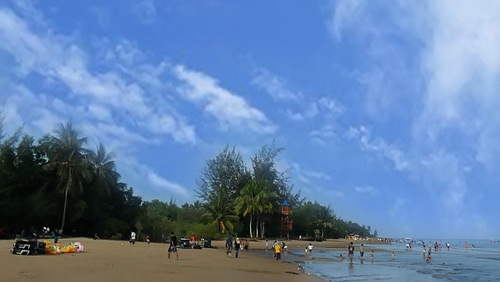 Manggar Segarasari or well known as Manggar Beach is one of the favorite tourist destination for people of Balikpapan City. This beach is located in Manggar Village and Teritip, Balikpapan, East Kalimantan. It covers an area of approximately 13,000 square meters. Manggar Beach has a blue water and white sand beaches. The waves were not too big, just a small wave ripples are suitable for swimming. Around Manggar Beach were also encountered buoy rental place with various shapes and colors. The trees that surround the beach also helped give the impression of calm and cool. Interestingly facilities on the beach is arguably more complete than other beaches in Balikpapan.
Many activities you can do in Manggar Beach, you not only can play water or sand, some water sport such as speedboats, jetski and banana boat are also available in this place. Besides you can also play beach volleyball or football and not have to bother because the net and the ball is already provided here. No need to worry if you feel hungry, because at the seashore will be found many food vendors. The vendors already provide lesehan style mat to sit and rest while enjoying a variety of culinary sold. The vendors provide many delicious seafood. The area surrounding the beach also offers some cottages or guesthouse for the visitors who spent some nights in this Manggar Beach. Besides the beach operators also provide tents overlooking the sea that can be used by visitors.
Some events are also often held at Manggar Beach. One of them is an international event such as the annual Kite Festival event and attended by 15 countries. Recently years, the local government of Balikpapan held this event for celebrating Balikpapan city was attended by more than 6000 participants.
Manggar Beach location is approximately nine kilometers east Sepinggan or about 22 kilometers from downtown Balikpapan. To reach this place you can use a private vehicle or public transport. If you come from Terminal Damai, you can use public transport with number seven dark green and stop at Terminal Manggar. Additionally you can use a taxi. Access road to Manggar Beach is very good, all the way, you will meet with merchants' beads and various souvenirs typical of Kalimantan. There is also a typical clothing merchants of East Kalimantan. Manggar Segarasari Beach is open daily from 06.00 am to 18.00 pm. To go to this beach, visitors will be charged a levy of Rp 2,000 for children and Rp 3,000 for adults.

Latest News
Sangalaki Island is a small island covering an area of 15.9 hectares. This island is one of the islands that are part of Derawan Archipelago. Derawan Islands is a group of islands famous in the world. Aside from Sangalaki Island, another famous island of Derawan Islands are Kakaban and Derawan Island. Sangalaki Island located in the waters of the northern peninsula of Berau. Administratively, Sangalaki Island located in Berau Regency of East Kalimantan Province. Most sea turtles in the world are an endangered species. That includes species hawksbill and green…
---
  Maratua island is one of the outer islands in Indonesia that located in Sulawesi Ocean and it bordered with Malaysia. Maratua island is administratively located on Berau regency, East Kalimantan. Maratua is a small and long island, and it has sharply curve at the edge and it located at the south side of Tarakan city. Maratua Island is also part of Derawan Islands.   By the strategic location and the richness of its marine, Maratua island is now popular by the Travelers from many countries. The tourists who give…
---
Bangkirai Hill Bukit Bangkirai is a natural tourism area which is managed by PT. Inhutani I Unit I Balikpapan. This tourist area is located in Samboja District, Kutai regency, East Kalimantan. Bangkirai hill can be reached by traveling overland for 1.5 hours from the city of Balikpapan. This tour offers the charm of a tropical rain forest that is still natural, and facilitated with some infrastructures like restaurants, hall for meetings, a swimming pool and jungle cottage or cabin. In this area there is a canopy bridge along 64 m…
---
Bontang Bontang is a city in East Kalimantan province, Indonesia. The city is located about 120 kilometers from Samarinda, directly have border to the East Kutai regency in the north and west, Kutai Kartanegara regency in the south and Regency Makassar Strait in the east. In this city stand three large companies in different fields, Badak NGL (natural gas), East Kalimantan Fertilizer (fertilizer and ammonia), and Indominco Mandiri (Coal) and has a petrochemical industrial area called the Kaltim Industrial Estate. Bontang city itself is oriented in the industrial, services and…
---