Karst Sangkulirang-Mangkalihat
---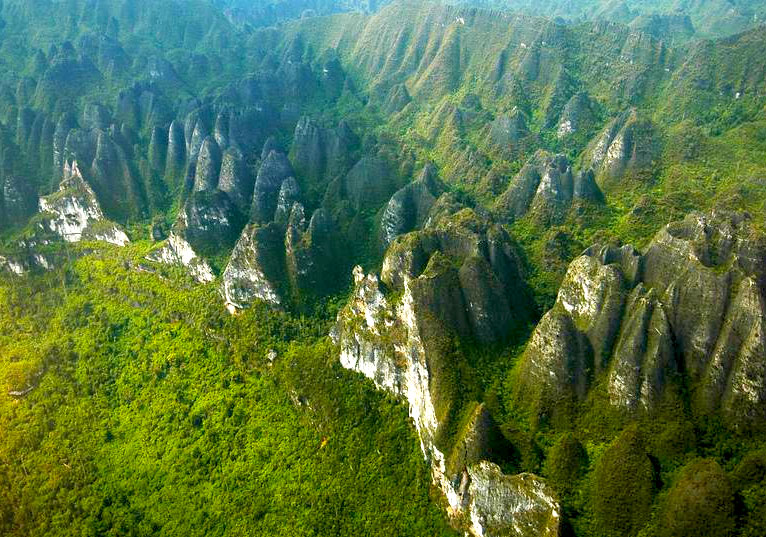 Karst Sangkulirang-Mangkalihat is ready to be a World Heritage Site. Karst Sangkulirang-Mangkalihat located in Kutai Timur and Berau Regency, East Kalimantan Province. Karst Sangkulirang-Mangkalihat declared as a center of diversity of plants in the world by the International Union for Conservation of Nature (IUCN).
From Samarinda City, Karst Sangkulirang-Mangkalihat can be taken approximately 8-9 hours by bus or car chartered through the streets former timber company. The trip from Samarinda will pass Sangatta and Bengalon before reaching Sangkulirang.
Karst Sangkulirang-Mangkalihat which has an area of 1.8 million hectares, it is also one of the 10 areas of karst ecosystems in the world are threatened with extinction. That's why the Ministry of Education and Culture and the Institute for Preservation of Cultural Heritage in East Kalimantan to do some of management program to the karst area.
Karst Sangkulirang-Mangkalihat region have ecosystem core area covering 550,000 hectares. The karst region has some important values, such as the value of scientific, socio-cultural values, and economic value.
Scientific value include lithology, geological structure of the mineral, fossil sites, archeology, paleontology, and the high diversity of flora and fauna endemic. Social and cultural values include the existence of the caves as sacred places for the sake of ritual, worth aesthetics, recreation, and education. While the economic value includes an underground river water sources, reserves of limestone and cement, as well as tourism.
Landscape of Karst Sangkulirang-Mangkalihat decorated green hills and steep hills is equipped with an underground cave that holds traces of ancient human life. On the walls of limestone that has existed since 10,000 years before Christ was painting hand engraved so magical.
An Archaeological research has discovered 37 caves decorated with wall paintings pictorial stamp hands, animals, and boats. It also found the tools of stone, bone, and containers made from clay. Archaeologists estimate early humans in Karst Sangkulirang-Mangkalihat embarrassing migration to the South, East, and Asia Pacific. That's why early humans in Karst Sangkulirang-Mangkalihat could be the first generation of human beings who came to the archipelago.
In Karst Sangkulirang-Mangkalihat also found a cave river long aisle with unique ornaments like gourdamm stalactites, stalagmites and flowstone that exudes calcite crystals. Karst Sangkulirang-Mangkalihat also become an important habitat of orangutans Pongo pygmaeus. In addition Karst Sangkulirang-Mangkalihat also be a source of water for the five major rivers that irrigate the people in the two districts.
In 2013, the Provincial Government of East Kalimantan register Karst Sangkulirang-Mangkalihat as world cultural heritage representing Indonesia. Karst region Sangkulirang-Mangkalihat entered tentative list of UNESCO World Heritage Site along with several other destinations.

Latest News
Sangalaki Island is a small island covering an area of 15.9 hectares. This island is one of the islands that are part of Derawan Archipelago. Derawan Islands is a group of islands famous in the world. Aside from Sangalaki Island, another famous island of Derawan Islands are Kakaban and Derawan Island. Sangalaki Island located in the waters of the northern peninsula of Berau. Administratively, Sangalaki Island located in Berau Regency of East Kalimantan Province. Most sea turtles in the world are an endangered species. That includes species hawksbill and green…
---
  Maratua island is one of the outer islands in Indonesia that located in Sulawesi Ocean and it bordered with Malaysia. Maratua island is administratively located on Berau regency, East Kalimantan. Maratua is a small and long island, and it has sharply curve at the edge and it located at the south side of Tarakan city. Maratua Island is also part of Derawan Islands.   By the strategic location and the richness of its marine, Maratua island is now popular by the Travelers from many countries. The tourists who give…
---
Bangkirai Hill Bukit Bangkirai is a natural tourism area which is managed by PT. Inhutani I Unit I Balikpapan. This tourist area is located in Samboja District, Kutai regency, East Kalimantan. Bangkirai hill can be reached by traveling overland for 1.5 hours from the city of Balikpapan. This tour offers the charm of a tropical rain forest that is still natural, and facilitated with some infrastructures like restaurants, hall for meetings, a swimming pool and jungle cottage or cabin. In this area there is a canopy bridge along 64 m…
---
Bontang Bontang is a city in East Kalimantan province, Indonesia. The city is located about 120 kilometers from Samarinda, directly have border to the East Kutai regency in the north and west, Kutai Kartanegara regency in the south and Regency Makassar Strait in the east. In this city stand three large companies in different fields, Badak NGL (natural gas), East Kalimantan Fertilizer (fertilizer and ammonia), and Indominco Mandiri (Coal) and has a petrochemical industrial area called the Kaltim Industrial Estate. Bontang city itself is oriented in the industrial, services and…
---