Harapan Beach in Biduk-Biduk Sub-District, Berau
---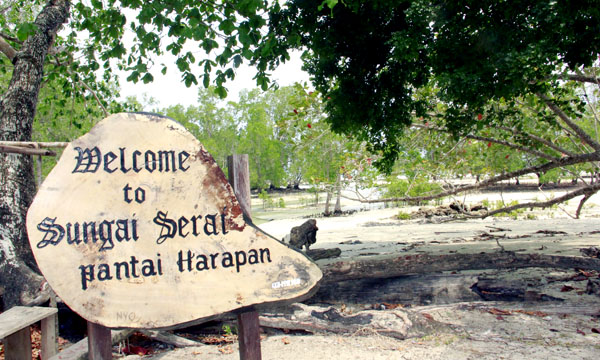 The most popular tourist spot in Berau District is indeed Derawan Archipelago. Still, many other stunning places are available to enjoy. Berau is the home of nature attractions and interesting cultures, after all. One of its sub-districts, Biduk-Biduk, tourists can visit a beautiful beach called Harapan. The meaning of the name is "hope" and the beach becomes a perfect spot for those who want to relax and enjoy a family vacation. Not to mention it resides near to another stunning beach, which is called Giring-Giring. Simply put, both of them become the main options for those who love beaches.
The Nuance
Harapan Beach offers white sand and crystal clear sea water. It also features coral reefs and dense trees, on which tourists can explore. Even some trees are covered by water during the high tide. In the horizon, the views are plain and flawless! The combination of deep and light blue sea water would mesmerize everyone. Not many visitors are seen either, so the beach emits a peaceful atmosphere. Combined with its gusty wind, the nuance is quite relaxing! This explains why the beach is a perfect spot to eradicate stresses.
Exploring Harapan Beach
The locals often call it a virgin beach due to its unspoiled beauty. The number of visitors is even low, as compared to Giring-Giring Beach. With such pure quality, tourists can enjoy such desolated nuance and find peace there. It is a recommended location for those who want to run away from daily hectic works. That means the beach often becomes a destination for a recreation and family vacation. It doesn't have to be swimming or beach walking. Visitors can simply sit under a tree and enjoy the peaceful nuance of the beach.
Apart from relaxation, Harapan Beach is suitable for water sports too. Swimming and snorkeling are recommended, as the sea water is comfortable. Plus, the visibility is good. Some fishes are seen clearly in several spots, as well. Due to such pristine underwater scenery, photography is considered a good idea. The thing is it requires a nice underwater camera, which is waterproof and durable. This way, people don't require professional skills in order to capture beautiful underwater views. If they are lucky, they can capture majestic and colorful corals, as well.
Once enjoying snorkeling, tourists must try local specialties in nearby eateries or restaurants. The best location to find local foods is in Tanjung Redeb. Despite a long trip, it is worth the effort. Some best foods to try are Ancur Paddas Porridge, Mannung, and local shrimps. All of them are available in hotels and resorts, too. However, the prices are more expensive than local eateries.
Nearby Attractions
Serai River
Giring-Giring Beach
Labuan Cermin Lake
Bidadari Waterfall
Sulaiman Bay
How to Get There
The prime destination is Tanjung Redeb and the fastest transportation service is an airplane. Once tourists get to Kalimarau Airport, they can rent a taxi or ride a bus to Biduk-Biduk Sub-district. The trip takes a few hours, though. It is a long trip, but it is quite rewarding.
Where to Stay
Clarissa Hotel
Selvia Hotel
Fajirah Inn

Latest News
Sangalaki Island is a small island covering an area of 15.9 hectares. This island is one of the islands that are part of Derawan Archipelago. Derawan Islands is a group of islands famous in the world. Aside from Sangalaki Island, another famous island of Derawan Islands are Kakaban and Derawan Island. Sangalaki Island located in the waters of the northern peninsula of Berau. Administratively, Sangalaki Island located in Berau Regency of East Kalimantan Province. Most sea turtles in the world are an endangered species. That includes species hawksbill and green…
---
  Maratua island is one of the outer islands in Indonesia that located in Sulawesi Ocean and it bordered with Malaysia. Maratua island is administratively located on Berau regency, East Kalimantan. Maratua is a small and long island, and it has sharply curve at the edge and it located at the south side of Tarakan city. Maratua Island is also part of Derawan Islands.   By the strategic location and the richness of its marine, Maratua island is now popular by the Travelers from many countries. The tourists who give…
---
Bangkirai Hill Bukit Bangkirai is a natural tourism area which is managed by PT. Inhutani I Unit I Balikpapan. This tourist area is located in Samboja District, Kutai regency, East Kalimantan. Bangkirai hill can be reached by traveling overland for 1.5 hours from the city of Balikpapan. This tour offers the charm of a tropical rain forest that is still natural, and facilitated with some infrastructures like restaurants, hall for meetings, a swimming pool and jungle cottage or cabin. In this area there is a canopy bridge along 64 m…
---
Bontang Bontang is a city in East Kalimantan province, Indonesia. The city is located about 120 kilometers from Samarinda, directly have border to the East Kutai regency in the north and west, Kutai Kartanegara regency in the south and Regency Makassar Strait in the east. In this city stand three large companies in different fields, Badak NGL (natural gas), East Kalimantan Fertilizer (fertilizer and ammonia), and Indominco Mandiri (Coal) and has a petrochemical industrial area called the Kaltim Industrial Estate. Bontang city itself is oriented in the industrial, services and…
---