Bukit Bangkirai
---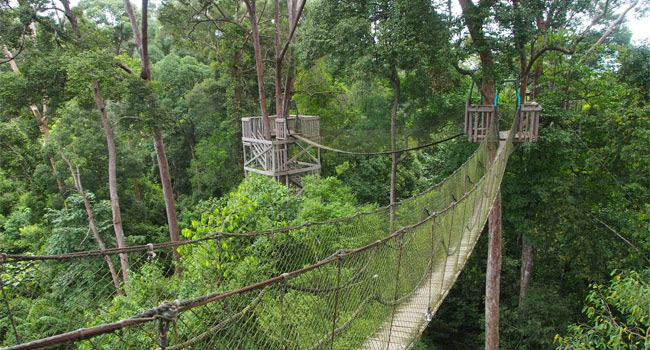 Bukit Bangkirai is one of the tourist destinations in East Kalimantan that you must be visit. About a two hour's drive north of Balikpapan city central. Bukit is actually a park within the rain forest, featuring log cottages for overnight stays, a small restaurant, restrooms, several [overgrown] jungle treks, a questionably maintained swimming pool and, for those who linger until five in the afternoon or so, the lure of viewing East Kalimantan famous Hornbills that frequent the area around dusk.
Bukit Bangkirai (Hill of Bangkirai) located in Samboja District, Kutai Regency, East Kalimantan situated between the trans Balikpapan - Samarinda, precisely at KM38. Here you can enjoy outbound of tropical rain forest which is became the one of lungs of the world today. Bukit Bangkirai is a natural tourism area which is managed by PT. INHUTANI Balikpapan.
Bukit Bangkirai can be reached by traveling overland for 1.5 hours from the city of Balikpapan. In this area there is a canopy bridge along 64 m were hanged connect 5 Bangkirai tree at a height of 30 m. This canopy bridge is the first in Indonesia, both in Asia and the eighth in the world. Its construction was made by cooperation among the United States and Indonesia government.
This Canopy Bridge is undertaken by American contractors who are members of the CCA (Canopy Construction Association ) as six field executive with three people as local power assisted. In addition to its construction are also use by Bangkirai woods and Galvanized nail were made in America. The age of this canopy bridge completion can be expected to last for 15-20 years according to age and durability of materials.
Besides enjoying the beautiful of rain forest from the height of canopy bridge, you can enjoy various types of trees and vegetation with a round track that has been provided by the park management. And after enjoying Bangkirai Hill National Park , you can buy something at the souvenir shop to bring back home.

Latest News
Sangalaki Island is a small island covering an area of 15.9 hectares. This island is one of the islands that are part of Derawan Archipelago. Derawan Islands is a group of islands famous in the world. Aside from Sangalaki Island, another famous island of Derawan Islands are Kakaban and Derawan Island. Sangalaki Island located in the waters of the northern peninsula of Berau. Administratively, Sangalaki Island located in Berau Regency of East Kalimantan Province. Most sea turtles in the world are an endangered species. That includes species hawksbill and green…
---
  Maratua island is one of the outer islands in Indonesia that located in Sulawesi Ocean and it bordered with Malaysia. Maratua island is administratively located on Berau regency, East Kalimantan. Maratua is a small and long island, and it has sharply curve at the edge and it located at the south side of Tarakan city. Maratua Island is also part of Derawan Islands.   By the strategic location and the richness of its marine, Maratua island is now popular by the Travelers from many countries. The tourists who give…
---
Bangkirai Hill Bukit Bangkirai is a natural tourism area which is managed by PT. Inhutani I Unit I Balikpapan. This tourist area is located in Samboja District, Kutai regency, East Kalimantan. Bangkirai hill can be reached by traveling overland for 1.5 hours from the city of Balikpapan. This tour offers the charm of a tropical rain forest that is still natural, and facilitated with some infrastructures like restaurants, hall for meetings, a swimming pool and jungle cottage or cabin. In this area there is a canopy bridge along 64 m…
---
Bontang Bontang is a city in East Kalimantan province, Indonesia. The city is located about 120 kilometers from Samarinda, directly have border to the East Kutai regency in the north and west, Kutai Kartanegara regency in the south and Regency Makassar Strait in the east. In this city stand three large companies in different fields, Badak NGL (natural gas), East Kalimantan Fertilizer (fertilizer and ammonia), and Indominco Mandiri (Coal) and has a petrochemical industrial area called the Kaltim Industrial Estate. Bontang city itself is oriented in the industrial, services and…
---