Cendana Park in Tanjung Redeb City, Berau District
---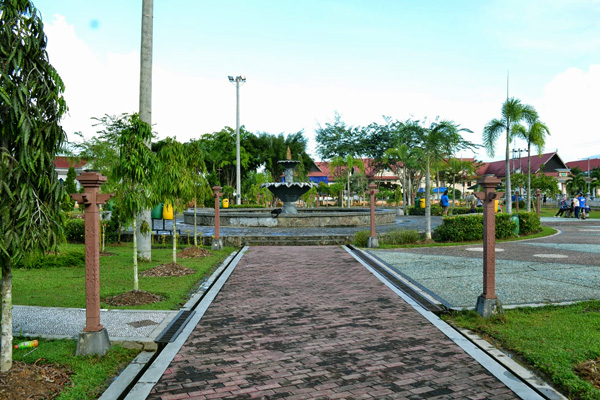 Just because Berau District is famous for its Derawan Islands, doesn't mean tourists have limited options of vacation destinations. In this case, they should visit the capital of Berau, which is Tanjung Redeb. An interesting spot is available for relaxing there and the name is Cendana Park. The location is in APT Pranoto Street, Karang Ambun Rural Community. The locals visit the park for a family vacation and enjoying good times either in the morning or afternoon. It is also crowded during weekends and holidays. Being the main city park, Cendana is also recommended for tourists.
The Nuance
The park has a simple and comfortable nuance, featuring a playground and several plants. That means parents can bring their kids to enjoy good times there.There is a slider, swinger, and other fun facilities for playing. It is likely children may spend much time in Cendana Park, while their parents wait to supervise them from afar. The park even features a jogging track, so tourists can get around and enjoy sports activity there. The atmosphere is comfortable either. Thanks to the presence of trees. There are also trash bins, so visitors won't litter carelessly.
Exploring Cendana Park
Despite its small size, the park offers a comfortable and merry atmosphere. Lots of visitors, especially the locals, often visit the site for hanging out. They also come with their friends and families. The kids play in the playground and the parents walk around the park comfortably. With such amusing nuance, tourists can take a rest for a while before continuing their adventure in Berau District and Derawan Islands. The park is also a suitable place for family bonding. It helps both parents and kids, creating a stronger relationship.
When it comes to foods, tourists can easily get snacks there. The reason is some food vendors often come to Cendana Park and offer their goods. Some locals also sell toys and souvenirs, especially during holidays. Due to this reason, it is better to carry some money when visiting the park. Tourists must get souvenirs, after all. Not to mention families should provide their kids with snacks or toys. This may give a good memory to the children, for sure. Another reason is because the price is affordable, so everyone can afford it.
The best time to visit Cendana Park is on holidays and weekends. More visitors come at those times, so the nuance becomes merrier. They come to the park with different reasons such as a family recreation, jogging, relaxation, sightseeing, etc. Near to the park, there is a swimming pool too. It is small, but the pool's water is quite refreshing. Kids would definitely love it, as long as they get supervised by their parents. Even adults are allowed to get in the water! Everyone should carry extra clothes, though.
Nearby Attractions
Baitul Hikmah Grand Mosque
Sanggam Park
Santi Graha Vihara
How to Get There
The park is located in Tanjung Redeb and the easiest way to reach the location is by airplane. In this case, the prime destination is Kalimarau Airport. Once travelers get to such checkpoint, they can directly head to Karang Ambun Rural Community, where the park resides.
Where to Stay
Grand Parama Hotel
Neotel Hotel
Cantika Swara Hotel

Latest News
Sangalaki Island is a small island covering an area of 15.9 hectares. This island is one of the islands that are part of Derawan Archipelago. Derawan Islands is a group of islands famous in the world. Aside from Sangalaki Island, another famous island of Derawan Islands are Kakaban and Derawan Island. Sangalaki Island located in the waters of the northern peninsula of Berau. Administratively, Sangalaki Island located in Berau Regency of East Kalimantan Province. Most sea turtles in the world are an endangered species. That includes species hawksbill and green…
---
  Maratua island is one of the outer islands in Indonesia that located in Sulawesi Ocean and it bordered with Malaysia. Maratua island is administratively located on Berau regency, East Kalimantan. Maratua is a small and long island, and it has sharply curve at the edge and it located at the south side of Tarakan city. Maratua Island is also part of Derawan Islands.   By the strategic location and the richness of its marine, Maratua island is now popular by the Travelers from many countries. The tourists who give…
---
Bangkirai Hill Bukit Bangkirai is a natural tourism area which is managed by PT. Inhutani I Unit I Balikpapan. This tourist area is located in Samboja District, Kutai regency, East Kalimantan. Bangkirai hill can be reached by traveling overland for 1.5 hours from the city of Balikpapan. This tour offers the charm of a tropical rain forest that is still natural, and facilitated with some infrastructures like restaurants, hall for meetings, a swimming pool and jungle cottage or cabin. In this area there is a canopy bridge along 64 m…
---
Bontang Bontang is a city in East Kalimantan province, Indonesia. The city is located about 120 kilometers from Samarinda, directly have border to the East Kutai regency in the north and west, Kutai Kartanegara regency in the south and Regency Makassar Strait in the east. In this city stand three large companies in different fields, Badak NGL (natural gas), East Kalimantan Fertilizer (fertilizer and ammonia), and Indominco Mandiri (Coal) and has a petrochemical industrial area called the Kaltim Industrial Estate. Bontang city itself is oriented in the industrial, services and…
---