Batu Putih Game Park (Taman Buru) in Talisayan Sub-District, Berau
---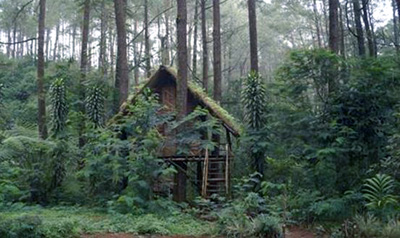 Many tourist attractions are available for those visiting Berau District. It is without a doubt, Derawan Archipelago becomes the most popular one, but it is not the only one. Well, each tourist has his own preferences when it comes to a holiday, after all. Some of them are even into a nature retreat! That's true. More tourists are looking for a place for finding peace these days. What about Berau? Is there any reference? The answer is definitely Batu Putih Game Park (Taman Buru), which resides in Taisayan Sub-district. It is a legal site hunting animals, camping, relaxation, and an adventure, in fact.
The Nuance
The site is surrounded by tall trees and dense bushes. That condition makes visitors feel comfortable when exploring the location. The nuance is calm and some animals like deer are often seen there. Even local birds would song beautifully in the morning, creating a mesmerizing atmosphere. Next, it is related to the air, which is fresh and rejuvenating. When it comes to the land, it is a bit damp especially during the rainy season. For this reason, visitors must consider wearing a boot or other similar footwear that provides comfort and waterproof feature.
Exploring Batu Putih Game Park
Many people recognize the site as nature conservation. No wonder, they often come to Batu Putih Game Park for sightseeing and enjoying nature. It is the home of tons of trees and animals, after all. Apart from being nature protection, it is also available for hunting. Thus, people who want to experience hunting in nature should consider visiting the game park. Here is the thing. They must fulfill all the requirements prior to hunting. Otherwise, they are not allowed to do it. Not to mention the management tells the types of animals for which tourists can hunt.
Many aspects or considerations are involved before enjoying hunting activity in Batu Putih Game Park. For example, tourists must learn the number of population of the animals, ages, and location. With all these things in mind, they can enjoy hunting without causing imbalance to the nature. They need to think about the types of weapon they might use in hunting, too. Simply put, tourists will be under supervision when conducting such activity. That means killing off rare or protected animals is highly prohibited!
Aside from hunting, tourists come to Batu Putih Game Park for other activities such as camping and exploration. Well, the nuance is perfect to do those activities indeed. People only need to conside about the location and the equipment. As for the tents and other items, they can either rent or prepare them before entering the game park. When it comes to locations, they can talk to the keeper or locals.
Nearby Attractions
Labuan Cermin Lake
Baitul Hikmah Grand Mosque
Rayatul Ikhlas Grand Mosque
Gunung Tabur Palace
Whale-Shark Point
How to Get There
First, travelers need to head to Balikpapan City by airplane and their destination is Sultan Aji Muhammad Sulaiman Airport. Once they get there, it is time to take a local transportation service to Berau District. Later, they can simply head to Talisayan Sub-district and visit the game park. The whole trip may spend up to 14 hours!
Where to Stay
Derawan Indah Hotel
Palmy Hotel
Grand Parama Hotel
Millenium Hotel

Latest News
Sangalaki Island is a small island covering an area of 15.9 hectares. This island is one of the islands that are part of Derawan Archipelago. Derawan Islands is a group of islands famous in the world. Aside from Sangalaki Island, another famous island of Derawan Islands are Kakaban and Derawan Island. Sangalaki Island located in the waters of the northern peninsula of Berau. Administratively, Sangalaki Island located in Berau Regency of East Kalimantan Province. Most sea turtles in the world are an endangered species. That includes species hawksbill and green…
---
  Maratua island is one of the outer islands in Indonesia that located in Sulawesi Ocean and it bordered with Malaysia. Maratua island is administratively located on Berau regency, East Kalimantan. Maratua is a small and long island, and it has sharply curve at the edge and it located at the south side of Tarakan city. Maratua Island is also part of Derawan Islands.   By the strategic location and the richness of its marine, Maratua island is now popular by the Travelers from many countries. The tourists who give…
---
Bangkirai Hill Bukit Bangkirai is a natural tourism area which is managed by PT. Inhutani I Unit I Balikpapan. This tourist area is located in Samboja District, Kutai regency, East Kalimantan. Bangkirai hill can be reached by traveling overland for 1.5 hours from the city of Balikpapan. This tour offers the charm of a tropical rain forest that is still natural, and facilitated with some infrastructures like restaurants, hall for meetings, a swimming pool and jungle cottage or cabin. In this area there is a canopy bridge along 64 m…
---
Bontang Bontang is a city in East Kalimantan province, Indonesia. The city is located about 120 kilometers from Samarinda, directly have border to the East Kutai regency in the north and west, Kutai Kartanegara regency in the south and Regency Makassar Strait in the east. In this city stand three large companies in different fields, Badak NGL (natural gas), East Kalimantan Fertilizer (fertilizer and ammonia), and Indominco Mandiri (Coal) and has a petrochemical industrial area called the Kaltim Industrial Estate. Bontang city itself is oriented in the industrial, services and…
---