Melawai Beach
---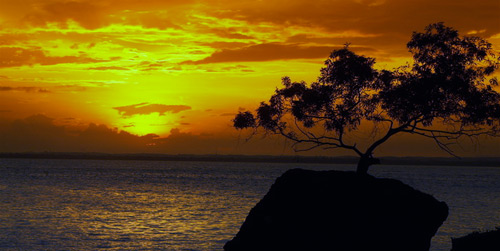 Melawai Beach is actually a bay which historically is the first oil drilling in Indonesia. Although as a drilling, Melawai Beach offers an alternative of beach tourist destination in Balikpapan. Here you can see the sunset clearly satisfied when viewed from Melawai Beach. The circumstances that shaped bay is also used as port and sometimes large ships carrying oil which was leaning against the main attraction for tourists. This one tourist beach is very crowded on the evening, because a lot of cafes that provide a distinctive culinary from Balikpapan.
Melawai beach is one of the most popular beaches in Balikpapan. Almost everyone in Balikpapan knows this beach. The location is on the highway of Balikpapan, so it is easy to find. Melawai Beach is located on Jenderal Sudirman street, Balikpapan city, East Kalimantan Province. Melawai Beach is not a wide beach with long white sand and you can also not dive or swim here. This beach is attractive when the sun sets. Sunset in Melawai beach is the best among all other places in Balikpapan. A clear view at the horizon without anything in front to distract.
When the tide comes, it will be almost completely flooded with only a small patch which is still visible. That patch is a coral rock. Local people call it as Tukung or Pulau Babi (Pig Island). This small island is easily reached at low water tide. But if the tide comes you will probably be trapped there for a while.
There are many small cafes, warungs and restaurants here so it is a good place to grab some food and hang out with friends. You can get both snacks or full meals here. Gapit banana is the local dish you should try. The banana is cooked on a flat pan then it is poured with sweet red sauce. So, if you are in Balikpapan, see the sunset and eat Gapit banana at Melawai Beach .The location is not very far from downtown of Balikpapan, making this beach is easy to reach. If you want to use public transport, find route 5 and 6 which will pass Melawai Beach.

Latest News
Sangalaki Island is a small island covering an area of 15.9 hectares. This island is one of the islands that are part of Derawan Archipelago. Derawan Islands is a group of islands famous in the world. Aside from Sangalaki Island, another famous island of Derawan Islands are Kakaban and Derawan Island. Sangalaki Island located in the waters of the northern peninsula of Berau. Administratively, Sangalaki Island located in Berau Regency of East Kalimantan Province. Most sea turtles in the world are an endangered species. That includes species hawksbill and green…
---
  Maratua island is one of the outer islands in Indonesia that located in Sulawesi Ocean and it bordered with Malaysia. Maratua island is administratively located on Berau regency, East Kalimantan. Maratua is a small and long island, and it has sharply curve at the edge and it located at the south side of Tarakan city. Maratua Island is also part of Derawan Islands.   By the strategic location and the richness of its marine, Maratua island is now popular by the Travelers from many countries. The tourists who give…
---
Bangkirai Hill Bukit Bangkirai is a natural tourism area which is managed by PT. Inhutani I Unit I Balikpapan. This tourist area is located in Samboja District, Kutai regency, East Kalimantan. Bangkirai hill can be reached by traveling overland for 1.5 hours from the city of Balikpapan. This tour offers the charm of a tropical rain forest that is still natural, and facilitated with some infrastructures like restaurants, hall for meetings, a swimming pool and jungle cottage or cabin. In this area there is a canopy bridge along 64 m…
---
Bontang Bontang is a city in East Kalimantan province, Indonesia. The city is located about 120 kilometers from Samarinda, directly have border to the East Kutai regency in the north and west, Kutai Kartanegara regency in the south and Regency Makassar Strait in the east. In this city stand three large companies in different fields, Badak NGL (natural gas), East Kalimantan Fertilizer (fertilizer and ammonia), and Indominco Mandiri (Coal) and has a petrochemical industrial area called the Kaltim Industrial Estate. Bontang city itself is oriented in the industrial, services and…
---