Jakarta
---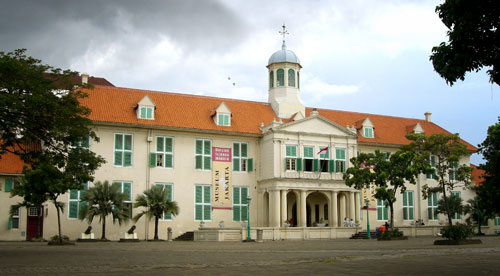 Jakarta is the capital city of the Republic of Indonesia, a country composed of more than 13,000 islands with a population of over 180 million. Comprising more than 300 ethnic groups speaking 200 different languages, the Indonesia population exhibits marked diversity in its linguistic, culture, and religious traditions. As the Capital City, Jakarta is a melting pot of representatives from each of these ethnic groups. Jakarta is a special territory enjoying the status of a province, consisting of Greater Jakarta, covering of 637.44 square km area. Located on the northern coast of West Java, it is the center of government, commerce and industry and has an extensive communications network with the rest of the country and the outside world. Strategically positioned in the archipelago, the city is also the principal gateway to the rest of Indonesia. From the Capital City, sophisticated land, air, and sea transport is available to the rest of the country and beyond.
Jakarta is one of Indonesia's designated tourist areas. It is a gateway to other tourist destinations in Indonesia and is equipped with all the means of modern transportation by air, sea, rail, or by land. It has the largest and most modern airport in the country, the most important harbor in Indonesia and is well connected by rail of good roads to other destinations in Java, Sumatra, and Bali. As Indonesia's main gateway, Soekarno-Hatta International Airport serves a growing number of international airlines and domestic flights. Jakarta is a city of contrasts; the traditional and the modern, the rich and the poor, the sacral and the worldly, often stand side by side in this bustling metropolis. Even its population gathered from all those diverse ethnic and cultural groups, which compose Indonesia, are constantly juxtaposed present reminder of the national motto; Unity in Diversity.
Finding its origin in the small early 16th century harbor town of Sunda Kelapa, Jakarta's founding is thought to have taken place on June 22, 1527, when it was re-named Jayakarta, meaning Glorious Victory by the conquering Prince Fatahillah from neighboring Cirebon. The Dutch East Indies Company, which captured the town and destroyed it in 1619, changed its name into Batavia and made it the center for the expansion of their power in the East Indies. Shortly after the outbreak of World War II, Batavia fell into the hands of the invading Japanese forces that changed the name of the city into 'Jakarta' as a gesture aimed at winning the sympathy of the Indonesians. The name was retained after Indonesia achieved national independence after the war's end.
The ethnic of Jakarta called "Orang Betawi" speaks Betawi Malay, spoken as well in the surrounding towns such as Bekasi and Tangerang. Their language, Betawi Malay, has two variations: conventional Betawi Malay, spoken by elder people and bred in Jakarta, and modern Jakarta Malay, a slang form spoken by the younger generation and migrants.

Latest News
As the capital city of Indonesia, Jakarta is not only famous for its skyscrapers and the title as one of the largest metropolitan cities in the world. There are many other unique things that Jakarta has to offer, one of them is the creative typical product of Betawi—the native people of Jakarta. As is known, Betawi tribe who inhabit Jakarta as well as parts of West Java and Banten have unique cultural products. For example, lenong. However, as time goes by, the existence of lenong is increasingly displaced and it…
---
For Indonesians, the name of Kepulauan Seribu is already familiar. However, it is different from foreign tourists who rarely hear about the beauty of these islands. They do not think that there is a beautiful natural tourism that is not far from Jakarta. Want to know more details? When boarding the ship to Seribu islands, foreign tourists find it difficult to communicate with the ship's crew, because most of them do not speak English. This is because the crew in Kepulauan Seribu are mostly local people who do not speak…
---
Istiqlal Mosque is one of the halal tourist destinations in Indonesia. The construction process in a number of areas of the largest mosque in Southeast Asia has been completed and has made it ready as a place of worship, study, as well as tourism. The Istiqlal Mosque has become an icon of Indonesia. Many tourists and national heads who visited Indonesia then saw the beauty of the Istiqlal Mosque. If you enter to the mosque, with five floors and one ground floor, you will see the splendor of modern architecture…
---
Jakarta City always becomes the center of tourism, especially for foreigners who spend a vacation in Indonesia. It is the capital city of the nation, after all. That means Jakarta becomes a perfect checkpoint before visiting other regions. Aside from that, it also has tons of attractive vacation spots that offer different themes. For instance, there is the MACAN Museum in Kebon Jeruk Sub-District. Tourists only need to reach Perjuangan 5 Street in order to get to the museum. So, what is in there? Well, the official name is the…
---