Jakarta
---
Bunderan HI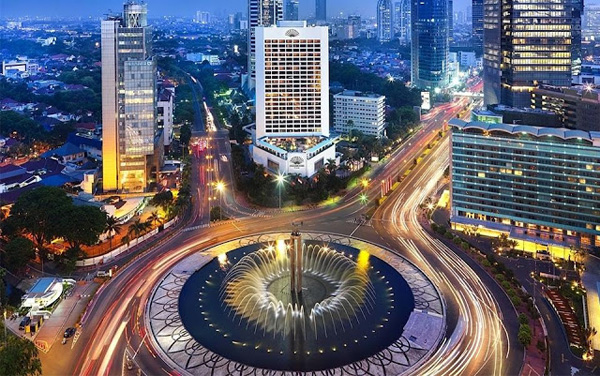 Jakarta's architecture reflects to a large extent the influx of outside influences, which came and has remained in this vital seaport city. Taman Fatahillah Restoration Project, begun in the early 1970s has restored one of the oldest sections of Jakarta also known as Old Batavia to approximately its original state. The Old Portuguese Church and warehouse have been rehabilitated into living museums. The old Supreme Court building is now a museum of fine arts, which also houses part of the excellent Chinese porcelain collection of former Vice President Adam Malik. The old Town Hall has become the Jakarta Museum, displaying such rare items as Indonesia's old historical documents and Dutch period furniture. Its tower clock was once returned to England to be repaired under its lifetime guarantee, which up to now has already lasted hundreds of years.
In recent years, Jakarta has expanded its facilities for visitors with luxury hotels, fine restaurants, exciting nightlife and modern shopping centers. It contains many tourist attractions such as Taman Mini Indonesia Indah (Beautiful "Indonesia in Miniature" Park), restored colonial period buildings, island resorts in the Pula Seribu (Thousand Island), and an extensive beach recreation complex called Ancol. "Beautiful Indonesia in Miniature Park" popularly called TMII "Taman Mini Indonesia Indah", built to portray the variety of cultures found within the many islands contained in the Republic of Indonesia, this open-air museum comprises the many architectural forms of arts and traditions of all Indonesia provinces. It is proof of the country's motto of Unity in Diversity as well as Freedom of Religion depicted in the houses of worship built on the grounds.
Jakarta has preserved its past and is developing for the future. Skyscrapers in the center of the city are part of a new look. Modern luxury hotels today cater to the discriminating visitors. Transport within the city is plentiful. Jakarta is the center of the nation's industrial, political and cultural life. It is home to many of the country's finest research institutes, educational facilities, and cultural organizations. Jakarta is uniquely the seat of both the national as well as the regional government.
Over the last several decades, Jakarta has proudly developed into one of Asia's most prominent metropolitan centers. Today, Jakarta's skyline is covered by modern high rises. The many state-of-the-art shopping centers, recreation complexes and toll-roads have become hallmarks of the city. The quality of life and the general welfare of its inhabitants have improved considerably with the city's fast pace of development. Jakarta's cultural richness and dynamic growth contribute significantly to its growing importance as one of the world's leading capital cities.

Latest News
As the capital city of Indonesia, Jakarta is not only famous for its skyscrapers and the title as one of the largest metropolitan cities in the world. There are many other unique things that Jakarta has to offer, one of them is the creative typical product of Betawi—the native people of Jakarta. As is known, Betawi tribe who inhabit Jakarta as well as parts of West Java and Banten have unique cultural products. For example, lenong. However, as time goes by, the existence of lenong is increasingly displaced and it…
---
For Indonesians, the name of Kepulauan Seribu is already familiar. However, it is different from foreign tourists who rarely hear about the beauty of these islands. They do not think that there is a beautiful natural tourism that is not far from Jakarta. Want to know more details? When boarding the ship to Seribu islands, foreign tourists find it difficult to communicate with the ship's crew, because most of them do not speak English. This is because the crew in Kepulauan Seribu are mostly local people who do not speak…
---
Istiqlal Mosque is one of the halal tourist destinations in Indonesia. The construction process in a number of areas of the largest mosque in Southeast Asia has been completed and has made it ready as a place of worship, study, as well as tourism. The Istiqlal Mosque has become an icon of Indonesia. Many tourists and national heads who visited Indonesia then saw the beauty of the Istiqlal Mosque. If you enter to the mosque, with five floors and one ground floor, you will see the splendor of modern architecture…
---
Jakarta City always becomes the center of tourism, especially for foreigners who spend a vacation in Indonesia. It is the capital city of the nation, after all. That means Jakarta becomes a perfect checkpoint before visiting other regions. Aside from that, it also has tons of attractive vacation spots that offer different themes. For instance, there is the MACAN Museum in Kebon Jeruk Sub-District. Tourists only need to reach Perjuangan 5 Street in order to get to the museum. So, what is in there? Well, the official name is the…
---