1945 Struggle for Freedom Museum
---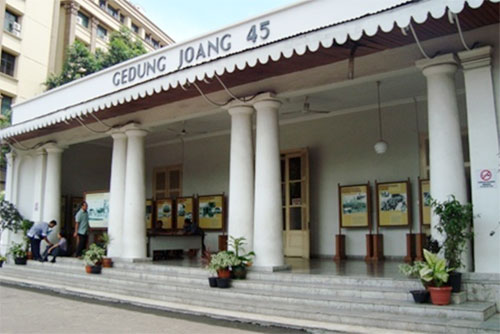 1945 Struggle for Freedom Museum is located at Menteng Raya Street 31, Central Jakarta. In 1938, a Dutch businessman named LC Schomper, built a hotel called Schomper, I at Menteng Area. The hotel was built as a place to spend nights for high officials of the Nederland, foreign Entrepreneurs, and high officials of local government.
During the colonization of the Japanese Empire in Indonesia youth and it was turned into a boarding house and Education center for Indonesian Youth in order to learn nationalism. Soekarno (1st Indonesian President), Mohammad Hatta (1st Indonesian Vice President), Adam Malik Chaerul Saleh and many other youth generations of Indonesia are involved in the educations process inside. The name of the Hotel Schomper 1 Hotel then turned into Gedung Menteng 31 Building). As time went by, the Gedung Menteng 31 was used for many purposes. It was once used as office of Ministry of Manpower arrangement, National Boards of the Generation of 1945, and Jointly Secretariat of Nation Works Organization (secretariat Bersama Golongan Karya) - Embrio the GOLKAR Party.
After the building was renovated and repaired Gedung Menteng 31 was officially established as Museum Joang 45 on August 19, 1974, by former President Soeharto and former governor of Jakarta Ali Sadikin. The name, Museum Joang 45' is chosen as the building has played great role on the Independence if Indonesia and could become a site for the inheritance process of invaluable struggle values in 1945. The Museum is open from 8.00 am to 3.00 pm on Monday to Friday.

Latest News
As the capital city of Indonesia, Jakarta is not only famous for its skyscrapers and the title as one of the largest metropolitan cities in the world. There are many other unique things that Jakarta has to offer, one of them is the creative typical product of Betawi—the native people of Jakarta. As is known, Betawi tribe who inhabit Jakarta as well as parts of West Java and Banten have unique cultural products. For example, lenong. However, as time goes by, the existence of lenong is increasingly displaced and it…
---
For Indonesians, the name of Kepulauan Seribu is already familiar. However, it is different from foreign tourists who rarely hear about the beauty of these islands. They do not think that there is a beautiful natural tourism that is not far from Jakarta. Want to know more details? When boarding the ship to Seribu islands, foreign tourists find it difficult to communicate with the ship's crew, because most of them do not speak English. This is because the crew in Kepulauan Seribu are mostly local people who do not speak…
---
Istiqlal Mosque is one of the halal tourist destinations in Indonesia. The construction process in a number of areas of the largest mosque in Southeast Asia has been completed and has made it ready as a place of worship, study, as well as tourism. The Istiqlal Mosque has become an icon of Indonesia. Many tourists and national heads who visited Indonesia then saw the beauty of the Istiqlal Mosque. If you enter to the mosque, with five floors and one ground floor, you will see the splendor of modern architecture…
---
Jakarta City always becomes the center of tourism, especially for foreigners who spend a vacation in Indonesia. It is the capital city of the nation, after all. That means Jakarta becomes a perfect checkpoint before visiting other regions. Aside from that, it also has tons of attractive vacation spots that offer different themes. For instance, there is the MACAN Museum in Kebon Jeruk Sub-District. Tourists only need to reach Perjuangan 5 Street in order to get to the museum. So, what is in there? Well, the official name is the…
---