Sea World in Jakarta City, DKI Province
---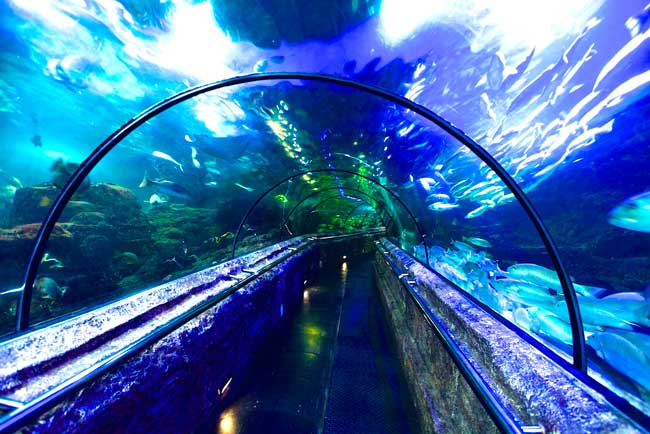 Jakarta City, which is the capital of Indonesia, has lots of functions including being the center of governmental activities and business. Aside from these, it has become a great place to spend a family recreation! The reason is that the city has tons of recreational areas including the famous Sea World! This one is located in Ancol Village of Pademangan Sub-District. Thus, tourists only need to reach North Jakarta City in order to access the facility. As the name suggests, the site offers entertainment, conservation, and education to visitors, which are related to marine creatures. The location is the Ancol area, so it is indeed quite popular!
The Nuance
In terms of nuance, Sea World features a vast building and giant aquariums. Not to mention the facilities are quite sophisticated. According to the keepers, the site stores both saltwater and freshwater creatures. The number is indeed many! In fact, there are 28 displays, including giant aquariums and open ponds. Some of those facilities even come with a special theme! The number of visitors is quite a lot, especially during special shows or events. Most of them are local families who come with their kids, actually.
Exploring Sea World
Lots of fun things can be done in Sea World. For example, visitors can watch the feeding show! During the event, two or more divers (the staff) would get in the main aquarium and feed those beautiful sea creatures! Taking photos is allowed during the show either. Next, tourists should visit Kolam Sentuh or the touch pool. As the name suggests, they can touch those fishes directly! Have no worries. Instructors would give tips and methods on how to touch the creatures safely.
The next recommended place to visit is the preserved sea creature room. As people may expect, they would find many preserved fishes there, including the famous ancient fish called Raja Laut or Coelacanth. Well, even though tourists are allowed to take photos of those objects, touching is indeed prohibited. Thus, while exploring the site, everyone should be careful when walking (especially when the number of visitors is high).
Here is the most common reason for visiting Sea World. Tourists want to learn and watch various types or species of freshwater fishes that originated from different parts of the world. They can even see the notorious Amazon's arapaima and piranha! Aside from fishes, actually, the site also displays lots of beautiful corals and other sea flora. Next, it is also possible to dive in the aquarium, as long as tourists follow the instructions and wear recommended gear or item.
Nearby Attractions

Ancol Lake
Dunia Fantasy
Atlantis Water Adventure
How to Get There
The prime destination is indeed Jakarta City and the simplest way to get there is by airplane. Once tourists arrive at Soekarno – Hatta International Airport, they can take Sedyatmo Highway and head to Sea World directly. This trip would take only about 29 minutes, as the distance is 25.5 km.
For those coming by train, in this case, the destination is none other than Jakarta Kota Train Station. After that, they should take Mangga Dua Raya and RE Martadinata Street in order to reach Sea World. Have no worries. The trip may take only around 12 minutes, as the distance is 5.4 km.
Another common method in order to reach Jakarta City is by bus. This time, the destination would be Grogol Bus Station. Next, from the terminal, tourists only need to take Jakarta Inner Ring Road and head to Sea World immediately. The distance is 14.1 km, so the trip would take about 23 minutes.
Where to Stay

Putri Duyung Cottage
Mercure Convention Center
Zen Rooms
Sofie Inn

Latest News
As the capital city of Indonesia, Jakarta is not only famous for its skyscrapers and the title as one of the largest metropolitan cities in the world. There are many other unique things that Jakarta has to offer, one of them is the creative typical product of Betawi—the native people of Jakarta. As is known, Betawi tribe who inhabit Jakarta as well as parts of West Java and Banten have unique cultural products. For example, lenong. However, as time goes by, the existence of lenong is increasingly displaced and it…
---
For Indonesians, the name of Kepulauan Seribu is already familiar. However, it is different from foreign tourists who rarely hear about the beauty of these islands. They do not think that there is a beautiful natural tourism that is not far from Jakarta. Want to know more details? When boarding the ship to Seribu islands, foreign tourists find it difficult to communicate with the ship's crew, because most of them do not speak English. This is because the crew in Kepulauan Seribu are mostly local people who do not speak…
---
Istiqlal Mosque is one of the halal tourist destinations in Indonesia. The construction process in a number of areas of the largest mosque in Southeast Asia has been completed and has made it ready as a place of worship, study, as well as tourism. The Istiqlal Mosque has become an icon of Indonesia. Many tourists and national heads who visited Indonesia then saw the beauty of the Istiqlal Mosque. If you enter to the mosque, with five floors and one ground floor, you will see the splendor of modern architecture…
---
Jakarta City always becomes the center of tourism, especially for foreigners who spend a vacation in Indonesia. It is the capital city of the nation, after all. That means Jakarta becomes a perfect checkpoint before visiting other regions. Aside from that, it also has tons of attractive vacation spots that offer different themes. For instance, there is the MACAN Museum in Kebon Jeruk Sub-District. Tourists only need to reach Perjuangan 5 Street in order to get to the museum. So, what is in there? Well, the official name is the…
---