Basoeki Abdullah Museum in Cilandak Sub-district, South Jakarta City
---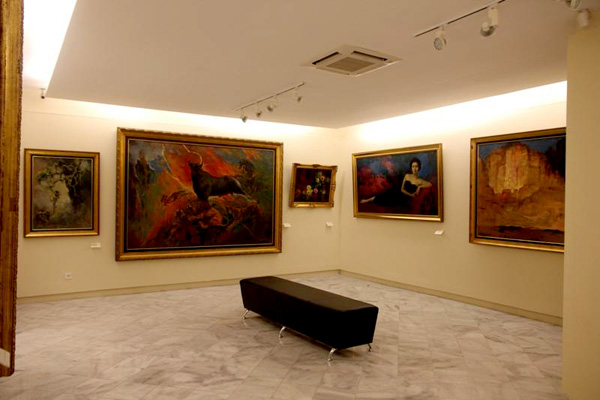 Jakarta Special Region has many valuable museums, and all of them are worth a visit. For those who are into arts, Basoeki Abdullah Museum is a recommended place to explore. Just like the name implies. The museum stores arts collections and paintings of Basoeki Abdullah, including shadow puppets, statues, paintings, weapons, and masks. Currently, the museum is managed by the Ministry of Education and Culture. It also opens for public, so everyone is allowed to enter it. Sometimes, tourists can also join seminars and studies. Not to mention they have the chance to join a workshop, publishing numerous works like articles, biographies, and catalogs.
The Nuance
The size of the building is about 600 m2 and it consists of two floors. Both the nuance and environment are clean. Thanks to the great management. What about the history? Well, the construction finished in 2001 and it was inaugurated by I Gede Ardika. Before dying, Basoeki Abdullah's will was to gather and retain his collections in a house and turned it into a public attraction. With the help of the government, his house was renovated into a museum, displaying his lucrative arts collections. On top of that, tourists consider it as a recommended tourist spot in West Cilandak.
Exploring Basoeki Abdullah Museum
As mentioned before, the museum retains Basoeki's art collections and other valuable items. In fact, there is a memorial room! In terms of number, there are about 720 collections and 3,000 books or magazines. Once visitors enter the building, they may find several rooms on the first floor. These include a living room, masks and shadow puppets exhibition hall, and Basoeki's bedroom. The fact is he was mysteriously murdered in 1993 in his bedroom. No wonder, the aura of the room seems mystical and strange.
The second floor contains a gallery, where Basoeki's paintings reside. There are about 50 of them, but the locals say there are more than 100 of them. In this floor, visitors may find 3 exhibition rooms. The first one consists of scenery paintings only, while the second room consists of famous people like R.A Kartini, Ferdinand Marcos, and much more. What about another room? It displays abstract paintings. Among all the paintings, the most famous one is called "Flora dan Fauna". The rumor has it, the eyes of the boy in the painting may move accordingly to the audience's movement!
Overall, Basoeki Abdullah Museum is a hidden treasure of Jakarta tourism. It is a recommended place to witness the collections of such famous artist. In fact, some students come to the museum to do a field study. In fact, taking pictures is allowed there. What's next? Another charm is the entry fee, which is quite cheap for everyone.
Nearby Attractions
Harry Darsono Museum
Layang-Layang Museum
Cilandak Town Square
How to Get There
The museum resides in Cilandak Sub-district, South Jakarta City. To be exact, it is located in Keuangan Raya Street 19. From Soekarno-Hatta Airport, the distance is 32 km and it takes about 35 minutes to reach the place. Also, the best route to use is Jakarta Outer Ring Road. That's all.
Where to Stay
Maven Hotel
Park 5 Hotel
RedDoorz
Blue Sky Hotel

Latest News
As the capital city of Indonesia, Jakarta is not only famous for its skyscrapers and the title as one of the largest metropolitan cities in the world. There are many other unique things that Jakarta has to offer, one of them is the creative typical product of Betawi—the native people of Jakarta. As is known, Betawi tribe who inhabit Jakarta as well as parts of West Java and Banten have unique cultural products. For example, lenong. However, as time goes by, the existence of lenong is increasingly displaced and it…
---
For Indonesians, the name of Kepulauan Seribu is already familiar. However, it is different from foreign tourists who rarely hear about the beauty of these islands. They do not think that there is a beautiful natural tourism that is not far from Jakarta. Want to know more details? When boarding the ship to Seribu islands, foreign tourists find it difficult to communicate with the ship's crew, because most of them do not speak English. This is because the crew in Kepulauan Seribu are mostly local people who do not speak…
---
Istiqlal Mosque is one of the halal tourist destinations in Indonesia. The construction process in a number of areas of the largest mosque in Southeast Asia has been completed and has made it ready as a place of worship, study, as well as tourism. The Istiqlal Mosque has become an icon of Indonesia. Many tourists and national heads who visited Indonesia then saw the beauty of the Istiqlal Mosque. If you enter to the mosque, with five floors and one ground floor, you will see the splendor of modern architecture…
---
Jakarta City always becomes the center of tourism, especially for foreigners who spend a vacation in Indonesia. It is the capital city of the nation, after all. That means Jakarta becomes a perfect checkpoint before visiting other regions. Aside from that, it also has tons of attractive vacation spots that offer different themes. For instance, there is the MACAN Museum in Kebon Jeruk Sub-District. Tourists only need to reach Perjuangan 5 Street in order to get to the museum. So, what is in there? Well, the official name is the…
---