Ancol Dreamland in Jakarta City, DKI Province
---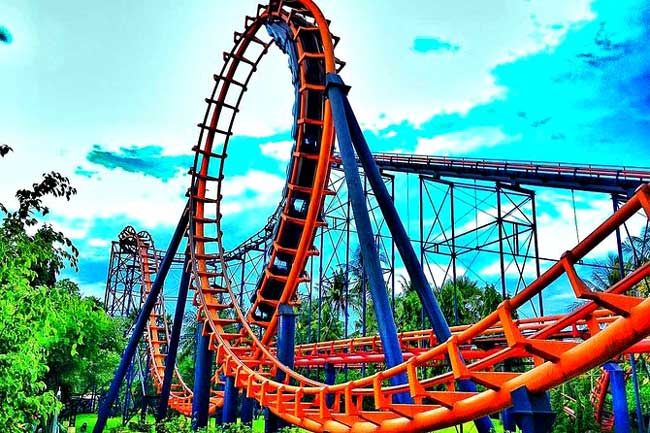 One of the most famous vacation spots in Jakarta City, Ancol Dreamland, indeed would be in everyone's list when spending a vacation in DKI Province. The location is at Ancol Village and it belongs to Pademangan Sub-District. For the information, it has become an integral part of Ancol Bay City and offers numerous stunning objects, knowledge, arts, and cultures. No wonder, local families are always seen there regardless of the time. These people want to spend a memorable family recreation and vacation with their family members, after all. One thing, it is recommended to carry much money to try all the facilities and fun rides!
The Nuance
Due to nice management, Ancol Dreamland indeed looks so beautiful and offers a comfy nuance. Lots of trees and plants beautify the site, as well. Not to mention many types of rides and facilities are available for tourists to use. In fact, visitors may find an international-standard golf court and sophisticated accommodations there. The good news is the site operates daily, so tourists can choose the time of the visit based on their preferred nuance. For example, at weekends, the nuance indeed becomes merry.
Exploring Ancol Dreamland
Before enjoying all different types of fun rides in Ancol Dreamland, tourists must not forget to gather information regarding the history of the site first. It is said that the area was once a neglected swamp, where lots of mosquitos lived. No wonder, the region suffered from Malaria back then. Thanks to the government's initiative. They decided to develop the site and turned it into a well-maintain vacation area. The development continues, so tourists can find tons of interesting facilities there.
So, what can tourists do? The first recommended spot to visit is called Dunia Fantasi where tens of fun rides operate. One thing, tourists must spend lots of money in order to try all rides and facilities. Some attractions and theatrical performances also occur at special times there. Next, after visiting DUFAN, tourists should head to the next famous facility called Atlantis Water Adventure. As the name suggests, this place becomes a perfect site for playing water and swimming! It applies an underwater theme of Atlantic Ocean, actually.
What is more? Other famous places are available to explore! These include Ocean Dream Samudra, Sea World Ancol, art market, Festival Beach, Carnival Beach, and much more! Those who have enough money can even enjoy exclusive sports like bowling and golfing there. Therefore, once again, it is recommended to carry enough cash in order to enjoy the best fun in Ancol Dreamland.
Nearby Attractions

Pulau Ayer
Sea World Anyer
Mangga Dua Square
How to Get There
For outsiders or tourists, the easiest way to reach Jakarta City is indeed by airplane and the destination is Soekarno – Hatta International Airport. Next, after arriving at the airport, they can use Prof. Sedyatmo Street and head to Ancol Dreamland directly. Have no worries. The trip would take only about 27 minutes, as the distance is 23.3 km.
For those coming by train, in this case, their destination would be Jakarta Kota Train Station. Next, from the station, they must take Mangga Dua Raya Street and reach Ancol Dreamland right away. This trip only takes about 11 minutes, as the distance is 3.2 km.
Here is another method. Tourists can take a bus from their region and head to Grogol Bus Station at Jakarta City. After arriving at the destination, they can use Raya Pantura Street in order to reach Ancol Dreamland. The distance is 11.8 km, so the trip would take around 21 minutes or less.
Where to Stay

Discovery Hotel
Mercure Convention Center
Marina Mediterania Hotel

Latest News
As the capital city of Indonesia, Jakarta is not only famous for its skyscrapers and the title as one of the largest metropolitan cities in the world. There are many other unique things that Jakarta has to offer, one of them is the creative typical product of Betawi—the native people of Jakarta. As is known, Betawi tribe who inhabit Jakarta as well as parts of West Java and Banten have unique cultural products. For example, lenong. However, as time goes by, the existence of lenong is increasingly displaced and it…
---
For Indonesians, the name of Kepulauan Seribu is already familiar. However, it is different from foreign tourists who rarely hear about the beauty of these islands. They do not think that there is a beautiful natural tourism that is not far from Jakarta. Want to know more details? When boarding the ship to Seribu islands, foreign tourists find it difficult to communicate with the ship's crew, because most of them do not speak English. This is because the crew in Kepulauan Seribu are mostly local people who do not speak…
---
Istiqlal Mosque is one of the halal tourist destinations in Indonesia. The construction process in a number of areas of the largest mosque in Southeast Asia has been completed and has made it ready as a place of worship, study, as well as tourism. The Istiqlal Mosque has become an icon of Indonesia. Many tourists and national heads who visited Indonesia then saw the beauty of the Istiqlal Mosque. If you enter to the mosque, with five floors and one ground floor, you will see the splendor of modern architecture…
---
Jakarta City always becomes the center of tourism, especially for foreigners who spend a vacation in Indonesia. It is the capital city of the nation, after all. That means Jakarta becomes a perfect checkpoint before visiting other regions. Aside from that, it also has tons of attractive vacation spots that offer different themes. For instance, there is the MACAN Museum in Kebon Jeruk Sub-District. Tourists only need to reach Perjuangan 5 Street in order to get to the museum. So, what is in there? Well, the official name is the…
---