Langsat Park in Jakarta City, DKI Province
---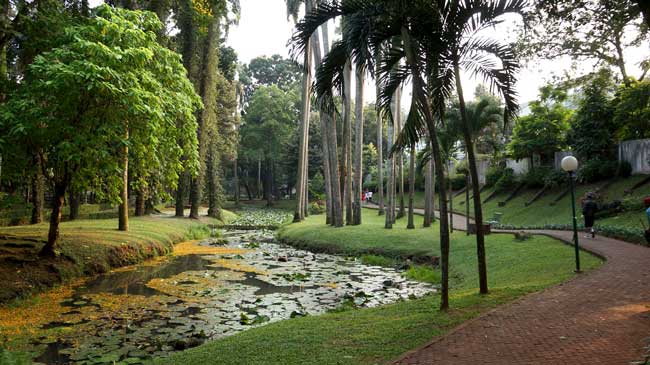 Big cities like Jakarta indeed have lots of comfy parks for relaxation. In Jakarta City, for instance, there is the famous Langsat Park. The location is in Kramat Pela Village and it belongs to Kebayoran Baru Sub-District. What makes it different than other parks, though? Well, it is known for its mystical nuance! Thus, tourists can feel a distinct experience when spending a vacation in the park. Another good thing is that tourists can easily find the location. It is because the park resides in the back of Barito Bird Market!
The Nuance
One thing that makes Langsat Park different than other parks in Jakarta City is none other than the nuance. As mentioned before, the park has a mystical nuance due to the rural mysteries. Tourists can even hear and learn about those stories during the visit later. In terms of size, the park resides on an area of 3.6 hectares. The location is in the midst of South Jakarta City, so it provides a comfy spot to everyone for relaxation, hanging out, or other casual activities. As for features, the most noticeable one is the old concrete bridge covered by moss. It resides on a small river and the appearance indeed looks mystical!
Exploring Langsat Park
The first thing that tourists can enjoy in Langsat Park is related to history. They can simply ask the locals regarding the history later. It is said the site was once used as storage of plant seeds back then. Aside from that, the locals said the park has numerous mysteries or mystical stories! Have no worries. Tourists can learn more about these from villagers later. Moreover, the location is covered by lush trees, local bird market, and buildings. This makes the park looks more secluded and mystical!
The next common thing to do in Langsat Park is definitely to conduct photography. Tourists only need to find the right spots for taking photos later. For example, they can simply stand above the bridge and take some pictures on it. One thing, the ambiance becomes gloomy sometimes, so everyone must come at the right time, which is usually at noon or in the morning. It can be said that Langsat is a hidden park! That means the location is suitable for relaxation and finding peace, too.
Another great thing about Langsat Park is the presence of shady trees and beautiful landscape. Not to mention, during relaxation, tourists may hear beautiful songs of birds! Here is the good news. The park has featured a jogging track, which can be used freely! The length of the jogging track is about 750 meters! It also passes through a small hill, which helps tourists to enjoy the activity better.
Nearby Attractions

Ayodya Park
GOR Bulungan
Taman Puring Market
Taman Patung Tumbuh dan Berkembang
How to Get There
Usually, outsiders and foreign tourists would take an airplane in order to reach Jakarta City. They consider it the fastest way to get there, after all. Next, after arriving at Jakarta, tourists only need to take Jakarta Inner Ring Road and get to Langsat Park directly. For those coming by train, they should head to Jakarta Kota Station first. After that, they should take Jakarta Inner Ring Road and reach the park right away. This trip usually takes around 40 minutes, as the distance is 19.8 km.
As an alternative, tourists can get to Jakarta City by bus and their destination is Grogol Bus Station. Next, they should take Jakarta Inner Ring Road and head to the park immediately. This time, the trip would take about 29 minutes, as the distance is 15.2 km.
Where to Stay

Omah Dasar
RedDoorz
Cheers Residential
Gran Mahakam Hotel

Latest News
As the capital city of Indonesia, Jakarta is not only famous for its skyscrapers and the title as one of the largest metropolitan cities in the world. There are many other unique things that Jakarta has to offer, one of them is the creative typical product of Betawi—the native people of Jakarta. As is known, Betawi tribe who inhabit Jakarta as well as parts of West Java and Banten have unique cultural products. For example, lenong. However, as time goes by, the existence of lenong is increasingly displaced and it…
---
For Indonesians, the name of Kepulauan Seribu is already familiar. However, it is different from foreign tourists who rarely hear about the beauty of these islands. They do not think that there is a beautiful natural tourism that is not far from Jakarta. Want to know more details? When boarding the ship to Seribu islands, foreign tourists find it difficult to communicate with the ship's crew, because most of them do not speak English. This is because the crew in Kepulauan Seribu are mostly local people who do not speak…
---
Istiqlal Mosque is one of the halal tourist destinations in Indonesia. The construction process in a number of areas of the largest mosque in Southeast Asia has been completed and has made it ready as a place of worship, study, as well as tourism. The Istiqlal Mosque has become an icon of Indonesia. Many tourists and national heads who visited Indonesia then saw the beauty of the Istiqlal Mosque. If you enter to the mosque, with five floors and one ground floor, you will see the splendor of modern architecture…
---
Jakarta City always becomes the center of tourism, especially for foreigners who spend a vacation in Indonesia. It is the capital city of the nation, after all. That means Jakarta becomes a perfect checkpoint before visiting other regions. Aside from that, it also has tons of attractive vacation spots that offer different themes. For instance, there is the MACAN Museum in Kebon Jeruk Sub-District. Tourists only need to reach Perjuangan 5 Street in order to get to the museum. So, what is in there? Well, the official name is the…
---