Jakarta Museum of Kites in Cilandak Sub-District, South Jakarta City
---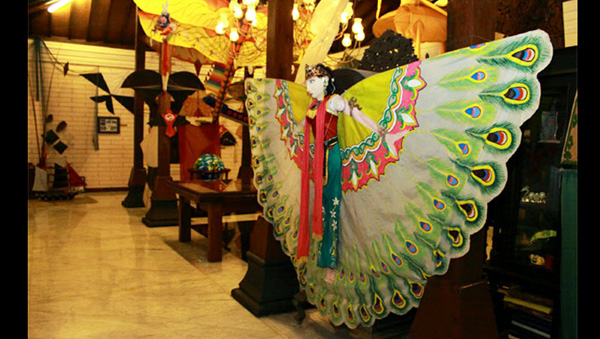 Visiting Jakarta Special Region is worth the expense, as many types of attractions are available. One of them is located in Cilandak Sub-district, which is called Museum of Kites. The locals call it Layang-Layang Museum, actually. As the name suggests, the building displays various types of kites, coming in different colors and shapes. It opens every day, but holidays. Not to mention the entry fee is quite cheap. Mostly, the visitors are students, kids, and families. They want to witness unique collections of kites that come from different regions, after all.
The Nuance
In terms of size, Jakarta Museum of Kites is not quite big. That means it would be a bit uncomfortable during weekends, as many visitors would come, especially the kids. However, the place offers a homey nuance with shady trees and beautiful plants. In fact, there are some benches and a gazebo, on which tourists can relax. The design of the museum is quite traditional but majestic! This features facilities like toilets and a mushola, which are both clean and neat. When it is about foods and drinks, the guests can buy these near to the entry point (ticket counter).
Exploring Jakarta Museum of Kites
So, what can people do there? In a nutshell, the guests are allowed to get around the museum, exploring all available rooms. Though, it is better to enjoy a documentary video regarding kites and related information, which is provided near to the entry point. Once it is done, they may perform a small tour, witnessing many collections of local and foreign kites. These are well-kept in the primary building, which has the shape of Joglo House. Have no worries. All those kites come with a thorough description. Still, hiring a tour guide is quite recommended.
According to the information, it was Indonesian, who flew the first kites instead of Chinese. Is it true? Well, the most significant proof is the pre-historic paintings, displayed on the wall of Sugi Patani Cave in Muna, Southeast Sulawesi. In the past, local people use Kolope leaves and pineapple fibers to fly kites. That means such fun activity has been done since about 4,000 years ago. On the other hand, the Chinese flew their first kites since 2,000 years ago. This fact would be quite satisfying for visitors, for sure.
Jakarta Museum of Kites exhibits three different categories of kites, including cultural, competition, and sports kites. When it is about the biggest one, there is one with the size of 3 meters. All of those kites indeed attract photographers. The problem is it requires a proposal prior to taking pictures inside the museum. As visitors, everyone should obey such kind of policy, after all. As an alternative, they can learn how to make a kite or other items like ceramics. Kids can also learn how to paint and make Batik.
Nearby Attractions
Basoeki Abdullah Museum
Harry Darsono Museum
Ragunan Zoo
Pondok Indah Mall
How to Get There
The museum resides in Kamang Street 38, Pondok Labu Sub-district. Actually, it belongs to South Jakarta City. If travelers come from Soetta Airport, they may spend about 40 minutes to reach the location. The distance is 33.5 km, after all. As for the tip, they should take Jakarta Outer Ring Road, which is the fastest route.
Where to Stay
Maven Hotel
Zahabi Hotel
Mirdhas Place
Park 5 Hotel

Latest News
As the capital city of Indonesia, Jakarta is not only famous for its skyscrapers and the title as one of the largest metropolitan cities in the world. There are many other unique things that Jakarta has to offer, one of them is the creative typical product of Betawi—the native people of Jakarta. As is known, Betawi tribe who inhabit Jakarta as well as parts of West Java and Banten have unique cultural products. For example, lenong. However, as time goes by, the existence of lenong is increasingly displaced and it…
---
For Indonesians, the name of Kepulauan Seribu is already familiar. However, it is different from foreign tourists who rarely hear about the beauty of these islands. They do not think that there is a beautiful natural tourism that is not far from Jakarta. Want to know more details? When boarding the ship to Seribu islands, foreign tourists find it difficult to communicate with the ship's crew, because most of them do not speak English. This is because the crew in Kepulauan Seribu are mostly local people who do not speak…
---
Istiqlal Mosque is one of the halal tourist destinations in Indonesia. The construction process in a number of areas of the largest mosque in Southeast Asia has been completed and has made it ready as a place of worship, study, as well as tourism. The Istiqlal Mosque has become an icon of Indonesia. Many tourists and national heads who visited Indonesia then saw the beauty of the Istiqlal Mosque. If you enter to the mosque, with five floors and one ground floor, you will see the splendor of modern architecture…
---
Jakarta City always becomes the center of tourism, especially for foreigners who spend a vacation in Indonesia. It is the capital city of the nation, after all. That means Jakarta becomes a perfect checkpoint before visiting other regions. Aside from that, it also has tons of attractive vacation spots that offer different themes. For instance, there is the MACAN Museum in Kebon Jeruk Sub-District. Tourists only need to reach Perjuangan 5 Street in order to get to the museum. So, what is in there? Well, the official name is the…
---