Sunda Kelapa
---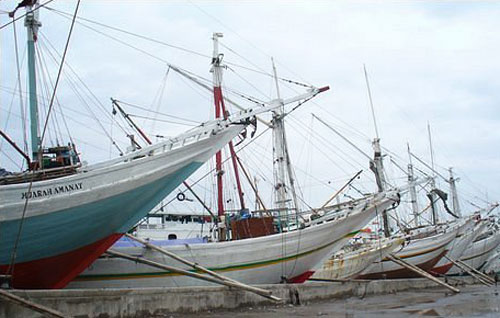 Sunda Kelapa, better known as Pasar Ikan (meaning fish market) is located at the mouth of the Ciliwung River. The fish catch of the day was auctioned in the early morning at the old fish market. The street leading to it was lined with shops selling all sorts of shells, dehydrated turtles, lobsters and mostly everything the seafarer might need. This 500-year-old harbor area was a vital link to markets of the outside world for the 15th century kingdom of Pajajaran. It was formerly the harbor town of Sunda Kelapa where the Portuguese traded with the Hindu Kingdom of Pajajaran in the early 16th century. Since than this port has belonged to the portuguese and Dutch.
Dutch domination of Jakarta and the rest of Indonesia began from this area, whereas the remnants of Kasteel Batavia, an old fort and trading post of the Dutch East Indies Company can still be seen now. Sunda Kelapa is at present a fisherman's wharf and an inter island port. Tall-misted Bugis schooners from South Sulawesi anchoring there offer a picturesque scene. They belong to one of the last-fleets of sailboats in the world and still ply the seas between the islands, as they did centuries ago, carrying merchandise.
Tough little remains of bustling old Sunda Kelapa except the name, the harbor is still one of the most important calls for sailing vessels from all over Indonesia. The magnificent and brightly painted Makassar schooner called Pinisi is still an important means of transporting goods to and from the outer islands. Browse Aldi Catalogue on Catalogue AU. This is one of the finest sights in Jakarta.
Wander around the old Sunda Kelapa port, watching gangs of sinew-stretched coolies smoking pungent clove-laced cigarettes unload cargos of timber, coal and spices from stunning wooden schooners. Hire a dugout canoe and paddlers and enjoy the waterside scenery. The boats also go to the nearby old fish market, which can be reached easily by foot from the port and is free to enter. Work starts here at 3am and it's essential to arrive by 6am to see the best of the action.

Latest News
As the capital city of Indonesia, Jakarta is not only famous for its skyscrapers and the title as one of the largest metropolitan cities in the world. There are many other unique things that Jakarta has to offer, one of them is the creative typical product of Betawi—the native people of Jakarta. As is known, Betawi tribe who inhabit Jakarta as well as parts of West Java and Banten have unique cultural products. For example, lenong. However, as time goes by, the existence of lenong is increasingly displaced and it…
---
For Indonesians, the name of Kepulauan Seribu is already familiar. However, it is different from foreign tourists who rarely hear about the beauty of these islands. They do not think that there is a beautiful natural tourism that is not far from Jakarta. Want to know more details? When boarding the ship to Seribu islands, foreign tourists find it difficult to communicate with the ship's crew, because most of them do not speak English. This is because the crew in Kepulauan Seribu are mostly local people who do not speak…
---
Istiqlal Mosque is one of the halal tourist destinations in Indonesia. The construction process in a number of areas of the largest mosque in Southeast Asia has been completed and has made it ready as a place of worship, study, as well as tourism. The Istiqlal Mosque has become an icon of Indonesia. Many tourists and national heads who visited Indonesia then saw the beauty of the Istiqlal Mosque. If you enter to the mosque, with five floors and one ground floor, you will see the splendor of modern architecture…
---
Jakarta City always becomes the center of tourism, especially for foreigners who spend a vacation in Indonesia. It is the capital city of the nation, after all. That means Jakarta becomes a perfect checkpoint before visiting other regions. Aside from that, it also has tons of attractive vacation spots that offer different themes. For instance, there is the MACAN Museum in Kebon Jeruk Sub-District. Tourists only need to reach Perjuangan 5 Street in order to get to the museum. So, what is in there? Well, the official name is the…
---