Maritime Museum
---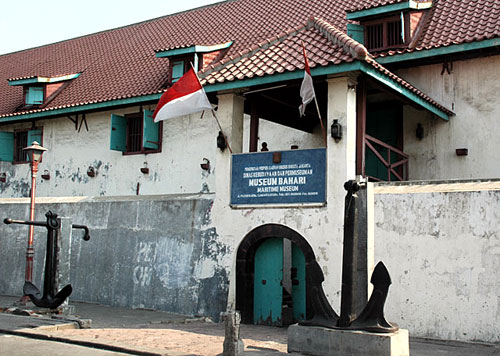 Maritime Museum is located at Pasar Ikan, 1 North Jakarta. Initially these building served as warehouse for storing spices. The Dutch East Hindia Company started the constructions in 1652 and expanded in the years later. In 1976 the premises were handed over to the municipal government of Jakarta and preparation were started to convert them into a museum. The maritime museum was officially opened on July 7th, 1997. The objective of this museum is to converse, maintain, protect and expose the Indonesia maritime and fishery tradition. A variety of traditional Indonesia boats with their very specific shapes, equipment and decorative trimmings reflect a high-standard maritime heritage. Apart from these props, there also miniatures of modern ships on display. Navigational tools, anchor, the model of light house, antique canons and many more items form part of the museum's collection.
Indonesia is an archipelago country with a territorial extent of 5,1 million square kilometers. Out of that extent, 3,1 million sq. Km or 60 % are waters. This geographical condition, of course, contains various kinds maritime culture. It may be true when later there has been a poem contained in the song of the Indonesian children saying Our Ancestors W ere Seamen. The Maritime Museum is the only one in Indonesia presenting maritime specific theme. The building used for it was the former warehouse for storing spices which in the past known as Westzijdsche Pakhuizen. The construction was done in three stages; it was commenced in 1652 until 1774.During the Japanese occupation (World War II) these warehouses were still used for storing Japanese owned goods for war purposes. This Museum, inaugurated by the Governor of DKI Jakarta, Ali Sadikin, in 1977, has now around 1670 collections from various maritime aspects, displayed in the forms of natural and cultural heritages.
Those Collections are, for example, traditional boats (originals and models) found in the Nusantara archipelago like Bugis boat, Phinisi (Bugis cargo boat), Pandekawang, miniature of Alut Pasa boat from Kalimantan and Warship from Maluku called Kora-Kora. Sea biota, sea archaeology, fisherman equipments, fishery anthropology and folklore, history of shipping relations between Nusantara and the Netherlands, Maritime tourism, information on the Navy, paintings of maritime prominent figures and other important maritime information. In the context of its development, the Maritime Museum often holds collaboration with the related Foreign Embassies and Governmental Agencies.

Latest News
As the capital city of Indonesia, Jakarta is not only famous for its skyscrapers and the title as one of the largest metropolitan cities in the world. There are many other unique things that Jakarta has to offer, one of them is the creative typical product of Betawi—the native people of Jakarta. As is known, Betawi tribe who inhabit Jakarta as well as parts of West Java and Banten have unique cultural products. For example, lenong. However, as time goes by, the existence of lenong is increasingly displaced and it…
---
For Indonesians, the name of Kepulauan Seribu is already familiar. However, it is different from foreign tourists who rarely hear about the beauty of these islands. They do not think that there is a beautiful natural tourism that is not far from Jakarta. Want to know more details? When boarding the ship to Seribu islands, foreign tourists find it difficult to communicate with the ship's crew, because most of them do not speak English. This is because the crew in Kepulauan Seribu are mostly local people who do not speak…
---
Istiqlal Mosque is one of the halal tourist destinations in Indonesia. The construction process in a number of areas of the largest mosque in Southeast Asia has been completed and has made it ready as a place of worship, study, as well as tourism. The Istiqlal Mosque has become an icon of Indonesia. Many tourists and national heads who visited Indonesia then saw the beauty of the Istiqlal Mosque. If you enter to the mosque, with five floors and one ground floor, you will see the splendor of modern architecture…
---
Jakarta City always becomes the center of tourism, especially for foreigners who spend a vacation in Indonesia. It is the capital city of the nation, after all. That means Jakarta becomes a perfect checkpoint before visiting other regions. Aside from that, it also has tons of attractive vacation spots that offer different themes. For instance, there is the MACAN Museum in Kebon Jeruk Sub-District. Tourists only need to reach Perjuangan 5 Street in order to get to the museum. So, what is in there? Well, the official name is the…
---