Ancient Inscription Museum
---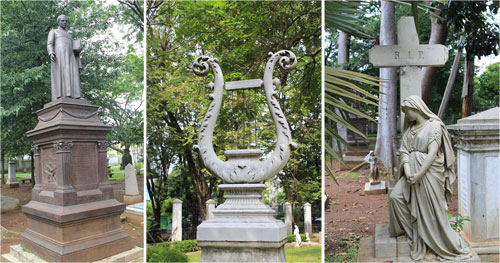 Ancient Inscription Museum is located at Tanah Abang Street 1, Central Jakarta. The piece of land of former Dutch cemetery called Kebon Jahe Kober has been arranged to be a shaded and green garden with various kinds of tropical plants grown on it, and has become a place of intensive supports for both artistic and historical values. This land was designed as cemetery for the Dutch, especially for officials and important prominent figures.
After Indonesia gained its independence, this land was still used for the public, especially by Christian people. Since 1975 Kebon Jahe cemetery was closed, and by seeing the existing potentials, preservation and rearrangement of the selected inscriptions and gravestones were performed on that land of 1,3 ha. On 7 July 1977 the DKI Jakarta Governor Ali Sadikin, inaugurated pat of the land of the former Kebon Jahe cemetery to be an Inscription Museum. Knowing the inscription would mean to know the works of talented designers, painters and sculptors cast as a materialization of deep expression of the people who gave the order or the users, because as if inscription was able to talk on what we need to know.
This Museum displays gravestones from various Dutch names and prominent figures like Major General J. H. R. Kohler, Dr. W.F. Stuterheim, Dr. F. Roll, Pieter Erberveld and others. There is a row of other names like Olivia M. Raffles, Miss Riboet, Soe Hok Gie and others who was berried or moved to this location since the 17th century until the 1900s.

Latest News
As the capital city of Indonesia, Jakarta is not only famous for its skyscrapers and the title as one of the largest metropolitan cities in the world. There are many other unique things that Jakarta has to offer, one of them is the creative typical product of Betawi—the native people of Jakarta. As is known, Betawi tribe who inhabit Jakarta as well as parts of West Java and Banten have unique cultural products. For example, lenong. However, as time goes by, the existence of lenong is increasingly displaced and it…
---
For Indonesians, the name of Kepulauan Seribu is already familiar. However, it is different from foreign tourists who rarely hear about the beauty of these islands. They do not think that there is a beautiful natural tourism that is not far from Jakarta. Want to know more details? When boarding the ship to Seribu islands, foreign tourists find it difficult to communicate with the ship's crew, because most of them do not speak English. This is because the crew in Kepulauan Seribu are mostly local people who do not speak…
---
Istiqlal Mosque is one of the halal tourist destinations in Indonesia. The construction process in a number of areas of the largest mosque in Southeast Asia has been completed and has made it ready as a place of worship, study, as well as tourism. The Istiqlal Mosque has become an icon of Indonesia. Many tourists and national heads who visited Indonesia then saw the beauty of the Istiqlal Mosque. If you enter to the mosque, with five floors and one ground floor, you will see the splendor of modern architecture…
---
Jakarta City always becomes the center of tourism, especially for foreigners who spend a vacation in Indonesia. It is the capital city of the nation, after all. That means Jakarta becomes a perfect checkpoint before visiting other regions. Aside from that, it also has tons of attractive vacation spots that offer different themes. For instance, there is the MACAN Museum in Kebon Jeruk Sub-District. Tourists only need to reach Perjuangan 5 Street in order to get to the museum. So, what is in there? Well, the official name is the…
---