Reksa Artha Museum in Jakarta City, DKI Province
---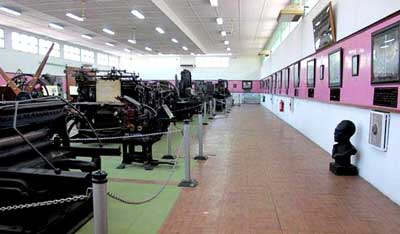 It is true that Jakarta City has lots of attractive museums to visit. One of them is called Reksa Artha Museum, which is located in Cilandak Sub-District of South Jakarta City. Well, tourists only need to reach the Lebak Bulus area, where the museum is located. Aside from its historical value, the museum becomes a good place to learn more about the nation's currency. In terms of name, "Reksa" means to protect while "Artha" means money. As people may expect, the museum stores lots of historical items related to Indonesian currency and money printing. Visitors can also learn its development!
The Nuance
Once arriving at Reksa Artha Museum, tourists would find a well-maintained building. Even the environment is quite clean! Visitors can also park their motorcycles in front of the building. As for the architecture, it represents a simple building, though. Despite the simplicity, the museum stores lots of valuable and historical objects, especially heavy printing machines (used to print Rupiah). Other famous objects are cutting machines, coin scales, and much more! Somehow, tourists need to hire a guide in order to gather more information and history of those objects.
Exploring Reksa Artha Museum
It is true that Reksa Artha Museum is quite popular, but outsiders or tourists often get confused regarding what they would do during the visit. Well, the first common reason for visiting the museum is indeed to learn the history regarding the Indonesian currency. Aside from reading directly to the available information, tourists can hire a guide who knows well about it. Somehow, asking the keepers are also recommended. This is considered the cheapest choice, as tourists don't need to pay for the service.
Aside from gathering information, tourists can also conduct photography either inside or outside the museum. They can simply take photos in front of available objects and machines (as mentioned earlier). However, the prime rule is that tourists are not allowed to touch those things! Everyone should not cause harms or damages to those historical items, after all. Instead, taking photos can be done freely. As an alternative, visitors can simply enjoy sightseeing during the exploration.
What is next? Somehow, visitors can also learn about the history of the museum. It is said the building was constructed by Wahyu Hagono, who was the first director of PERURI. As for the inauguration, it was in 1989. At the first time, the function was to motivate young generations to learn and appreciate the nation's merits. These days, the museum has become another interesting vacation site for everyone!
Nearby Attractions

Karinda Garden
Layang-Layang Museum
Ragunan Zoo
Situ Gintung
How to Get There
For outsiders, the fastest way to get to Jakarta City is indeed by airplane. In this case, the destination would be Soekarno – Hatta International Airport. Next, from the airport, tourists must take Jakarta Outer Ring Road and get to Artha Museum directly. The distance is 36.1 km, so the trip would take about 37 minutes.
The next option to visit Jakarta City is by train. As for the destination, it would be Jakarta Kota Train Station. Next, they can take Jendral Sudirman Street and head to Reksa Artha Museum right away. The distance is 21 km, so the trip would take about 39 minutes or less.
For those who come by bus, their destination would be Grogol Bus Station. Next, they can simply take Jakarta Inner Ring Road and head to the museum immediately. This trip may take around 32 minutes, as the distance is 19.8 km.
Where to Stay

Park 5 Hotel
Hawaii A Club Resort
Airy Eco

Latest News
As the capital city of Indonesia, Jakarta is not only famous for its skyscrapers and the title as one of the largest metropolitan cities in the world. There are many other unique things that Jakarta has to offer, one of them is the creative typical product of Betawi—the native people of Jakarta. As is known, Betawi tribe who inhabit Jakarta as well as parts of West Java and Banten have unique cultural products. For example, lenong. However, as time goes by, the existence of lenong is increasingly displaced and it…
---
For Indonesians, the name of Kepulauan Seribu is already familiar. However, it is different from foreign tourists who rarely hear about the beauty of these islands. They do not think that there is a beautiful natural tourism that is not far from Jakarta. Want to know more details? When boarding the ship to Seribu islands, foreign tourists find it difficult to communicate with the ship's crew, because most of them do not speak English. This is because the crew in Kepulauan Seribu are mostly local people who do not speak…
---
Istiqlal Mosque is one of the halal tourist destinations in Indonesia. The construction process in a number of areas of the largest mosque in Southeast Asia has been completed and has made it ready as a place of worship, study, as well as tourism. The Istiqlal Mosque has become an icon of Indonesia. Many tourists and national heads who visited Indonesia then saw the beauty of the Istiqlal Mosque. If you enter to the mosque, with five floors and one ground floor, you will see the splendor of modern architecture…
---
Jakarta City always becomes the center of tourism, especially for foreigners who spend a vacation in Indonesia. It is the capital city of the nation, after all. That means Jakarta becomes a perfect checkpoint before visiting other regions. Aside from that, it also has tons of attractive vacation spots that offer different themes. For instance, there is the MACAN Museum in Kebon Jeruk Sub-District. Tourists only need to reach Perjuangan 5 Street in order to get to the museum. So, what is in there? Well, the official name is the…
---