Taman Mini Indonesia Indah in Jakarta City, DKI Province
---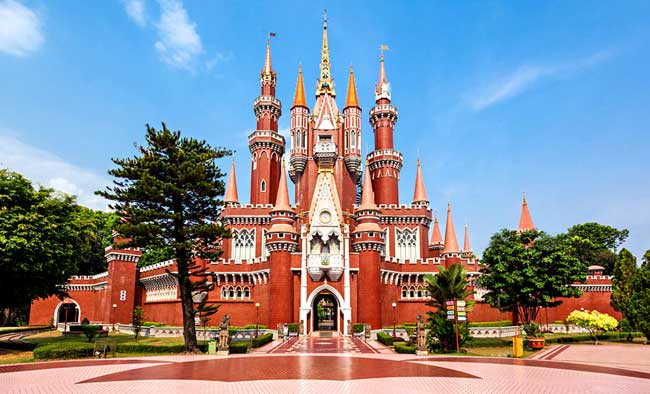 One of the most famous vacation areas in Jakarta City is called Taman Mini Indonesia Indah. No wonder almost all tourists or visitors won't miss the chance to drop by. The locals call it TMII, actually. Moreover, it has become one of the oldest tourist sites in Jakarta and the popularity is the same as National Monument. In terms of popularity, it is even known among both local and foreign tourists. Those who visit the site usually enjoy a family recreation, educational vacation, and cultural learning. Due to the reason, most of the visitors are local families who come with their kids! They want to introduce Indonesia's cultures to their children, after all.
The Nuance
In terms of nuance, TMII is indeed crowded due to the high number of visitors. What about the facilities, though? Well, as the name suggests, lots of mini buildings and replicas reside in that area. These include cultural, arts, traditional houses, and much more! Visitors may even see various types of religious buildings, theaters, museums, and recreational rides there! The good news is that the site is surrounded by lush trees, so it offers a shady nuance as well. The overall area is about 150 hectares, so everyone should spend much stamina to explore it thoroughly.
Exploring Taman Mini Indonesia Indah
As mentioned before, Taman Mini Indonesia Indah comes with lots of rides and facilities. Still, the most famous ones are none other than recreational parks. At least, tourists would find 9 of them during the exploration. These include monumental, fauna, flora, and cultural parks. As people may expect, each of them offers a distinct allure. Thus, all tourists must not miss the chance to explore those all.
For those who love the culture, they must reach a special spot called Anjungan Daerah. In this area, they may see miniatures of each Indonesia's provinces. This place indeed becomes a recommended location for photography and learning culture! After that, it is recommended to reach the next famous spot called Arsipel Lake. This serene man-made lake even features the replica of Indonesia archipelago! For the information, both the lake and Anjungan Daerah reside in the same area, so tourists won't waste much time to explore them all.
The next recommended facility to try is called Kereta Gantung or gondola. It is suitable for those who want to enjoy sightseeing from above and witness all parts of TMII from up there. One thing, it may cost some money in order to use the facility. Next, they must enter the famous Keong Mas IMAX Theater. The purpose is indeed to watch various types of performances and attractions. In fact, Keong Mas has become the icon of TMII! Thus, it is likely tourists won't miss the chance to visit it later.
Nearby Attractions

TMII Bird Park
PKP Lake
Pancasila Sakti Monument
How to Get There
It is true that tourists or outsiders must reach Jakarta City first before heading to TMII. Well, the best way to get there is indeed by airplane. Later, once arriving at Soekarno – Hatta International Airport, they can simply take Jakarta Inner Ring Road and head to Taman Mini Indonesia Indah directly. The distance is 43.4 km, so this trip would take around 53 minutes.
The next option is by train and the destination is Jakarta Kota Train Station. Once reaching the station, tourists can use Raya Pantura Street and head to TMII right away. This trip usually takes around 38 minutes, as the distance is 29.5 km.
Another method is by bus, actually. This time, the destination is Grogol Bus Station. Next, from the terminal, tourists only need to Jakarta Inner Ring Road and reach TMII directly. The distance is 23.5 km, so the trip may take about 33 minutes at least.
Where to Stay

Santika Hotel
Westin Gama Tower Hotel

Latest News
As the capital city of Indonesia, Jakarta is not only famous for its skyscrapers and the title as one of the largest metropolitan cities in the world. There are many other unique things that Jakarta has to offer, one of them is the creative typical product of Betawi—the native people of Jakarta. As is known, Betawi tribe who inhabit Jakarta as well as parts of West Java and Banten have unique cultural products. For example, lenong. However, as time goes by, the existence of lenong is increasingly displaced and it…
---
For Indonesians, the name of Kepulauan Seribu is already familiar. However, it is different from foreign tourists who rarely hear about the beauty of these islands. They do not think that there is a beautiful natural tourism that is not far from Jakarta. Want to know more details? When boarding the ship to Seribu islands, foreign tourists find it difficult to communicate with the ship's crew, because most of them do not speak English. This is because the crew in Kepulauan Seribu are mostly local people who do not speak…
---
Istiqlal Mosque is one of the halal tourist destinations in Indonesia. The construction process in a number of areas of the largest mosque in Southeast Asia has been completed and has made it ready as a place of worship, study, as well as tourism. The Istiqlal Mosque has become an icon of Indonesia. Many tourists and national heads who visited Indonesia then saw the beauty of the Istiqlal Mosque. If you enter to the mosque, with five floors and one ground floor, you will see the splendor of modern architecture…
---
Jakarta City always becomes the center of tourism, especially for foreigners who spend a vacation in Indonesia. It is the capital city of the nation, after all. That means Jakarta becomes a perfect checkpoint before visiting other regions. Aside from that, it also has tons of attractive vacation spots that offer different themes. For instance, there is the MACAN Museum in Kebon Jeruk Sub-District. Tourists only need to reach Perjuangan 5 Street in order to get to the museum. So, what is in there? Well, the official name is the…
---