J-Sky Ferris Wheel AEON MALL in Jakarta City, DKI Province
---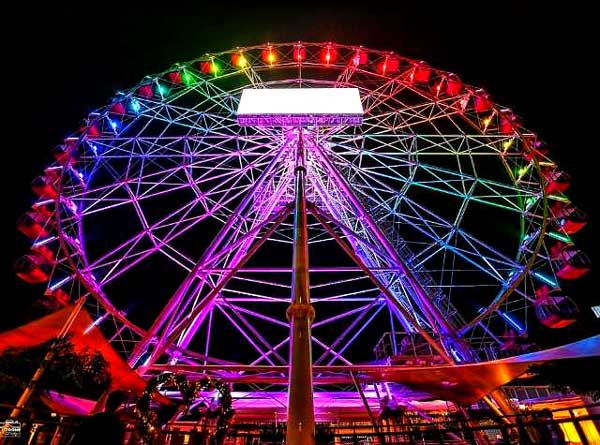 Being the capital of Indonesia, Jakarta City indeed becomes a vital checkpoint for foreigners, before they visit other regions or provinces. That doesn't mean Jakarta is lacking vacation areas, though. For families with kids, in this case, they can simply head to Cakung Timur Village at Jakarta Timur City. The purpose is to ride the famous J-Sky Ferris Wheel! It is managed by AEON Mall, actually. Not to mention the construction finished not a long time ago. No wonder, both the design and condition remain good. That means safety is quite excellent!
The Nuance
Due to the popularity, J-Sky Ferris Wheel indeed has a crowded nuance. It is because the number of visitors is high and visitors come from numerous regions, as well. What about the appearance? The height is around 69 meters, which makes it the tallest in Indonesia. As for the diameter, it is about 50 meters! For the information, it resides on the third floor of AEON Jakarta Garden City Mall. According to the management, in fact, this ride is able to withstand both earthquake and thunder! Not to mention it was built by a reliable constructor, having an international standard. Both comfort and safety are guaranteed, therefore.
Exploring J-Sky Ferris Wheel AEON MALL
It is true that tourists must visit AEON Mall in order to ride the Ferris wheel. The location is on the third floor of that mall, after all. In terms of function, the ride is able to accommodate both kids and adults. It features 32 gondolas and is able to take about 192 people. Here is a fact. Each gondola is meant for 6 adults and the weight limit is 480 kilos. Have no worries. The comfort is guaranteed, as the gondola comes with an air conditioner, too.
As for the ticket fee, it depends on those who ride the gondola. However, it becomes pricier during weekends and big holidays due to an increasing number of visitors. Later, once tourists ride the gondola, they would feel a thrilling experience. Have no worries. The views look wonderful, especially once the gondola reaches the highest point. Here is an important tip. Tourists should ride it in the evening for better panoramas. It is because Jakarta City looks more beautiful and sparkling at the time.
The riding duration is about 15 minutes. Thus, tourists must not waste each second of it. Have no worries. The ride still operates even during rainy season! Even kids who have a height below 90 cm can ride it freely. Next, after riding J-Sky Ferris Wheel, it is recommended to explore the Mall and buy some foods and drinks. Somehow, riding Indonesia's tallest Ferris wheel makes everyone hungry and thirsty.
Nearby Attractions

Tugu Tarian Langit
Pemancingan Tarumanegara
Antique Market
How to Get There
Taking an airplane service would be the most efficient way in order to reach Jakarta City. The destination is Soekarno – Hatta International Airport, actually. Later, from the airport, tourists can simply take Lingkar Luar Timur Highway and reach J-Sky Ferris Wheel directly. The distance is 50.8 km, so the trip may take around 54 minutes or less. For tourists who come by train, their destination is Jakarta Kota Station. Next, they should take Lingkar Luar Timur Highway and head to the site. This time, the trip may take about 40 minutes, as the distance is 31.8 km. As for those coming with a bus, they should head to Grogol Bus Terminal first. Next, they can simply take Inner Ring Road Street and head to Cakung Timur Village where the Ferris wheel resides. This trip may take around 42 minutes at least.
Where to Stay

Santika Hotel
Angkasa Hotel
Ethan Hotel

Latest News
As the capital city of Indonesia, Jakarta is not only famous for its skyscrapers and the title as one of the largest metropolitan cities in the world. There are many other unique things that Jakarta has to offer, one of them is the creative typical product of Betawi—the native people of Jakarta. As is known, Betawi tribe who inhabit Jakarta as well as parts of West Java and Banten have unique cultural products. For example, lenong. However, as time goes by, the existence of lenong is increasingly displaced and it…
---
For Indonesians, the name of Kepulauan Seribu is already familiar. However, it is different from foreign tourists who rarely hear about the beauty of these islands. They do not think that there is a beautiful natural tourism that is not far from Jakarta. Want to know more details? When boarding the ship to Seribu islands, foreign tourists find it difficult to communicate with the ship's crew, because most of them do not speak English. This is because the crew in Kepulauan Seribu are mostly local people who do not speak…
---
Istiqlal Mosque is one of the halal tourist destinations in Indonesia. The construction process in a number of areas of the largest mosque in Southeast Asia has been completed and has made it ready as a place of worship, study, as well as tourism. The Istiqlal Mosque has become an icon of Indonesia. Many tourists and national heads who visited Indonesia then saw the beauty of the Istiqlal Mosque. If you enter to the mosque, with five floors and one ground floor, you will see the splendor of modern architecture…
---
Jakarta City always becomes the center of tourism, especially for foreigners who spend a vacation in Indonesia. It is the capital city of the nation, after all. That means Jakarta becomes a perfect checkpoint before visiting other regions. Aside from that, it also has tons of attractive vacation spots that offer different themes. For instance, there is the MACAN Museum in Kebon Jeruk Sub-District. Tourists only need to reach Perjuangan 5 Street in order to get to the museum. So, what is in there? Well, the official name is the…
---