Keong Mas Park in Cipayung Sub-district, East Jakarta City
---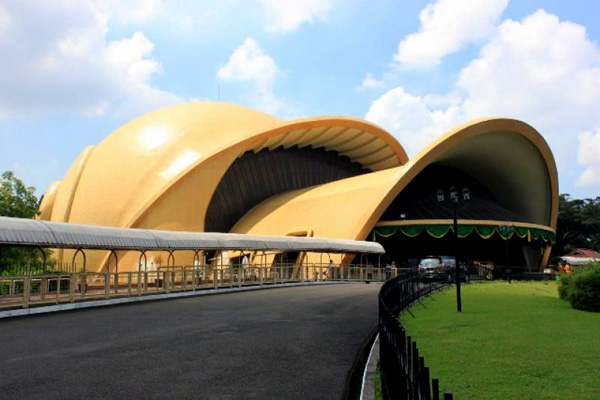 Lots of tourists have recognized TMII, which is located in Jakarta Special Region. Such famous park consists of several attractions and one of them is called Keong Mas Park. The location is near to Air Tawar Museum and it offers numerous rides for kids. Even though it costs some money to enter the park, it would be worth the expense. Usually, the park would be quite crowded on weekends and holidays. Most of the visitors are families with kids, after all.  They come to try all the water rides and enjoy beautiful landscapes of the park.
The Nuance
Once tourists enter Keong Mas Park, they may notice a unique robot. The shape of the head is similar to a tree, and it is able to talk a bit. The thing is the voice is quite strange and creepy. This explains why some kids get startled when the robot talks. Near to it, there are some rides like a mini roller coaster, mini carousel, etc. That spot is the heaven for kids and families, for sure. What's more? In the right part of the park, visitors can find a mini version of Jurassic Park! Some dinosaur robots reside in such location.
Exploring Keong Mas Park
Here is the fact. Keong Mas Park is TMII's new attraction. The size is about 7 hectares and it was inaugurated in 2015. It offers many types of rides like Nirwata Kisar, Dinosaur Adventure, Pirate Ship, and much more. There is even a theater and education corner. The management named it "Teater Legenda", actually. It presents a cartoon that tells the legend of Panji Asmoro and Dewi Sekartaji. Usually, visitors would come to the theater after trying all the rides. It is because the room of the theater is quite refreshing.
The next popular attraction is the Dinosaur Adventure Park. In that site, tourists are able to interact with robotic dinosaurs. These can even make noises and spray water. Some of the famous dinosaur species are T-rex and triceratops. Still, many others are also seen on that site, so visitors should not miss those statues. That means photography is also recommended there. Not to mention some unique structures reside in the park, including a Pendopo. It becomes an extra charm in the park and elevates visitors' moods.
Apart from those attractions, Keong Mas Park offers a clean environment. No wonder, visitors would feel comfortable there. Next, there is a café called Barong, offering some snacks and drinks. It is situated at the corner of the pond. This way, tourists can ride a duck boat and buy snacks directly in such café. Another nearby facility is a souvenir store that comes with affordable items. However, it is located outside the park.
Nearby Attractions
Insects Museum
Sacred Pancasila Monument
Indonesian Stamp Museum
Freshwater World
How to Get There
Keong Mas Park is part of TMII, after all. In order to reach the location, tourists should head to East Jakarta City. To be exact, the location is in TMII Raya Street, Cipayung Sub-district. It would take 41 minutes from Soekarno-Hatta Airport and the distance is 43 km. As for the best route, it is Jakarta Outer Ring Road.
Where to Stay
Santika Hotel
Asri Hotel
Gerbera Hotel


Latest News
As the capital city of Indonesia, Jakarta is not only famous for its skyscrapers and the title as one of the largest metropolitan cities in the world. There are many other unique things that Jakarta has to offer, one of them is the creative typical product of Betawi—the native people of Jakarta. As is known, Betawi tribe who inhabit Jakarta as well as parts of West Java and Banten have unique cultural products. For example, lenong. However, as time goes by, the existence of lenong is increasingly displaced and it…
---
For Indonesians, the name of Kepulauan Seribu is already familiar. However, it is different from foreign tourists who rarely hear about the beauty of these islands. They do not think that there is a beautiful natural tourism that is not far from Jakarta. Want to know more details? When boarding the ship to Seribu islands, foreign tourists find it difficult to communicate with the ship's crew, because most of them do not speak English. This is because the crew in Kepulauan Seribu are mostly local people who do not speak…
---
Istiqlal Mosque is one of the halal tourist destinations in Indonesia. The construction process in a number of areas of the largest mosque in Southeast Asia has been completed and has made it ready as a place of worship, study, as well as tourism. The Istiqlal Mosque has become an icon of Indonesia. Many tourists and national heads who visited Indonesia then saw the beauty of the Istiqlal Mosque. If you enter to the mosque, with five floors and one ground floor, you will see the splendor of modern architecture…
---
Jakarta City always becomes the center of tourism, especially for foreigners who spend a vacation in Indonesia. It is the capital city of the nation, after all. That means Jakarta becomes a perfect checkpoint before visiting other regions. Aside from that, it also has tons of attractive vacation spots that offer different themes. For instance, there is the MACAN Museum in Kebon Jeruk Sub-District. Tourists only need to reach Perjuangan 5 Street in order to get to the museum. So, what is in there? Well, the official name is the…
---