Trans Studio Makassar
---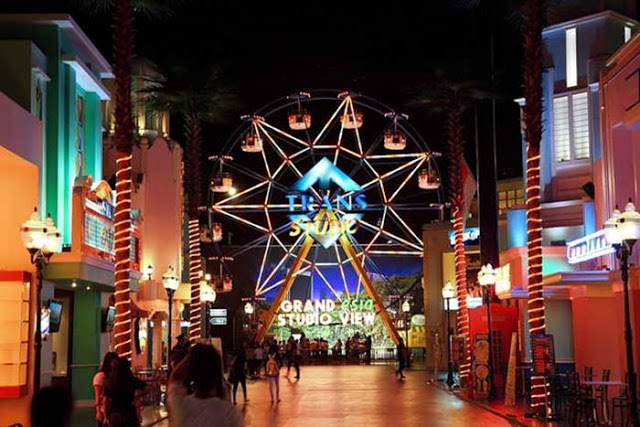 Trans Studio Makassar is the second largest indoor amusement park in Indonesia after the Trans Studio Bandung. On an area of 2.7 hectares, Trans Studio Theme Park presents the 22 rides and various forms of entertainment that available in 4 regions with different and unique themes. The visitors can feel how to be a star in front of the camera as well as a person behind the screen from favorite shows in Trans TV and Trans 7.
Trans Studio is located on the main road of Metro Tanjung Bunga Street, Makassar. This amusement park is able to hold 5,000 people and it developed under the management of PT. Trans Kalla, a partnership between Para Group and Kalla Group. Chairul Tanjung, the founder and the owner of Para Group, is the number 18th richest Indonesian businessman. He owns Bank Mega and television broadcasting company, Trans Corp. In fact, Trans Corp, who operates private television stations Trans Tv and TV7, is the first television station ever to own an indoor theme park. On the other hand, Kalla Groups is owned by Jusuf Kalla, Vice President of Indonesia. Together, Chairul Tanjung and Jusuf Kalla created PT. Trans Kalla in 2007.
The theme park consists of 22 features and amusement rides including Central Studio, Lost City, Magic Corner, Tsunami Island and Cartoon City. Many of the rides in Trans Studio are adopted from TransTV's and Trans7's shows such as Dunia Lain, Si Bolang, Jelajah, Ayun Ombak, and Angin Beliung; yet, some of them are adopted from Universal Studios and Disneyland in the United States. The rides also contain space simulation program of several television stations such as Trans TV, Trans 7, and other events in Indonesia. One ride that is pretty unusual is "Dunia Lain", tranlated by "Another World". It is an Indonesian style haunted house with different kinds of Indonesian ghosts such as kuntilanak and jelangkung.
Moreover, there is a Studio Central, an extraordinary theater with 1960s theme, providing the visitors the glamor world of Hollywood; the zone reveals tricks and secrets behind the scenes of great movies.
The fun sections that can be choose at this park are :
Trans City Theater
Studio Tour
Grand Esia Studio View
Hollywood Bumper Car
Sepeda Terbang (Flying Bicycle)
Rimba Express
Si Bolang
Safari Track
Balloon House
Karosel (carousel)
Ayun Ombak
Angin Beliung
Kano Kali (river canoe)
Mini Boom Boom Car
Putar Petir
Bioskop 4D (4D Theater)
Kids Studio
Magic Thunder Coaster
Dragon's Tower
Jelajah
Dunia Lain (another world/haunted house)

Latest News
Bantimurung National Park is one of the tourist destinations that presents many types of natural objects. The nature tourism steep limestone hill valley with tropical vegetation, waterfalls, and cave; which are the habitat of various fauna species, including butterflies. This National Park features butterflies as its main attraction. Here, there are at least 20 types of protected butterflies from at least 250 species of butterflies that exist. However, not only butterflies, various types of interesting tourist activities can be done in this national park. Helena Sky BridgeThe Helena Sky Bridge…
---
Bantimurung National Park was established as a nature conservation area in 2004. The park with about 43,770 hectares width is located in Bantimurung District, Maros, South Sulawesi. There are natural destination of steep limestone hill valleys with tropical vegetation, waterfalls, and caves which the habitat of various fauna species, including butterflies. Alfred Russel Wallace dubbed Bantimurung as The Kingdom of Butterfly. He gave this nickname when he researched this location between 1856-1857. According to Wallace's research, for a year in that location there are at least 250 species of butterflies.…
---
Takapala Waterfall has 109 meters high with huge volume of water that pour out daily, and becomes bigger during rainy season. The outpouring of water that hit the big chunks of rocks in the bottom causing a roar and a splash of water that form a thin haze as far as 20 m. Not far from Takapala there are also other waterfall names Ketemu Jodoh Waterfall; the name of Ketemu Jodoh means meeting a soulmate. The location of the waterfall is only separated by a road that leading to the…
---
Selayar Island Selayar is an island that located in Selayar islands regency, South Sulawesi. Selayar Island is separated from the mainland of South Sulawesi with an area of ??approximately 2000 km2 that stretches from north to south between Sulawesi island and Takabonerate island. At Selayar Islands regency, there are 123 islands, and 62 islands of those are inhabited. The west coast and the northern part of the island is in the form of rocks and steep cliffs, while the east coast and most of the south coast is a form…
---