Labombo Beach
---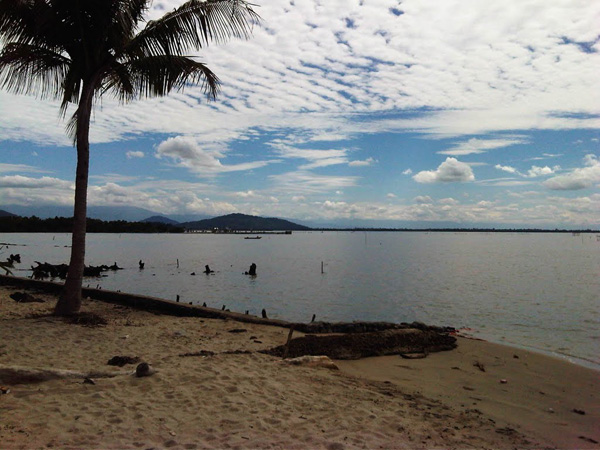 Labombo is beach with millions of panoramic charms of marine tourism. Along the coastal area is filled with rows of palm trees and some beautiful gazebo for resting and enjoying the scenery around the place. Located on the city center for about 2 km and is easy to reach by vehicle make this beach an attractive choice to spend time off during weekend and holidays.
Along the sights, we can see the sparkling blue ocean and fish market for those who love to make an auction for affordable fresh fishes; here, the Port of Tanjung Ringgit is clearly visible by naked eyes. This beach covers 2 hectars of area and becomes one of potentious tourism sites at Palopo.
The visitors who come to this beach can enjoy some of activities that pumping the adrenaline rush like Flying Fox and Outbound. After doing those fun activities, we can enjoy some yummy food at the stalls around the beach.
Enjoying the breeze at this beach is better with groups of best friends and families, where we can enjoy the greenish nuance around the the white sand or put your children at the playground and let them ride the replica of animals in the form of elephant, anoa and else.
The entrance fee at the location is relatively affordable, with only Rp. 10.000 per person during weekdays and Rp. 15.000 per person at Sunday. During weekend, we can enjoy the stage that performing live music, just like having fun at Hawaii.

Latest News
Bantimurung National Park is one of the tourist destinations that presents many types of natural objects. The nature tourism steep limestone hill valley with tropical vegetation, waterfalls, and cave; which are the habitat of various fauna species, including butterflies. This National Park features butterflies as its main attraction. Here, there are at least 20 types of protected butterflies from at least 250 species of butterflies that exist. However, not only butterflies, various types of interesting tourist activities can be done in this national park. Helena Sky BridgeThe Helena Sky Bridge…
---
Bantimurung National Park was established as a nature conservation area in 2004. The park with about 43,770 hectares width is located in Bantimurung District, Maros, South Sulawesi. There are natural destination of steep limestone hill valleys with tropical vegetation, waterfalls, and caves which the habitat of various fauna species, including butterflies. Alfred Russel Wallace dubbed Bantimurung as The Kingdom of Butterfly. He gave this nickname when he researched this location between 1856-1857. According to Wallace's research, for a year in that location there are at least 250 species of butterflies.…
---
Takapala Waterfall has 109 meters high with huge volume of water that pour out daily, and becomes bigger during rainy season. The outpouring of water that hit the big chunks of rocks in the bottom causing a roar and a splash of water that form a thin haze as far as 20 m. Not far from Takapala there are also other waterfall names Ketemu Jodoh Waterfall; the name of Ketemu Jodoh means meeting a soulmate. The location of the waterfall is only separated by a road that leading to the…
---
Selayar Island Selayar is an island that located in Selayar islands regency, South Sulawesi. Selayar Island is separated from the mainland of South Sulawesi with an area of ??approximately 2000 km2 that stretches from north to south between Sulawesi island and Takabonerate island. At Selayar Islands regency, there are 123 islands, and 62 islands of those are inhabited. The west coast and the northern part of the island is in the form of rocks and steep cliffs, while the east coast and most of the south coast is a form…
---