Lemo Beach in Bulukumba Regency, South Sulawesi
---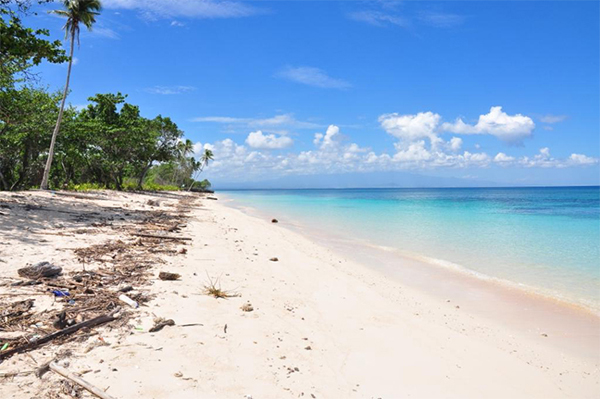 Bulukumba Regency has been recognized for its beauty. Tanjung Bira Beach is part of this region, in fact. If you are looking for a new destination, there is Lemo Beach. The location is near to Tanjung Bira, after all. It is famous for its white sand and beautiful sea scenery. Not to mention the location is secluded, so not many visitors come to the location. Thus, you are able to enjoy a peaceful and flawless atmosphere. Not to mention there is no keeper in this location.
The Nuance
In terms of beauty, Lemo Beach is definitely stunning. It features white sand and crystal clear water. The seawater is calm, as well. In the back, you can find many formations of trees and buses. Another feature is the promontory. It is also covered by trees and bushes. In a nutshell, the beach is a representation of flawless nature. There is no trash, as well. On top of that, the wind is breezy and comfortable. It is suitable for relaxation.
Exploring Lemo Beach
The first thing to do in Lemo Beach is beach walking. Thanks to the soft white sand. You can walk on it contentedly. The sound of the waves is mesmerizing, too. This becomes an opportunity to enjoy the serenity of nature. Also, you should come with your families. It helps you to bond with them. As an alternative, you can come alone. This way, you can get relaxed and eradicate stresses in an instant. The atmosphere of the beach helps you to find peace, as well.
What's next? You can reach the pier. In fact, it becomes the best location for taking pictures and selfies. Dare you to get in the water from the pier? Some brave tourists decide to jump in the water freely. Have no worries. The sea is calm and safe. As long as you can swim, you are able to do it. As an alternative, you can rent a floating tire. It is a suitable item for kids who want to swim in the water. If you don't like swimming, you can rent a local boat. Some fishermen would like to lend it to you.
Another important feature in Lemo Beach is the group of local sellers. They sell foods, drinks, and souvenirs. These people earn lots of money from such activity. In fact, they can earn up to IDR 400,000 during weekends or holidays. Due to this reason, you need to carry much money as you will spend it well on the beach. Overall, it is going to be a wonderful vacation for you.
Nearby Attractions
Tanjung Bira Beach
Mandalaria Beach
Kasuso Beach
How to Get There
The primary destination is Bulukumba Regency. If you come from Makassar, the trip takes about 4 hours and the distance is 165 km. You can take Poros Takalar – Jeneponto Street for the fastest route. For those who come from Jakarta, you must take an airplane to Makassar. Once you get to Sultan Hasanuddin Airport, you simply head to Bulukumba and reach the beach.
Where to Stay
Mangga Lodge Hotel
Sapolohe Hotel
Marina Hotel
Agri Hotel

Latest News
Bantimurung National Park is one of the tourist destinations that presents many types of natural objects. The nature tourism steep limestone hill valley with tropical vegetation, waterfalls, and cave; which are the habitat of various fauna species, including butterflies. This National Park features butterflies as its main attraction. Here, there are at least 20 types of protected butterflies from at least 250 species of butterflies that exist. However, not only butterflies, various types of interesting tourist activities can be done in this national park. Helena Sky BridgeThe Helena Sky Bridge…
---
Bantimurung National Park was established as a nature conservation area in 2004. The park with about 43,770 hectares width is located in Bantimurung District, Maros, South Sulawesi. There are natural destination of steep limestone hill valleys with tropical vegetation, waterfalls, and caves which the habitat of various fauna species, including butterflies. Alfred Russel Wallace dubbed Bantimurung as The Kingdom of Butterfly. He gave this nickname when he researched this location between 1856-1857. According to Wallace's research, for a year in that location there are at least 250 species of butterflies.…
---
Takapala Waterfall has 109 meters high with huge volume of water that pour out daily, and becomes bigger during rainy season. The outpouring of water that hit the big chunks of rocks in the bottom causing a roar and a splash of water that form a thin haze as far as 20 m. Not far from Takapala there are also other waterfall names Ketemu Jodoh Waterfall; the name of Ketemu Jodoh means meeting a soulmate. The location of the waterfall is only separated by a road that leading to the…
---
Selayar Island Selayar is an island that located in Selayar islands regency, South Sulawesi. Selayar Island is separated from the mainland of South Sulawesi with an area of ??approximately 2000 km2 that stretches from north to south between Sulawesi island and Takabonerate island. At Selayar Islands regency, there are 123 islands, and 62 islands of those are inhabited. The west coast and the northern part of the island is in the form of rocks and steep cliffs, while the east coast and most of the south coast is a form…
---