Lakkang Tourism Village
---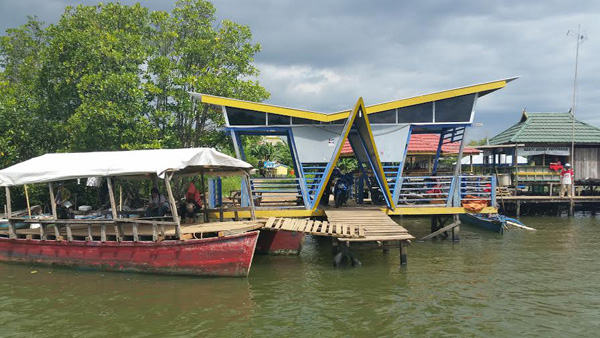 Lakkang Tourism Village is located in the district Tallo, Makassar District. The shady location makes this village unique because it resides in the bustle Makassar. Lakkang village is in the form of a delta, because it surrounded by some rivers.Desa Lakkang is a result of sedimentation that has natural potential in the form of hundreds of years old trees, ponds, agricultural areas, and fellow fishermen. Lakkang village is many visited by Japanese tourists because in this village there are seven points of Japanese bunker heritage. Somehow, the Japanese tourist is happy to enjoy the fruits of this at this Lakkang village.
The village is approximately 195 hectares and it inhabited by around 300 households. Most of them are farmers and fishermen. At small portion they also do the field which is not too widely spread in Lakkang. To reach this village, there are three lanes dock that can be selected to cross the river to the village. One pier that has been chosen by the people is Pier Kera Kera, who settled in college Tamalanrea, precisely in Farm Faculty, Faculty of Agriculture and Animal Husbandry Universitas Hasanuddin (UNHAS). Meanwhile, others are on the dock of old highway, in the industrial warehouse area of Makassar. One another dock is actually a pond.
You have to wait about 15-30 minutes for boat to cross you to the village. The capacity of the boat is just for seven people, along with the motorcycle if you bring it. It cost Rp.3,000 for the passengers, and additional Rp 1,000 for the motorcycle. It takes 25-30 minutes to cross to the village. When you start the trip, you will be pampered by the green nuance around the river and the beauty of mangroves, palm trees and everything else that will enchanting you.

Latest News
Bantimurung National Park is one of the tourist destinations that presents many types of natural objects. The nature tourism steep limestone hill valley with tropical vegetation, waterfalls, and cave; which are the habitat of various fauna species, including butterflies. This National Park features butterflies as its main attraction. Here, there are at least 20 types of protected butterflies from at least 250 species of butterflies that exist. However, not only butterflies, various types of interesting tourist activities can be done in this national park. Helena Sky BridgeThe Helena Sky Bridge…
---
Bantimurung National Park was established as a nature conservation area in 2004. The park with about 43,770 hectares width is located in Bantimurung District, Maros, South Sulawesi. There are natural destination of steep limestone hill valleys with tropical vegetation, waterfalls, and caves which the habitat of various fauna species, including butterflies. Alfred Russel Wallace dubbed Bantimurung as The Kingdom of Butterfly. He gave this nickname when he researched this location between 1856-1857. According to Wallace's research, for a year in that location there are at least 250 species of butterflies.…
---
Takapala Waterfall has 109 meters high with huge volume of water that pour out daily, and becomes bigger during rainy season. The outpouring of water that hit the big chunks of rocks in the bottom causing a roar and a splash of water that form a thin haze as far as 20 m. Not far from Takapala there are also other waterfall names Ketemu Jodoh Waterfall; the name of Ketemu Jodoh means meeting a soulmate. The location of the waterfall is only separated by a road that leading to the…
---
Selayar Island Selayar is an island that located in Selayar islands regency, South Sulawesi. Selayar Island is separated from the mainland of South Sulawesi with an area of ??approximately 2000 km2 that stretches from north to south between Sulawesi island and Takabonerate island. At Selayar Islands regency, there are 123 islands, and 62 islands of those are inhabited. The west coast and the northern part of the island is in the form of rocks and steep cliffs, while the east coast and most of the south coast is a form…
---