Matano Lake
---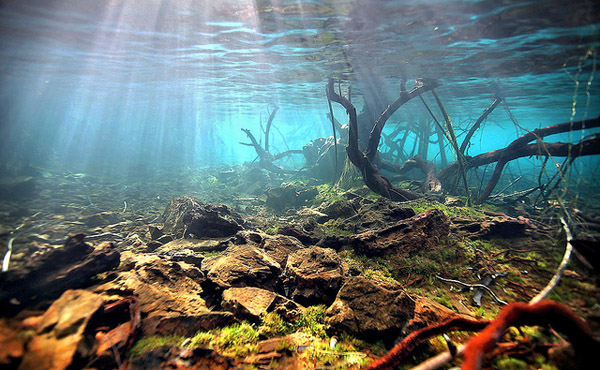 Matano or Matana Lake is settled in Nuha district, Luwu Timur regency, South Sulawesi, precisely located in Sorowako city, next to Towuti and Mahalona Lake. Sorowako city is famous by the biggest nickel mining in Indonesia. Matano Lake is the deepest lake in Indonesia, even in Southeast Asia and it lies in number 8 in the world with its 600 meter dept.
The word Matano is taken from Dongi word, the mother tongue of Sorowako language, which means spring. In fact, this Lake was formed as the result of tectonic movement and the fracture of Earth crust. It takes millions of times for this the folds of the earth's crust filled with water and become a Lake.
This lake has 16.000 ha width and becomes a home for endemic species that will never been found at other places, the ancient fish Buttini. This fish is typical of rare and primordial with brownish face. Other fauna is about shrimp, crab, snail and other kind of fishes.
One other interesting situation at this lake is taken from numbers of underwater caves. These caves are clearly seen from the surface, when the water is receding, with the mouth of the cave that open wide. Those caves are located in the edge of the lake where the inside is settled some of ancient heritages like spears, dagger and household appliances that made of brass. Those appliances were estimated have hundred years old and better known as Goa Tengkorak or skull cave.
This lake is covered by Verbec Mountains; we can do many activities like canoeing, kayaking, jest skiing, swimming, wind surfing and others.

Latest News
Bantimurung National Park is one of the tourist destinations that presents many types of natural objects. The nature tourism steep limestone hill valley with tropical vegetation, waterfalls, and cave; which are the habitat of various fauna species, including butterflies. This National Park features butterflies as its main attraction. Here, there are at least 20 types of protected butterflies from at least 250 species of butterflies that exist. However, not only butterflies, various types of interesting tourist activities can be done in this national park. Helena Sky BridgeThe Helena Sky Bridge…
---
Bantimurung National Park was established as a nature conservation area in 2004. The park with about 43,770 hectares width is located in Bantimurung District, Maros, South Sulawesi. There are natural destination of steep limestone hill valleys with tropical vegetation, waterfalls, and caves which the habitat of various fauna species, including butterflies. Alfred Russel Wallace dubbed Bantimurung as The Kingdom of Butterfly. He gave this nickname when he researched this location between 1856-1857. According to Wallace's research, for a year in that location there are at least 250 species of butterflies.…
---
Takapala Waterfall has 109 meters high with huge volume of water that pour out daily, and becomes bigger during rainy season. The outpouring of water that hit the big chunks of rocks in the bottom causing a roar and a splash of water that form a thin haze as far as 20 m. Not far from Takapala there are also other waterfall names Ketemu Jodoh Waterfall; the name of Ketemu Jodoh means meeting a soulmate. The location of the waterfall is only separated by a road that leading to the…
---
Selayar Island Selayar is an island that located in Selayar islands regency, South Sulawesi. Selayar Island is separated from the mainland of South Sulawesi with an area of ??approximately 2000 km2 that stretches from north to south between Sulawesi island and Takabonerate island. At Selayar Islands regency, there are 123 islands, and 62 islands of those are inhabited. The west coast and the northern part of the island is in the form of rocks and steep cliffs, while the east coast and most of the south coast is a form…
---