Fort Rotterdam
---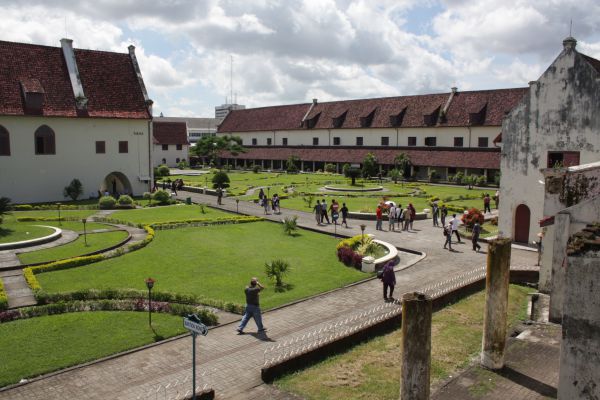 Fort Rotterdam (Benteng Ujung Pandang as it is now called) is an Old Dutch colonial fort in Makassar, overlooking the harbor. It is one of the top attractions in Makassar.
The current fort was built by the Dutch around the year 1667 but the first defensive structures consisting of a simple dirt wall where built here a century before in 1545 by Raja Tunipalangga. The Dutch Admiral Cornelis Speelman concurred the fort in 1667 and renamed it after his birthplace, Rotterdam. Soon the fort was rebuilt with 6 meter high and 2 meters thick walls. In the inside arose Dutch houses and a church. The fort became the center of Dutch colonial power on the island of Sulawesi.
Fort Rotterdam kept it function till 1937 after which it got other functions. In the 1970s the fort was restored and renamed to Fort (Benteng) Ujung Pandang. It is one of the best preserved Dutch buildings in Indonesia.
Fort Rotterdam consists of five towers, four on each corner and one at the main entrance. Inside are thirteen buildings, eleven made by the Dutch and two were built by the Japanese. The oldest building was built in 1686 and is called the Speelman's house, after the admiral who concurred the fort although he never actually lived in the house. The house was used by Dutch governors till mid-19th century. Currently a museum is housed here. Other structures were used as sleeping quarters for officers, prison or warehouses. One of the leaders of the Java war (1825-1830), the Indonesian National Hero Prince Diponegoro, was imprisoned here for 26 years till his death in 1855.
Fort Rotterdam is open every day from 08:00 till 18:00 hour. Entrance is free although a donation is requested, Rp. 10,000 should suffice. The museum is only open Tuesday to Sunday in the morning from 8:00 till 12:30 hour, entrance is about Rp 7500.
Located right in the heart of Makassar, it is not difficult to get to Fort Rotterdam. You can take the local public transportation or pete-pete, or taxi to get to the fort. If you are happen to be in Losari Beach, you can simply stroll down the boulevard and enjoy the scenery before you reach Fort Rotterdam.

Latest News
Bantimurung National Park is one of the tourist destinations that presents many types of natural objects. The nature tourism steep limestone hill valley with tropical vegetation, waterfalls, and cave; which are the habitat of various fauna species, including butterflies. This National Park features butterflies as its main attraction. Here, there are at least 20 types of protected butterflies from at least 250 species of butterflies that exist. However, not only butterflies, various types of interesting tourist activities can be done in this national park. Helena Sky BridgeThe Helena Sky Bridge…
---
Bantimurung National Park was established as a nature conservation area in 2004. The park with about 43,770 hectares width is located in Bantimurung District, Maros, South Sulawesi. There are natural destination of steep limestone hill valleys with tropical vegetation, waterfalls, and caves which the habitat of various fauna species, including butterflies. Alfred Russel Wallace dubbed Bantimurung as The Kingdom of Butterfly. He gave this nickname when he researched this location between 1856-1857. According to Wallace's research, for a year in that location there are at least 250 species of butterflies.…
---
Takapala Waterfall has 109 meters high with huge volume of water that pour out daily, and becomes bigger during rainy season. The outpouring of water that hit the big chunks of rocks in the bottom causing a roar and a splash of water that form a thin haze as far as 20 m. Not far from Takapala there are also other waterfall names Ketemu Jodoh Waterfall; the name of Ketemu Jodoh means meeting a soulmate. The location of the waterfall is only separated by a road that leading to the…
---
Selayar Island Selayar is an island that located in Selayar islands regency, South Sulawesi. Selayar Island is separated from the mainland of South Sulawesi with an area of ??approximately 2000 km2 that stretches from north to south between Sulawesi island and Takabonerate island. At Selayar Islands regency, there are 123 islands, and 62 islands of those are inhabited. The west coast and the northern part of the island is in the form of rocks and steep cliffs, while the east coast and most of the south coast is a form…
---