Cangke Island
---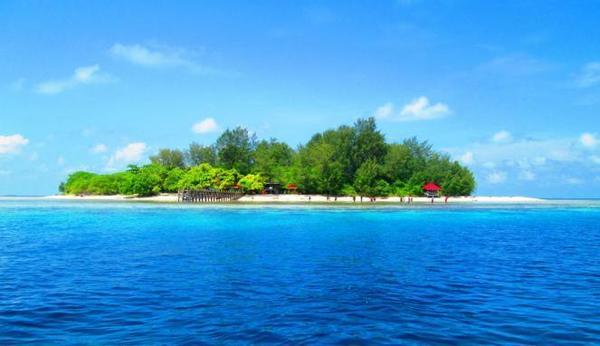 Cangke Island is a small Island, but it has beautiful and dramatic scenery. Not too many tourists recognize the island; it located in Pangkajene Islands regency or better known as Pangkep regency, South Sulawesi province.
This tiny island is just about 10 square kilometers only. This island is one of the places for the turtles to lay their eggs. During two months per year, the turtles would come to this island to lay the eggs. The nuance of this island is extraordinary beautiful. The land is very shady, because it overgrown by lots of green trees. The seawater is still clear and when the sea water is receding, we can see a variety of coral reefs and beautiful fishes from above. Hence, this place is also suitable for doing diving, snorkeling or fishing.
This island is inhabited only by four people who are old enough; they are Daeng Abu and his wife, Maedah and other couples who are the relatives of Daeng Abu. Daeng Abu and his wife had lived on the island for 40 years.
Initially, Daeng Abu and his wife is not the resident of this Island, people said that they were expelled by the village residents because of there were suffering from leprosy. After going by boat, finally they were stranded on Cangke Island. Cangke Island was originally just a barren and uninhabited Island. Daeng Abu and his wife took the initiative to reforest the island by planting the sea pine trees and a few others. Now, Cangke Island is already looks like a forest in the middle of the sea.
This island is not yet facilitated by the electricity. So is the food stalls or lodging. However, for mobile phone signal in the island is still pretty good. When you want to stay, you can set up a tent in the area of the island. Do not forget to bring plenty of supplies for food and drinks from home.
To go to the location, you can go through the city of Makassar. From Makassar, you can go directly to Port Paotere. From this port, you can rent a traditional boat, either jolloro or Katinting.
The travel time from Port Paotere to Cangke Island is about two to three hours away, depending on the weather. Before arriving on Cangke, the boats usually stop at Karanrang Island; here you can buy your personal needs like drugs or mineral water.

Latest News
Bantimurung National Park is one of the tourist destinations that presents many types of natural objects. The nature tourism steep limestone hill valley with tropical vegetation, waterfalls, and cave; which are the habitat of various fauna species, including butterflies. This National Park features butterflies as its main attraction. Here, there are at least 20 types of protected butterflies from at least 250 species of butterflies that exist. However, not only butterflies, various types of interesting tourist activities can be done in this national park. Helena Sky BridgeThe Helena Sky Bridge…
---
Bantimurung National Park was established as a nature conservation area in 2004. The park with about 43,770 hectares width is located in Bantimurung District, Maros, South Sulawesi. There are natural destination of steep limestone hill valleys with tropical vegetation, waterfalls, and caves which the habitat of various fauna species, including butterflies. Alfred Russel Wallace dubbed Bantimurung as The Kingdom of Butterfly. He gave this nickname when he researched this location between 1856-1857. According to Wallace's research, for a year in that location there are at least 250 species of butterflies.…
---
Takapala Waterfall has 109 meters high with huge volume of water that pour out daily, and becomes bigger during rainy season. The outpouring of water that hit the big chunks of rocks in the bottom causing a roar and a splash of water that form a thin haze as far as 20 m. Not far from Takapala there are also other waterfall names Ketemu Jodoh Waterfall; the name of Ketemu Jodoh means meeting a soulmate. The location of the waterfall is only separated by a road that leading to the…
---
Selayar Island Selayar is an island that located in Selayar islands regency, South Sulawesi. Selayar Island is separated from the mainland of South Sulawesi with an area of ??approximately 2000 km2 that stretches from north to south between Sulawesi island and Takabonerate island. At Selayar Islands regency, there are 123 islands, and 62 islands of those are inhabited. The west coast and the northern part of the island is in the form of rocks and steep cliffs, while the east coast and most of the south coast is a form…
---