Taka Bonerate Island
---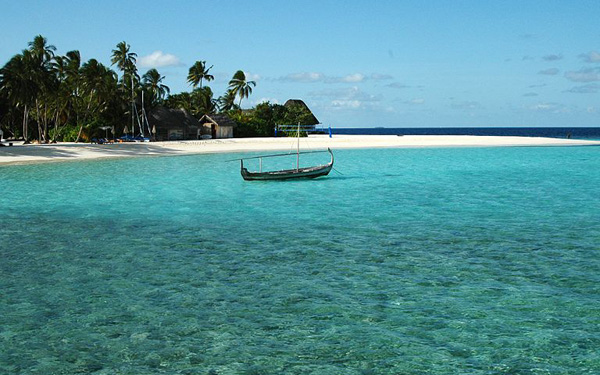 Takabonerate is an island and a sub-district from Selayar Regency, South Sulawesi. Takabonerate National Park has the third largest coral atoll in the world after the Kwajifein in Marshall Islands and Suvadiva the Moldiva Islands. The size of the atoll is approximately 220,000 hectares, with a coral reef flat width about 500 km².
Among the islands of coral reefs sandbank, there are deep and steep narrow straits. While on the surface of the reef flat, there are many small pools which are deep and surrounded by coral reefs. At the low tide, it clearly visible a dry land and interspersed puddles that formed small pools.
Plants in the coastal areas are dominated by coconut (Cocos nucifera), sea pandanus (Pandanus sp.), Sea pine (Casuarina equisetifolia), and ketapan (Terminalia catappa). There are 261 species from 17 families corals are identify, including eydouxi Pocillopora, Montipora danae, palifera Acropora, Porites cylindrica, Pavona clavus, Fungia concinna, and others. Most of the types of coral reefs have been formed as atoll reef (barrier reef) and the reef edge (fringing reef).
There are about 295 species of reef fish and various species of fish consumption of high economic value such as grouper (Epinephelus spp.), Skipjack (Katsuwonus spp.), Napoleon wrasse (Cheilinus undulatus), and baronang (Siganus sp.). Moreover, there are 244 types of mollusks including lola (Trochus niloticus), goat head shells (Cassis cornuta), triton (Charonia tritonis), batulaga (Turbo spp.), Giant clam shell (Tridacna squamosa), pearl oysters (Pinctada spp.), And hollow nautilus (Nautilus pompillius).
The types of turtles were founded, including the hawksbill turtle (Eretmochelys imbricata), green turtle (Chelonia mydas), and ridley turtle (Dermochelys coriacea). There are 15 islands in the Takabonerate Park which good for diving, snorkeling, and other marine tourism.
When we want to go to visit Takabonerate Island, we can use bus from Makassar to Bulukumba (153 km) and takes about five hours drive, then we go to the Pamatata Selayar port by ferry for about two hours, which continued to the Benteng is about 1.5 hours. From Benteng to the nearby small Ranjuni Island we can use wooden boat about five hours to the place. Everything is wonderful inside the Taka Bonerate Island.

Latest News
Bantimurung National Park is one of the tourist destinations that presents many types of natural objects. The nature tourism steep limestone hill valley with tropical vegetation, waterfalls, and cave; which are the habitat of various fauna species, including butterflies. This National Park features butterflies as its main attraction. Here, there are at least 20 types of protected butterflies from at least 250 species of butterflies that exist. However, not only butterflies, various types of interesting tourist activities can be done in this national park. Helena Sky BridgeThe Helena Sky Bridge…
---
Bantimurung National Park was established as a nature conservation area in 2004. The park with about 43,770 hectares width is located in Bantimurung District, Maros, South Sulawesi. There are natural destination of steep limestone hill valleys with tropical vegetation, waterfalls, and caves which the habitat of various fauna species, including butterflies. Alfred Russel Wallace dubbed Bantimurung as The Kingdom of Butterfly. He gave this nickname when he researched this location between 1856-1857. According to Wallace's research, for a year in that location there are at least 250 species of butterflies.…
---
Takapala Waterfall has 109 meters high with huge volume of water that pour out daily, and becomes bigger during rainy season. The outpouring of water that hit the big chunks of rocks in the bottom causing a roar and a splash of water that form a thin haze as far as 20 m. Not far from Takapala there are also other waterfall names Ketemu Jodoh Waterfall; the name of Ketemu Jodoh means meeting a soulmate. The location of the waterfall is only separated by a road that leading to the…
---
Selayar Island Selayar is an island that located in Selayar islands regency, South Sulawesi. Selayar Island is separated from the mainland of South Sulawesi with an area of ??approximately 2000 km2 that stretches from north to south between Sulawesi island and Takabonerate island. At Selayar Islands regency, there are 123 islands, and 62 islands of those are inhabited. The west coast and the northern part of the island is in the form of rocks and steep cliffs, while the east coast and most of the south coast is a form…
---