Latuppa Waterfall & Spring
---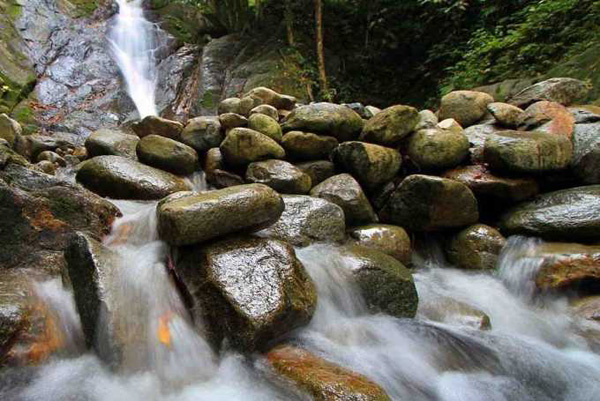 Latuppa Waterfall is located in the Village of Latuppa, Wara District, within 9 km from the town of Palopo or about 15 minutes away by car. To reach this location we must pass a paved, winding, downhill and uphill road with a view of the river flow on the left length for about 2000 m. This place is very suitable for doing Rafting, where the river is flowing through cliffs and rocks boards as well as the current is quite swift. After arriving at this place, we will continue the journey by walking through the path that slippery and steep among cocoa plantations that owned by local people, about 50 meters from the parking area.
Transportation to Latuppa is quite smooth. If you do not have your own vehicle to get to Latuppa there are several alternative vehicles that able to rent a motorcycle, pete-pete (minibus) or by taxi. Latuppa is actually one of the rivers that divide the city of Palopo. In addition to tourism object, Latuppa river is also has a critical role in providing clean water for residents of Palopo.
The area of Latuppa is in the form of tropical mountains, making this place is different from other rivers in the city. The flowing water is still natural, clear and cool. Here, we can directly plunge into the water, while enjoying the feel of the mountains and tropical forest scenery.
While enjoying the water, we can also have natural massage in the flow of the river; Latuppa is filled with large rocks. Besides offering natural baths, Latuppa is also has three levels waterfall with the feel of cool mountains. This waterfall is located not far from Latuppa River.
One other interesting point when visiting this place is, you can have fresh tropical fruit like Rambutan, Durian and mangosteen when the season of those fruits are on harvest time. Usually, the fruit season comes twice a year; the first season will occur in February to May. Meanwhile, the second season is in November. If you want to travel while enjoying the fresh fruits, come in those seasons.

Latest News
Bantimurung National Park is one of the tourist destinations that presents many types of natural objects. The nature tourism steep limestone hill valley with tropical vegetation, waterfalls, and cave; which are the habitat of various fauna species, including butterflies. This National Park features butterflies as its main attraction. Here, there are at least 20 types of protected butterflies from at least 250 species of butterflies that exist. However, not only butterflies, various types of interesting tourist activities can be done in this national park. Helena Sky BridgeThe Helena Sky Bridge…
---
Bantimurung National Park was established as a nature conservation area in 2004. The park with about 43,770 hectares width is located in Bantimurung District, Maros, South Sulawesi. There are natural destination of steep limestone hill valleys with tropical vegetation, waterfalls, and caves which the habitat of various fauna species, including butterflies. Alfred Russel Wallace dubbed Bantimurung as The Kingdom of Butterfly. He gave this nickname when he researched this location between 1856-1857. According to Wallace's research, for a year in that location there are at least 250 species of butterflies.…
---
Takapala Waterfall has 109 meters high with huge volume of water that pour out daily, and becomes bigger during rainy season. The outpouring of water that hit the big chunks of rocks in the bottom causing a roar and a splash of water that form a thin haze as far as 20 m. Not far from Takapala there are also other waterfall names Ketemu Jodoh Waterfall; the name of Ketemu Jodoh means meeting a soulmate. The location of the waterfall is only separated by a road that leading to the…
---
Selayar Island Selayar is an island that located in Selayar islands regency, South Sulawesi. Selayar Island is separated from the mainland of South Sulawesi with an area of ??approximately 2000 km2 that stretches from north to south between Sulawesi island and Takabonerate island. At Selayar Islands regency, there are 123 islands, and 62 islands of those are inhabited. The west coast and the northern part of the island is in the form of rocks and steep cliffs, while the east coast and most of the south coast is a form…
---