Hotels In South Sulawesi
---
Grand Clarion Makassar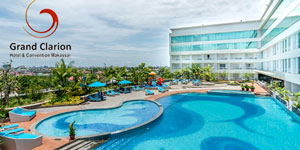 Located a 15-minute drive from the Losari Beach and a 45-minute drive from Sultan Hasanuddin Airport. It offers a spa, free parking and rooms with free wired internet. Air-conditioned guest rooms are fitted with a minibar, tea/coffee making facilities and a TV with cable channels. The en suite bathroom comes with a hairdryer and shower. Guests can swim at the outdoor pool or relax with a massage at the health club. Spa and sauna facilities can be found on site. Laundry and dry cleaning services are available. Legend Restaurant serves a variety of Indonesian and international dishes.
JL. A.P. Pettarani No. 3
Makassar, South Sulawesi
Indonesia
Phone: +62 411 833 888
Web: grandclarionmakassar.com
Aryaduta Makassar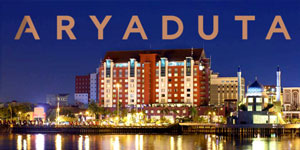 At Aryaduta Hotels, we embody the essence of Indonesian hospitality in every element of our services making it our absolute passion to ensure our guests feel at home. All while celebrating Indonesia's cultural heritage in our exceptional hotels and resorts. Aryaduta Makassar A sanctuary of comfort set amidst scenic shores of Losari Beach Boulevard and lively city center, Aryaduta Makassar places emphasis on Indonesian charm and classic Indonesian hospitality. Its 224 rooms and suites showcase the city's stunning ocean and city views, making your travel to Makassar, also known as Ujung Padang, truly exceptional.
Jl. Somba Opa No. 297
Makassar, South Sulawesi 90111
Phone: +62 411 870 555
Web: www.aryaduta.com
Arthama Hotels Losari Makassar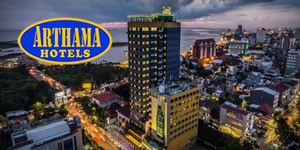 The hotel perfectly located in the business district of Makassar with easy access to center of culinary of Makassar where you can enjoy awesome seafood and traditional food of South Sulawesi, shopping malls, hospitals, tourism attractive areaand city government office. Arthama Hotel offers you a variety of accommodation options including 201 superb guest rooms. It has quality choices for memorable holidays, business travel, and special occasions to suit your needs and provide and ultimate experiences for every taste.
Jl. Haji Bau No 5
Makassar, South Sulawesi
Indonesia
Phone: +6281 1414 2299
Web: arthamahotels.com
The Rinra Makassar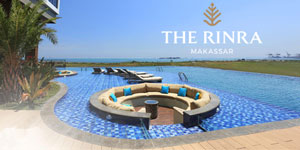 A premium hotel collection managed by Phinisi Hospitality. Modern marriage of outdoor treasures and indoor wonders, A Waterfront urban resort concept. First integrated Hotel & Lifestyle Mall in Makassar. Located only 10 minutes walking distance to Losari Beach, Fort Roterdam, The finest landmark area 16th century dutch as an icon of Makassar City. Close to Samalona island, Kayangan Island, Floating Mosque, Paotere Harbour, Al-Markaz Al Islami and Indonesia first Underground shopping center Karebosi Link and the world's third largest indoor themepark Trans Studio Mall and Somba Opu Street center of souvenier and culinary
Jl Metro Tanjung Bunga No 2
Makassar, South Sulawesi 90121
Indonesia
Phone: +62 411 3663 222
Web: therinra.com

Latest News
Bantimurung National Park is one of the tourist destinations that presents many types of natural objects. The nature tourism steep limestone hill valley with tropical vegetation, waterfalls, and cave; which are the habitat of various fauna species, including butterflies. This National Park features butterflies as its main attraction. Here, there are at least 20 types of protected butterflies from at least 250 species of butterflies that exist. However, not only butterflies, various types of interesting tourist activities can be done in this national park. Helena Sky BridgeThe Helena Sky Bridge…
---
Bantimurung National Park was established as a nature conservation area in 2004. The park with about 43,770 hectares width is located in Bantimurung District, Maros, South Sulawesi. There are natural destination of steep limestone hill valleys with tropical vegetation, waterfalls, and caves which the habitat of various fauna species, including butterflies. Alfred Russel Wallace dubbed Bantimurung as The Kingdom of Butterfly. He gave this nickname when he researched this location between 1856-1857. According to Wallace's research, for a year in that location there are at least 250 species of butterflies.…
---
Takapala Waterfall has 109 meters high with huge volume of water that pour out daily, and becomes bigger during rainy season. The outpouring of water that hit the big chunks of rocks in the bottom causing a roar and a splash of water that form a thin haze as far as 20 m. Not far from Takapala there are also other waterfall names Ketemu Jodoh Waterfall; the name of Ketemu Jodoh means meeting a soulmate. The location of the waterfall is only separated by a road that leading to the…
---
Selayar Island Selayar is an island that located in Selayar islands regency, South Sulawesi. Selayar Island is separated from the mainland of South Sulawesi with an area of ??approximately 2000 km2 that stretches from north to south between Sulawesi island and Takabonerate island. At Selayar Islands regency, there are 123 islands, and 62 islands of those are inhabited. The west coast and the northern part of the island is in the form of rocks and steep cliffs, while the east coast and most of the south coast is a form…
---