Lejja Natural Hot Spring
---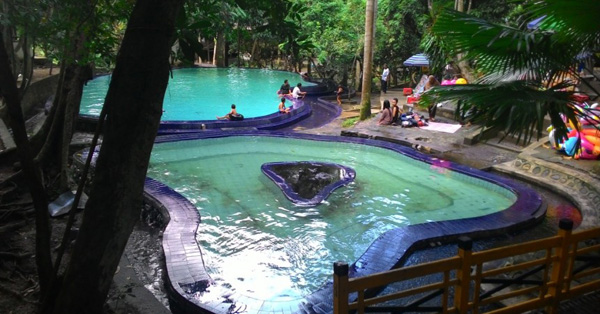 About 200 km north of Makassar / Ujung Padang, precisely at Soppeng district, there is a spot which is as adorable as those closer to Makassar. Soppeng district is usually called Kalong City (Bat City) because there are many bats hanging on trees here.
Lejja Hot Springs are located in a preserved forest area with beautiful scenery in Bulu village, Marioriawa sub-district, 44 km north of Soppeng district center, Watan town. The water temperature in this hot springs is up to 60 degrees celcius and it is believed the water can cure rheumatic and itch. This hot spring is the main tourist spot in this area visited by many foreign or domestic tourists.
The facilities in Lejja are well provided. There are public bath pools, private pools, toilet, and shower room, changing clothes room, resorts, tennis court and even a meeting room (300 people capacity). Every private pool, with a width of 3 meters, has a private gazebo. There are 5 different public pools for bathing,
Pool I (very hot water): be careful as in this pool eggs can get half-cooked...
Pool II (lukewarm): this place is allowed for children and for non-swimmers as this pool is shallow
Pool III (lukewarm): a pool for adults with a depth as high as your neck. A buoy is available for those who are afraid to swim.
Pool IV (normal): the water in this pool is neither so hot nor cold and is for adults only.
Pool V (normal): located on the eastern side, comes with a jumping board.
You can also take a walk and see the source of the hot water yourself. There is a path besides the pool heading to the hill. There will be a small river with hot water and smoking rocks. At the end of the path you will find a big tree with a 50 cm space underneath the roots. That is where the water comes from.
Do not be surprised if you find tied bottles and cans around the tree. These are symbols of wishes of people who have been here before. They will be back there again and untie the bottle or can when their wish is granted. It is also a symbol for couples. Getting here is a bit difficult though. Best to use a motorcycle so you can enjoy the view while riding it. As you arrive at the gate, you can choose either the way straight to the pool with your motorcycle or you can park and take the stairs and enjoy the beautiful view. Entrance ticket is IDR 5.000/person for adult and IDR 2.500/person for children.

Latest News
Bantimurung National Park is one of the tourist destinations that presents many types of natural objects. The nature tourism steep limestone hill valley with tropical vegetation, waterfalls, and cave; which are the habitat of various fauna species, including butterflies. This National Park features butterflies as its main attraction. Here, there are at least 20 types of protected butterflies from at least 250 species of butterflies that exist. However, not only butterflies, various types of interesting tourist activities can be done in this national park. Helena Sky BridgeThe Helena Sky Bridge…
---
Bantimurung National Park was established as a nature conservation area in 2004. The park with about 43,770 hectares width is located in Bantimurung District, Maros, South Sulawesi. There are natural destination of steep limestone hill valleys with tropical vegetation, waterfalls, and caves which the habitat of various fauna species, including butterflies. Alfred Russel Wallace dubbed Bantimurung as The Kingdom of Butterfly. He gave this nickname when he researched this location between 1856-1857. According to Wallace's research, for a year in that location there are at least 250 species of butterflies.…
---
Takapala Waterfall has 109 meters high with huge volume of water that pour out daily, and becomes bigger during rainy season. The outpouring of water that hit the big chunks of rocks in the bottom causing a roar and a splash of water that form a thin haze as far as 20 m. Not far from Takapala there are also other waterfall names Ketemu Jodoh Waterfall; the name of Ketemu Jodoh means meeting a soulmate. The location of the waterfall is only separated by a road that leading to the…
---
Selayar Island Selayar is an island that located in Selayar islands regency, South Sulawesi. Selayar Island is separated from the mainland of South Sulawesi with an area of ??approximately 2000 km2 that stretches from north to south between Sulawesi island and Takabonerate island. At Selayar Islands regency, there are 123 islands, and 62 islands of those are inhabited. The west coast and the northern part of the island is in the form of rocks and steep cliffs, while the east coast and most of the south coast is a form…
---