Tempe Lake, Sengkang
---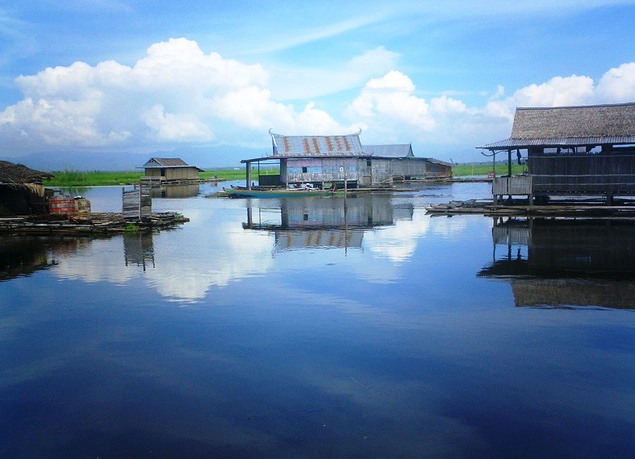 Sengkang is the capital of a former Bugis kingdom, this historic and bustling market town overlooking Lake Tempe retains its traditional character, as well as many old cultural traditions, silk weaving, colorful Bugis weddings-celebration, Ancient customs based, dance, and a traditional orchestra.
Lake Tempe is a shallow lake fringed by wetlands with traditional floating houses and a large population of wonderful bird life. Lake Tempe is the place for ornithologists. You can go by long tail boat on the huge lake and you will visit a traditional floating house and enjoying drinking tea or coffee and eating fried banana (Pisang Goreng) with the locals. A village that is really unique, around 30 houses inhabited by traditional fishermen in the middle of the vast Tempe Lake. There are the fishermen live by doing daily fishing, drying some river fishes and other activities.
This place can be reached by a traditional boat for about one hours from the harbor of Tempe. Along the trip you might be seeing some various types of birds of the lake, flying in a row or settling on the grass or flowers that live floating houses in the middle of the lake.
The lakeside resort of Sengkang between Bone and Pare-pare has only recently been discovered by foreign tourist. Scenic Danau Tempe, a large shallow lake fringed by wetlands, is the main attraction and is best admired on a boat trip. Geologist believes the lake was once a gulf between southern Toraja and the rest of South Sulawesi. As they merged, the gulf disappeared and it is thought the lake will eventually disappear too.

Latest News
Bantimurung National Park is one of the tourist destinations that presents many types of natural objects. The nature tourism steep limestone hill valley with tropical vegetation, waterfalls, and cave; which are the habitat of various fauna species, including butterflies. This National Park features butterflies as its main attraction. Here, there are at least 20 types of protected butterflies from at least 250 species of butterflies that exist. However, not only butterflies, various types of interesting tourist activities can be done in this national park. Helena Sky BridgeThe Helena Sky Bridge…
---
Bantimurung National Park was established as a nature conservation area in 2004. The park with about 43,770 hectares width is located in Bantimurung District, Maros, South Sulawesi. There are natural destination of steep limestone hill valleys with tropical vegetation, waterfalls, and caves which the habitat of various fauna species, including butterflies. Alfred Russel Wallace dubbed Bantimurung as The Kingdom of Butterfly. He gave this nickname when he researched this location between 1856-1857. According to Wallace's research, for a year in that location there are at least 250 species of butterflies.…
---
Takapala Waterfall has 109 meters high with huge volume of water that pour out daily, and becomes bigger during rainy season. The outpouring of water that hit the big chunks of rocks in the bottom causing a roar and a splash of water that form a thin haze as far as 20 m. Not far from Takapala there are also other waterfall names Ketemu Jodoh Waterfall; the name of Ketemu Jodoh means meeting a soulmate. The location of the waterfall is only separated by a road that leading to the…
---
Selayar Island Selayar is an island that located in Selayar islands regency, South Sulawesi. Selayar Island is separated from the mainland of South Sulawesi with an area of ??approximately 2000 km2 that stretches from north to south between Sulawesi island and Takabonerate island. At Selayar Islands regency, there are 123 islands, and 62 islands of those are inhabited. The west coast and the northern part of the island is in the form of rocks and steep cliffs, while the east coast and most of the south coast is a form…
---