Sa'dan River
---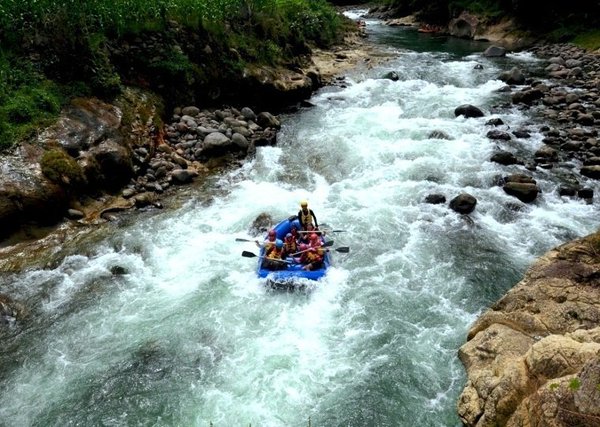 The Sa'dan River is the lifeblood of the people of Toraja, as the Sa'dan irrigates the surrounding fertile rice fields and provides water, for both humans and cattle in this largely agricultural land. The Sa'dan River is following the road as one travels up from Makale to Rantepao in the highlands of Toraja in South Sulawesi.
The source of The Sa'dan river is in the mountains north of Rantepao and is one of the longest rivers on the island of Sulawesi, flowing a distance of 182 km and measures 80 meters at its widest point. Along this long route, the river sometimes moves slowly over flat terrains, but more often rushes swiftly over big boulders and steep valleys, creating an unshakable attraction to white water rafting afficionadoes.
Rafting the entire Sa'dan River can take two days, offering challenges from grade 3-5, passing picturesque swathes of green ricefields, quaint traditional villages, steep gorges and high Rocky Mountains. It is, therefore, not a river for the meek nor for beginners. The Sa'dan River is the river for experienced and adventurous rafters. The rapids at Puru are grade three, the Seba Rapids are grade 4, with the fastest being the Fitri rapids offering grade 5 challenges, sure to pump up your adrenaline. These grades mean that rafting on the Sa'dan can be difficult, has wavy, long, consecutive and strong currents; it has dangerous rocks and in places has foaming whirlpool froth.
The start of rafting is at the hanging bridge of Buah Kayu, north of the town of Rantepao, some 3.5 hours ride by four-wheel drive vehicle, and finishes at the Pappi Bridge at Enrekang. Participants do not need to worry about accommodation, since there are many homes along the river to stay the night.
Makassar, capital of South Sulawesi, is the entry point to the Toraja Highlands. As airline hub for East Indonesia, Makassar is served by many domestic airlines from Jakarta, Surabaya, Bali and other parts of the country. The only way to get to the town of Rantepao in Toraja is by road, which takes about 8 hours from Makassar. From Rantepao to the start of your rafting expedition at Buah Kayu takes another 3.5 hours by four-wheel drive. There are buses available in Makassar that ply the Makassar-Toraja route.

Latest News
Bantimurung National Park is one of the tourist destinations that presents many types of natural objects. The nature tourism steep limestone hill valley with tropical vegetation, waterfalls, and cave; which are the habitat of various fauna species, including butterflies. This National Park features butterflies as its main attraction. Here, there are at least 20 types of protected butterflies from at least 250 species of butterflies that exist. However, not only butterflies, various types of interesting tourist activities can be done in this national park. Helena Sky BridgeThe Helena Sky Bridge…
---
Bantimurung National Park was established as a nature conservation area in 2004. The park with about 43,770 hectares width is located in Bantimurung District, Maros, South Sulawesi. There are natural destination of steep limestone hill valleys with tropical vegetation, waterfalls, and caves which the habitat of various fauna species, including butterflies. Alfred Russel Wallace dubbed Bantimurung as The Kingdom of Butterfly. He gave this nickname when he researched this location between 1856-1857. According to Wallace's research, for a year in that location there are at least 250 species of butterflies.…
---
Takapala Waterfall has 109 meters high with huge volume of water that pour out daily, and becomes bigger during rainy season. The outpouring of water that hit the big chunks of rocks in the bottom causing a roar and a splash of water that form a thin haze as far as 20 m. Not far from Takapala there are also other waterfall names Ketemu Jodoh Waterfall; the name of Ketemu Jodoh means meeting a soulmate. The location of the waterfall is only separated by a road that leading to the…
---
Selayar Island Selayar is an island that located in Selayar islands regency, South Sulawesi. Selayar Island is separated from the mainland of South Sulawesi with an area of ??approximately 2000 km2 that stretches from north to south between Sulawesi island and Takabonerate island. At Selayar Islands regency, there are 123 islands, and 62 islands of those are inhabited. The west coast and the northern part of the island is in the form of rocks and steep cliffs, while the east coast and most of the south coast is a form…
---