Akkarena Beach
---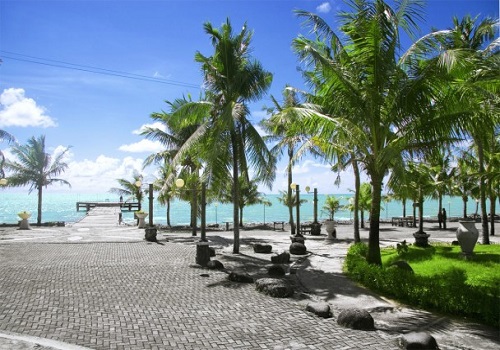 Akkarena beach is located at the coastal side of the city of Makassar, more precisely in front of Makassar Mall GTC, just about 10 minutes drive from the city center by private vehicle.
Akkarena beach is a stunning black sand beach and is a a great choice for hanging out with family. It offers a variety of means to relax and play for grown-ups and kids. Akkarena beach not only offers beautiful beaches, but it also offers a variety of facilities, including playgrounds (with seesaw, swings and sliding boards), restaurants and a park.
This park is called Akkarena Tanjung Bunga, which was built in an area of 12 hectares and is usually open from 7:00 am until midnight. In the park restaurants and warungs serve local and international food and drinks and live music is performed here in the evening.
You can do various water sports and various games such as banana boat, jet sky, and drive ATV bike, but you can also just relax, enjoy the breeze and the beautiful Akkarena beach. The entry fee is only Rp. 5000, car parking is Rp 2000 and Rp. 1000 for a motorbike.

Latest News
Bantimurung National Park is one of the tourist destinations that presents many types of natural objects. The nature tourism steep limestone hill valley with tropical vegetation, waterfalls, and cave; which are the habitat of various fauna species, including butterflies. This National Park features butterflies as its main attraction. Here, there are at least 20 types of protected butterflies from at least 250 species of butterflies that exist. However, not only butterflies, various types of interesting tourist activities can be done in this national park. Helena Sky BridgeThe Helena Sky Bridge…
---
Bantimurung National Park was established as a nature conservation area in 2004. The park with about 43,770 hectares width is located in Bantimurung District, Maros, South Sulawesi. There are natural destination of steep limestone hill valleys with tropical vegetation, waterfalls, and caves which the habitat of various fauna species, including butterflies. Alfred Russel Wallace dubbed Bantimurung as The Kingdom of Butterfly. He gave this nickname when he researched this location between 1856-1857. According to Wallace's research, for a year in that location there are at least 250 species of butterflies.…
---
Takapala Waterfall has 109 meters high with huge volume of water that pour out daily, and becomes bigger during rainy season. The outpouring of water that hit the big chunks of rocks in the bottom causing a roar and a splash of water that form a thin haze as far as 20 m. Not far from Takapala there are also other waterfall names Ketemu Jodoh Waterfall; the name of Ketemu Jodoh means meeting a soulmate. The location of the waterfall is only separated by a road that leading to the…
---
Selayar Island Selayar is an island that located in Selayar islands regency, South Sulawesi. Selayar Island is separated from the mainland of South Sulawesi with an area of ??approximately 2000 km2 that stretches from north to south between Sulawesi island and Takabonerate island. At Selayar Islands regency, there are 123 islands, and 62 islands of those are inhabited. The west coast and the northern part of the island is in the form of rocks and steep cliffs, while the east coast and most of the south coast is a form…
---