Balla Lompoa Museum
---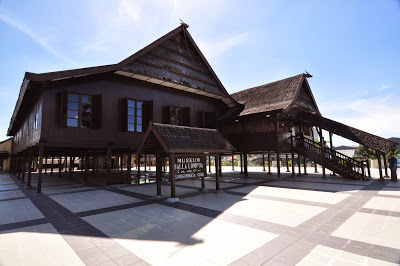 Museum Balla Lompoa is a reconstruction of the Palace of Gowa Kingdom, which was established by the King of Gowa the 31th in 1936. The architecture is typical of the Bugis-shaped house; the houses on stilts made of ironwood (Eusideroxylon zwageri).
Built on an area of one hectare bounded by a high wall, Balla Lompoa that shaped like a house on stilts was originally a royal palace that been built in 1936 by Mangngi-mangngi Daeng Matutu, King of Gowa XXXI. Balla means "home" and Lompoa means "big". This Balla lompoa that was built based on Makassar architecture is including the world's largest stilt house.
This building is consists of two parts, the main room that measuring 60 x 40 meters in which there are private rooms for the king, storage for historic objects, the cubicle kingdom with an area of each chamber measuring 6 x 5 meters, and a terrace room (reception room ) that measuring 40 x 4.5 meters. The building is equipped with a lot of windows that becomes the hallmark of Bugis house, and it has each window size for about 0.5 x 0.5 meters. This museum is a place where a collection of Gowa heritages been storage.
Balla Lompoa Museum is located at Jalan Sultan Hasanuddin No. 48 Sungguminasa, Somba Opu, Gowa, directly adjacent to the city of Makassar. One of collections from Museum Balla Lompoa Gowa form are diverse types of Badik or Badek, a traditional weapon from Bugis and Makassar. Badik is a Sharp-edged dagger that can be single or has two in length, up to half a meter. Those Badik were often decorated by ornaments on its blade. Other weapons are machetes, spears, and there is also a weapon that became symbols of the kingdom.
Other collections from Museum Balla Lompoa Gowa are ceramics, earthenware barrel, trays, candlesticks, kettles, bowl, which is partly made of gold; there is also drink jar and ceramic bowl that been displayed at this place. In addition to red and yellow colors that dominate the color of the fabric, there is also a creamy white color on a pedestal and the ornament curtain. Another collection is VOC pistol, bullets round with a variety of sizes, cannons and flags bearing yellow rooster. Sultan Hasanuddin is a National Hero that being dubbed as a Rooster from the east. The figure rooster emblem is also used in Gowa.

Latest News
Bantimurung National Park is one of the tourist destinations that presents many types of natural objects. The nature tourism steep limestone hill valley with tropical vegetation, waterfalls, and cave; which are the habitat of various fauna species, including butterflies. This National Park features butterflies as its main attraction. Here, there are at least 20 types of protected butterflies from at least 250 species of butterflies that exist. However, not only butterflies, various types of interesting tourist activities can be done in this national park. Helena Sky BridgeThe Helena Sky Bridge…
---
Bantimurung National Park was established as a nature conservation area in 2004. The park with about 43,770 hectares width is located in Bantimurung District, Maros, South Sulawesi. There are natural destination of steep limestone hill valleys with tropical vegetation, waterfalls, and caves which the habitat of various fauna species, including butterflies. Alfred Russel Wallace dubbed Bantimurung as The Kingdom of Butterfly. He gave this nickname when he researched this location between 1856-1857. According to Wallace's research, for a year in that location there are at least 250 species of butterflies.…
---
Takapala Waterfall has 109 meters high with huge volume of water that pour out daily, and becomes bigger during rainy season. The outpouring of water that hit the big chunks of rocks in the bottom causing a roar and a splash of water that form a thin haze as far as 20 m. Not far from Takapala there are also other waterfall names Ketemu Jodoh Waterfall; the name of Ketemu Jodoh means meeting a soulmate. The location of the waterfall is only separated by a road that leading to the…
---
Selayar Island Selayar is an island that located in Selayar islands regency, South Sulawesi. Selayar Island is separated from the mainland of South Sulawesi with an area of ??approximately 2000 km2 that stretches from north to south between Sulawesi island and Takabonerate island. At Selayar Islands regency, there are 123 islands, and 62 islands of those are inhabited. The west coast and the northern part of the island is in the form of rocks and steep cliffs, while the east coast and most of the south coast is a form…
---