Bantimurung National Park
---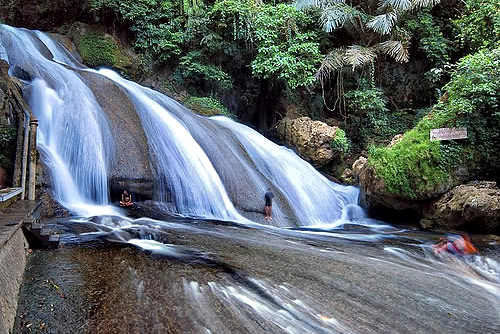 Bantimurung National Park is a 480 km2 large nature reserve just 45 km north of Makassar / Ujung Pandang. The name Bantimurang is a combination of the words 'membanting kemurungan' which means 'getting rid of sadness'. The park is famous for its many butterflies. When Sir Alfred Wallace visited this area in 1856 he termed it the 'Kingdom of butterflies'. A name still used till today.
Unfortunately the number of species and amount of butterflies has dropped significantly in the last decades. In the first count there were 270 species, a count in 1997 stopped at 147 species. The last count in 2010 could only found 90 species. Also, besides a decline in species, the total amount of butterflies has dropped significantly: before there were so many butterflies they would gather in groups and drift by in a cloud.
Increased human activity in the area is seen as the cause of this decline. In a response the government has started a butterflies breeding program. But in spite of the decline you can still enjoy the thousands of multi-colored butterflies here especially in or near one of the caves.
Besides the butterflies this National Park is famous for the 15 meter high waterfall. This is the place where most visitors go to. Behind the waterfall are a few caves which you can explore. The waterfall and caves are set in a lush tropical forest with limestone cliffs.
Bantimurang National Park is especially popular in the weekends when local visitors from Makassar head out to the waterfall and adjacent picnic area. Park entrance is Rp 5,000 per adult. Accommodation to spend the night is available inside the park perimeter for as low as Rp 50,000.
Located only 20 KM from Hasanuddin Airport, the national park can be reached from the airport by local public transportation called pete-pete for about 30 minutes. If you travel from Makassar, you can catch a public bus or DAMRI, from the Makassar Mall in the direction of Maros for about one hour. From Maros, take the same pete-pete that also goes to the airport.

Latest News
Bantimurung National Park is one of the tourist destinations that presents many types of natural objects. The nature tourism steep limestone hill valley with tropical vegetation, waterfalls, and cave; which are the habitat of various fauna species, including butterflies. This National Park features butterflies as its main attraction. Here, there are at least 20 types of protected butterflies from at least 250 species of butterflies that exist. However, not only butterflies, various types of interesting tourist activities can be done in this national park. Helena Sky BridgeThe Helena Sky Bridge…
---
Bantimurung National Park was established as a nature conservation area in 2004. The park with about 43,770 hectares width is located in Bantimurung District, Maros, South Sulawesi. There are natural destination of steep limestone hill valleys with tropical vegetation, waterfalls, and caves which the habitat of various fauna species, including butterflies. Alfred Russel Wallace dubbed Bantimurung as The Kingdom of Butterfly. He gave this nickname when he researched this location between 1856-1857. According to Wallace's research, for a year in that location there are at least 250 species of butterflies.…
---
Takapala Waterfall has 109 meters high with huge volume of water that pour out daily, and becomes bigger during rainy season. The outpouring of water that hit the big chunks of rocks in the bottom causing a roar and a splash of water that form a thin haze as far as 20 m. Not far from Takapala there are also other waterfall names Ketemu Jodoh Waterfall; the name of Ketemu Jodoh means meeting a soulmate. The location of the waterfall is only separated by a road that leading to the…
---
Selayar Island Selayar is an island that located in Selayar islands regency, South Sulawesi. Selayar Island is separated from the mainland of South Sulawesi with an area of ??approximately 2000 km2 that stretches from north to south between Sulawesi island and Takabonerate island. At Selayar Islands regency, there are 123 islands, and 62 islands of those are inhabited. The west coast and the northern part of the island is in the form of rocks and steep cliffs, while the east coast and most of the south coast is a form…
---