Tinabo Island
---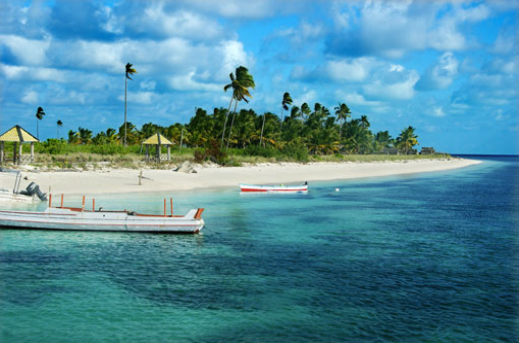 Tinabo Island is an island that belongs to Taka Bonerate National Park. The island is located in Selayar Islands Regency, South Sulawesi province. From Makassar this island is located about 300 kilometers away.
Tinabo Island is a small and long island and it has one and a half kilometers with a width of approximately 500 meters. The position of Tinabo island is very strategic, that possible for us to see the grace of sunrise and sunset with bare eyes. Tinabo Island has fine white sandy beaches, with clear and bluish seawater. The underwater scenery is also amazing.
Those who love snorkeling and diving, visiting this island will be the great experience to do those activities. No wonder that this island is becoming one of the paradises for diving enthusiasts.
The most intriguing thing on this island is, the visitors can dive with baby sharks, turtles and even shared clams (giant sea shells) which the size could reach up to one meter. There is also one interesting spot to dive, it called Sumur Ikan or fish well. This spot is an underwater hole that has not been clarified the deep. We can see colors of beautiful fishes in and out from this hole.
The entrance fee to Tinabo Island is around Rp.2, 500 per person. For snorkeling cost is around Rp. 40,000 / spot / hour. For the diving license cost is around Rp.50,000 / spot / person (not including guide). In this island there is Tinabo Island Resort with room rental costs around Rp. 200,000 per night (not including meals).
Tinabo Island is fairly remote and secluded. To get here, you have to travel for hours by land, sea or air. But it guaranteed that everything will pay off after you get to this island. Moreover, the beauties of Tinabo Island will make you feel at home and want to have some more visits.
The nearest town to get to the island is via Makassar. From Makassar we continue the journey to Tanjung Bira by using rental vehicles, and it takes about 8 hours. Then, from Tanjung Bira the journey continues by ferry to the Pamatata Selayar Port about 2 hours' drive. From Pamatata Port the journey is continue overland by using rental car to Kota Benteng and then heading to Patumbukan port. Now, from the Patumbukan Port, we can cross to Tinabo Island by using rented local boat or speed boat. It will take 4 to 5 hours drive by using local boat and 2 hours drive by using speedboat.

Latest News
Bantimurung National Park is one of the tourist destinations that presents many types of natural objects. The nature tourism steep limestone hill valley with tropical vegetation, waterfalls, and cave; which are the habitat of various fauna species, including butterflies. This National Park features butterflies as its main attraction. Here, there are at least 20 types of protected butterflies from at least 250 species of butterflies that exist. However, not only butterflies, various types of interesting tourist activities can be done in this national park. Helena Sky BridgeThe Helena Sky Bridge…
---
Bantimurung National Park was established as a nature conservation area in 2004. The park with about 43,770 hectares width is located in Bantimurung District, Maros, South Sulawesi. There are natural destination of steep limestone hill valleys with tropical vegetation, waterfalls, and caves which the habitat of various fauna species, including butterflies. Alfred Russel Wallace dubbed Bantimurung as The Kingdom of Butterfly. He gave this nickname when he researched this location between 1856-1857. According to Wallace's research, for a year in that location there are at least 250 species of butterflies.…
---
Takapala Waterfall has 109 meters high with huge volume of water that pour out daily, and becomes bigger during rainy season. The outpouring of water that hit the big chunks of rocks in the bottom causing a roar and a splash of water that form a thin haze as far as 20 m. Not far from Takapala there are also other waterfall names Ketemu Jodoh Waterfall; the name of Ketemu Jodoh means meeting a soulmate. The location of the waterfall is only separated by a road that leading to the…
---
Selayar Island Selayar is an island that located in Selayar islands regency, South Sulawesi. Selayar Island is separated from the mainland of South Sulawesi with an area of ??approximately 2000 km2 that stretches from north to south between Sulawesi island and Takabonerate island. At Selayar Islands regency, there are 123 islands, and 62 islands of those are inhabited. The west coast and the northern part of the island is in the form of rocks and steep cliffs, while the east coast and most of the south coast is a form…
---