South Sulawesi Province
---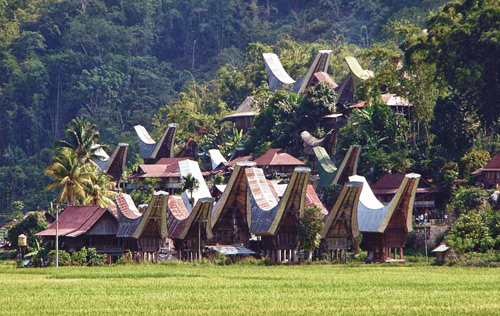 South Sulawesi is one of Indonesia Provinces that lies on Sulawesi Island. Makassar is the capital of this province that was called as Ujung Pandang.
The local inhabitant that stay in South Sulawesi is dominated by Bugis and Makassar people, but Toraja ethnic is the indigenous ethnic people from South Sulawesi. Islam is the religion that most people in South Sulawesi hold, except in Toraja that mostly have Christian as their religion or they still have their animist belief known as Aluk, meaning "the way". The Indonesian government has recognized this animist belief as Aluk Todolo (Way of the Ancestors)
Torajan are still living on mountainous range, based on their name meaning on Bugis language, "to riaja" referred to "people of the uplands". Torajan cultural initiation that popular is about their funeral rite of bury the death people. They placed the death people on carved into rocky cliff. The carve is symbolizing the death person called Tau-tau. Tau-tau is made from jack fruit wood, strong wood, and to cut this timber, must be done with traditional ceremony of Toraja, while the eyes of Tau-tau is made of the bone and buffalo horn.
In Toraja society, the funeral ritual is such an expensive event that being held to "good-Bye" the death person. The richer and more powerful the individual, the more expensive is the funeral. In the Aluk religion, only nobles have the right to have an extensive death feast which usually attended by thousand people and being held for weeks, months or even years.
Before 20th Century, the Torajan are lived in autonomous villages, where they practices animism and being untouchable from outside the society. On early 1900s, the Dutch missionaries was converted the Torajan highlanders to Christianity. After 1970s, Toraja was opened to the outside world and became the icon of Indonesia Tourism.
Hence, the tourism destination from South Sulawesi is mostly coming from Toraja Land concerning the historical site of Torajan complete with their celebration, initiation, art, cultural things and the way of living.
How to get there
Sulawesi has 6 (six) provinces and all these provinces has one major airport served by regular flights connecting various towns and cities in Indonesia. But only two provinces have international airport. They are Makassar in the South Sulawesi Province and Manado in the North Sulawesi. These two airports are now the gateway to the island.
Makassar now has regular flights connecting the town with Kuala Lumpur in Malaysia flewn by AirAsia 4 (four) times aweek. Whilst Manado international flights served by Silk Air ( 3 times a week) and AirAisia (also 3 times a week). Here are the details
Makassar: the major airport on the island. It is a hub and distributing point of flights in Eastern Indonesia.
International flights: flewn by AirAsia 4 times a week connecting Makassar with Kuala Lumpur / Malaysia
Domestik flight: flewn by various airlines run on daily basis connecting Makassar with Denpasar/Bali, Jakarta, Surabaya, Jogyakarta, Bandung, Medan, Manado, Ambon, Jayapura etc. The airlines flying to and from Makassar: Garuda Indonesia, Merpati airlines, Lion Air, Sriwijaya Air, Mandala Airlines, Celebes Air, etc

Latest News
Bantimurung National Park is one of the tourist destinations that presents many types of natural objects. The nature tourism steep limestone hill valley with tropical vegetation, waterfalls, and cave; which are the habitat of various fauna species, including butterflies. This National Park features butterflies as its main attraction. Here, there are at least 20 types of protected butterflies from at least 250 species of butterflies that exist. However, not only butterflies, various types of interesting tourist activities can be done in this national park. Helena Sky BridgeThe Helena Sky Bridge…
---
Bantimurung National Park was established as a nature conservation area in 2004. The park with about 43,770 hectares width is located in Bantimurung District, Maros, South Sulawesi. There are natural destination of steep limestone hill valleys with tropical vegetation, waterfalls, and caves which the habitat of various fauna species, including butterflies. Alfred Russel Wallace dubbed Bantimurung as The Kingdom of Butterfly. He gave this nickname when he researched this location between 1856-1857. According to Wallace's research, for a year in that location there are at least 250 species of butterflies.…
---
Takapala Waterfall has 109 meters high with huge volume of water that pour out daily, and becomes bigger during rainy season. The outpouring of water that hit the big chunks of rocks in the bottom causing a roar and a splash of water that form a thin haze as far as 20 m. Not far from Takapala there are also other waterfall names Ketemu Jodoh Waterfall; the name of Ketemu Jodoh means meeting a soulmate. The location of the waterfall is only separated by a road that leading to the…
---
Selayar Island Selayar is an island that located in Selayar islands regency, South Sulawesi. Selayar Island is separated from the mainland of South Sulawesi with an area of ??approximately 2000 km2 that stretches from north to south between Sulawesi island and Takabonerate island. At Selayar Islands regency, there are 123 islands, and 62 islands of those are inhabited. The west coast and the northern part of the island is in the form of rocks and steep cliffs, while the east coast and most of the south coast is a form…
---