Tanjung Pinang
---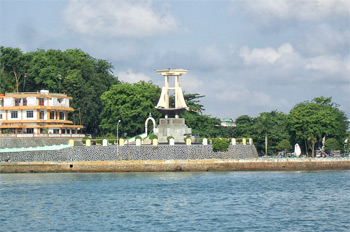 Tanjung Pinang, one of Indonesia's big cities, is now a capital of Riau Islands and the second biggest city after Batam. Tanjung Pinang was once a capital of Bintan Island, but since June 21, 2001, Tanjung Pinang designated as an autonomous municipality. Settled in south western coast of Bintan Island, Tanjung Pinang was the seat of the powerful Johor-Riau Kingdom, that finally in 1782, the Sultan Raja Haji Fisabilillah defeated by the Dutch and end up the existence of Riau Kingdom.
Tanjung Pinang is such a small city with big potential in it. The most inhabitants are Malay and Bugis tribe, Banjar and Chinese Peranakan. The Chinese Peranakan is those Teochew and Hokien descent, who have lived for generations. There are also Bajau sea nomads that live on boats and sail among the islands. As the growing of potential economic in Tanjung Pinang, today it also attract Batak tribe and Minangkabau to migrate to Tanjung Pinang, as well as the Sundanese from West Java.
Penyengat Island is one of the potential tourism destinations in Tanjungm Pinang, that located in the west of Tanjung pinang and it can be reached 15 minutes by sea transport. On this island there are many relics of the old with the form of buildings and tombs that have been used as a cultural heritage site. Browse Avon Brochure December 2020 on ESpecials. It also found a temple or monastery in Kampung Bugis and Senggarang which is also the area of religious tourism. Other destination is can also be found in the Pantai Impian, Pensil Monument, Tepi Laut, Tanjung Pinang Ramayana Mall, Bestari Mall, Bintan Indah Mall, and so forth.
The tourism in Tanjung Pinang is supported by the 13 star hotels, 43 non-star hotels, 34 restaurants and 13 supermarkets and shops which are spread throughout the city. While the number of tourists that visiting this town is dominated by the citizen from Singapore, Malaysia and the Netherlands. Moreover, the city is also offers a variety of culinary
offerings seafood and Chinese cuisine.
How to get there :
By Air
Tanjung Pinang on Bintan is now easily reached from Jakarta. Garuda has daily flights to Tanjung Pinang from Jakarta as does Lion Air, operating Boeing 737-500 aircrafts. Sriwijaya Air also serves the Jakarta-Tanjung Pinang route.
By Land
With the present good roads across Bintan, it will take less than half an hour by car from Kijang, - location of the airport, - to Tanjung Pinang. When hiring a taxi, make sure to tell the driver your destination and fix the price with him before boarding.
By Sea
Tanjung Pinang is accesible by ferry from Singapore and Malaysia. There are 5 to 7 ferries per day plying between Singapore's Tanah Merah Ferry Terminal (TMFT) and Tanjung Pinang's Sri Bentan Pura sea port. Operators are Penguin, Indo Falcon If you plan to travel to Bintan Resorts in Bintan's the north coast upon arrival at Tanjung Pinang airport, it is best to ask your hotel to fetch you from the airport. It takes less than an hour's drive from Tanjung Pinang airport to Bintan Resort by the new smooth road, while travelling by the old road will take some two hours.

Latest News
In the are of Tanjung Uma, many houses were built on stilts with wooden poles. Because the position of this village is on two headlands, namely Tanjung Lepu and Tanjung Kubur, the local people named the village as Tanjung Uma. Another opinion states that the word uma comes from the English phrase from the word home. What was spoken by the people first was (h)ome, then it became ume and then changed to Tanjung Ume or Tanjung Uma. For seafood lovers, the variety of fish sold at Tanjung Uma is…
---
Riau Islands Tourism Your visit to Lingga Regency seem no complete without traveling to island of Mepar. Located precisely in front of the Tanjung Buton Port, the island is not only beautiful but also rich in history. Its friendly peoples and strongly maintained its tradition is the additional bonus that you would find if you visit there. Do not forget, taste their typical culinary and also carry a variety of native crafts as a souvenir. Administratively, Mepar island is part of the Lingga District, which has approximately, 5000 m2 wide,…
---
Tanjung Uban Tanjung Uban is a town districts in Bintan, Riau Islands Province. The city is also included in Bintan Island which has a sea port for expedition ships and pioneer passenger ships belonging to PT. Pelni. Kota Tanjung Uban is also the access to Batam Island and Singapore. In Tanjung Uban lies an BIIE industrial area in Lobam and BRC tourist areas in Lagoi. Before 1963, the community of Tanjung Uban use Singapore dollars in transactions, as well as residents of other Riau Islands. Rupiah Riau Islands (KR) becomes…
---
Lagoi beach is located in North Bintan sub-district, Bintan, Riau Islands province. This beach is majestically beautiful and have the same value as other beaches in Bali or Lombok. By the beauty inside the beach, there are foreigners coming along to enjoy the beach, especially for those who come from Singapore. It only takes 45 Km between Lagoi beach and Singapore, and that makes the Singaporean come to the beach often. Lagoi beach offers the magnificent nature beauty. Coconut trees, white sandy beach, the rolling waves and every detail nuance…
---