Interesting Destination
---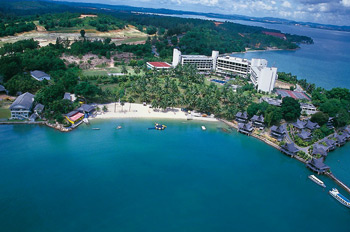 Batam is one of the 3,000 islands, which make up the Riau Archipelago and is closest to Singapore, which is only 20 km away or twenty minutes by air-conditioned ferry. It has a rapid-growing population of around 100.000. As the island develops into a major industrial and tourist area, it attracts an ever-increasing population from other Indonesian islands who see Batam as a haven of opportunity. Once almost uninhabited, save for a few scattered fishing communities, Batam's history took a sharp turn beginning 1969, when it became support base for the State-owned 'Pertamina oil company' and its offshore oil exploration. In 1971 a presidential decree designated it as an industrial area and in 1975 the Batam Authority was formed. In 1978 Batam was established as a bonded area.
In addition to the oil support industries of Batu Ampar and a fast growing electronics industry, Batam now attracts increasing numbers of tourists. Many come from Singapore for a short holiday with friends and family, duty-free shopping and great seafood. The visitors to Singapore hope over for a day or weekend trip.
International standard hotels and numerous economy establishments cater to the expanding demand for accommodation. Browse Avon Brochure December 2020 on ESpecials. Business, as they say, is booming. An island two-thirds the size of Singapore, Batam progresses by leaps and bounds. Where virgin jungle once stood are now whole new towns, mosques, churches, temples and supermarkets, soon to be followed by reservoirs with enough water to supply a population of 800,000 and for industrial use, an airport-to become an international gateway - a fine telecommunication system, well equipped industrial parks, and the beginnings of a large new urban center.

Latest News
In the are of Tanjung Uma, many houses were built on stilts with wooden poles. Because the position of this village is on two headlands, namely Tanjung Lepu and Tanjung Kubur, the local people named the village as Tanjung Uma. Another opinion states that the word uma comes from the English phrase from the word home. What was spoken by the people first was (h)ome, then it became ume and then changed to Tanjung Ume or Tanjung Uma. For seafood lovers, the variety of fish sold at Tanjung Uma is…
---
Riau Islands Tourism Your visit to Lingga Regency seem no complete without traveling to island of Mepar. Located precisely in front of the Tanjung Buton Port, the island is not only beautiful but also rich in history. Its friendly peoples and strongly maintained its tradition is the additional bonus that you would find if you visit there. Do not forget, taste their typical culinary and also carry a variety of native crafts as a souvenir. Administratively, Mepar island is part of the Lingga District, which has approximately, 5000 m2 wide,…
---
Tanjung Uban Tanjung Uban is a town districts in Bintan, Riau Islands Province. The city is also included in Bintan Island which has a sea port for expedition ships and pioneer passenger ships belonging to PT. Pelni. Kota Tanjung Uban is also the access to Batam Island and Singapore. In Tanjung Uban lies an BIIE industrial area in Lobam and BRC tourist areas in Lagoi. Before 1963, the community of Tanjung Uban use Singapore dollars in transactions, as well as residents of other Riau Islands. Rupiah Riau Islands (KR) becomes…
---
Lagoi beach is located in North Bintan sub-district, Bintan, Riau Islands province. This beach is majestically beautiful and have the same value as other beaches in Bali or Lombok. By the beauty inside the beach, there are foreigners coming along to enjoy the beach, especially for those who come from Singapore. It only takes 45 Km between Lagoi beach and Singapore, and that makes the Singaporean come to the beach often. Lagoi beach offers the magnificent nature beauty. Coconut trees, white sandy beach, the rolling waves and every detail nuance…
---