Melur Beach
---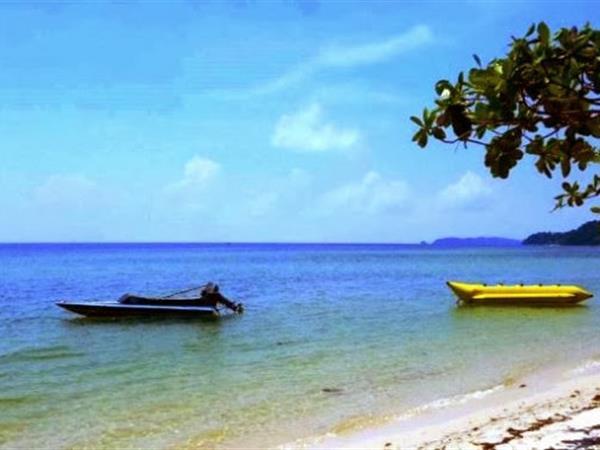 Melur Beach is located on the west side of Galang Island, in Barelang, Tanjung Pinang or some 45 km south of Batam island. This beach has white sand along the coast with palm trees and windy nuance.
The beach is becoming one of the main tourist destinations in Batam Island and it crowdly visited by many tourists for the panoramic scenerie, clean beach and crystal clear water. Melur Beach is very suitable and comfortable for your holiday in Batam while eliminating fatigue from the hustle and bustle days.
This beach that has 20-30 meters wide and a coastline for about 100-200 is contained in the V Barelang bridge area, named Tuanku Tambusai Bridge. Those who have visits to see the beauty of the stretching Sulfur bridge will better to visit this beach. The visitors at this beach can do various activities like swimming, playing in white sand and sailing or just having fun at the beach and doing exercise like beach soccer, beach volleyball or others. Moreover, Banana Boat is also provided for adrenaline water sports.
Those who love swimming, you can swim up to 500 meters without having to fear for its depth, as the uniqueness from this beach, it has very gentle land contours, up to 500 meters from the coast that is rarely found at other beaches.
How to get there :
The entry point to Kepulauan Riau province is at Batam city. From Hang Nadim airport in Batu Besar Batam, the visitors could take a private car or a Metro Trans (public transportation in Batam) for Rp3,000 to Rp5,000. Alternatively, you can also take a taxi to enjoy the trip, or rent a car for Rp500,000 per day.

Latest News
In the are of Tanjung Uma, many houses were built on stilts with wooden poles. Because the position of this village is on two headlands, namely Tanjung Lepu and Tanjung Kubur, the local people named the village as Tanjung Uma. Another opinion states that the word uma comes from the English phrase from the word home. What was spoken by the people first was (h)ome, then it became ume and then changed to Tanjung Ume or Tanjung Uma. For seafood lovers, the variety of fish sold at Tanjung Uma is…
---
Riau Islands Tourism Your visit to Lingga Regency seem no complete without traveling to island of Mepar. Located precisely in front of the Tanjung Buton Port, the island is not only beautiful but also rich in history. Its friendly peoples and strongly maintained its tradition is the additional bonus that you would find if you visit there. Do not forget, taste their typical culinary and also carry a variety of native crafts as a souvenir. Administratively, Mepar island is part of the Lingga District, which has approximately, 5000 m2 wide,…
---
Tanjung Uban Tanjung Uban is a town districts in Bintan, Riau Islands Province. The city is also included in Bintan Island which has a sea port for expedition ships and pioneer passenger ships belonging to PT. Pelni. Kota Tanjung Uban is also the access to Batam Island and Singapore. In Tanjung Uban lies an BIIE industrial area in Lobam and BRC tourist areas in Lagoi. Before 1963, the community of Tanjung Uban use Singapore dollars in transactions, as well as residents of other Riau Islands. Rupiah Riau Islands (KR) becomes…
---
Lagoi beach is located in North Bintan sub-district, Bintan, Riau Islands province. This beach is majestically beautiful and have the same value as other beaches in Bali or Lombok. By the beauty inside the beach, there are foreigners coming along to enjoy the beach, especially for those who come from Singapore. It only takes 45 Km between Lagoi beach and Singapore, and that makes the Singaporean come to the beach often. Lagoi beach offers the magnificent nature beauty. Coconut trees, white sandy beach, the rolling waves and every detail nuance…
---